Wall to wall excellence
Dedicated to design excellence and technological innovation, Muraspec takes immense pride in manufacturing wallcoverings in literally thousands of different designs, colours and styles
An international leader in the commercial and bespoke wallcoverings industry, Muraspec Wallcoverings (Muraspec) traces its lineage back to the 1850's. Since then, the company has developed a global reputation for outstanding product quality, impressive design, and exceptional customer service and technical support. From its manufacturing facility in Kent, UK, Muraspec creates a wide selection of eclectic, high quality, fire and IMO rated wallcovering designs, which its sales team and global network of distribution partners supply to a client base that encompasses the hospitality, healthcare, retail, commercial office, cruise ship and residential sectors.
While its history dates back decades, a key recent turning point for the company occurred in 2012, when it was sold by a US-based company into private ownership within the UK. The acquisition involved the entire Muraspec business, including all of its brands, its Kent plant, a design and distribution centre in Hemel Hempstead, and sales offices in Paris, Warsaw and Dubai. "Today, Muraspec is once again a privately owned British company, and one that possesses all the advantages that comes with this designation," begins the company's Sales Director, Simon Miller. "With our broad customer base, and the fact that we remain one of only two-to- three manufacturers in the UK capable of delivering contract specification wallcoverings that are fire and IMO rated, we have been best placed to ride any changes or challenges in the marketplace."
For Muraspec, recent success and growth has originated from several avenues, not least of all being the steady embrace of digital technology and techniques when it comes to printing wallcoverings, and geographically expansion into rapidly growing markets such as the United States, the Middle East and the Far East. "Digital services are in increasingly high demand today, primarily as they allow us to print bespoke images onto multiple bases – though the majority tend to utilise fabric backed vinyl – which has opened up a whole world of design possibilities," Simon continues.
Digital printing technology means that Muraspec has been able to create all manner of unique designs for its customers, from octopuses adorning ceilings and waves seemingly crashing into life on a restaurant's walls, to local landmarks or historical photographs decorating hotel foyers. "The results are amazing, and the possibility to use all manner of different substrates means that we can now create some remarkable visual effects," Simon enthuses. "The issue we have, however, is that there are still so many customers that are unaware that they can access such services and solutions. One of the things we have done to try and address this is produce a book entitled Wallmotion, which is a showcase of some of the mesmeric designs that we are capable of delivering, and we hope that this will be a means of stimulating the minds of our customers to come up with ideas of how best to capitalise on Muraspec's ability to offer endless design possibilities."
While digital techniques have indeed created a massive sea change in what is possible for Muraspec to design, the added bonus is that their associated technologies are effectively add-ons to existing manufacturing processes, giving a whole new complexion to the work that the company carries out. As Simon goes on to stress, however, this does not mean that the company hasn't been prepared to embrace advances in technology, quite the opposite. "Being able to adopt and profit from innovative developments is massively important, but what we have also found is that there is a huge amount to be gained from mixing the best of what is new with that which is tried and tested, and yet to be beaten.
"This is all the more important when you consider the fact that digital techniques are still in the process of evolving themselves. As a result, we have found it imperative to combine the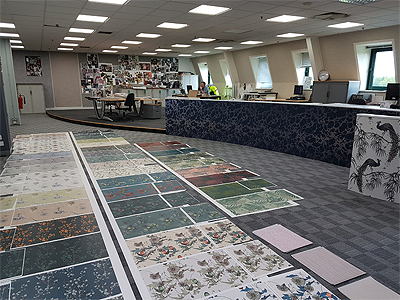 considerable historical knowledge that we have, as well as the best existing production techniques, with the newest digital processes, which have so much scope left to explore, which really excites us."
As noted above, Muraspec is also embarking on a strategy to achieve growth in several of the world's most lucrative regions, which Simon goes on to detail. "In America, their economy is doing very well indeed at the moment, and with the demand for wallcovering increasing, we have every intention on capitalising upon this. In the meantime, both the Middle East and Far East are modernising at a significant rate, and when Muraspecthis happens markets tend to turn to tried and tested businesses and models to meet their needs, and there is arguably no other player around with more experience or with a better track record that Muraspec!
"The secret to capitalising upon this demand, however, is ensuring that we remain on the cutting edge of the industry. This means continuing to progress things like digital techniques, factory processes, and equipment, while also identifying new and innovative products to meet the demands of each market. The fact is that each market is very different and requires a different offer, so our agility and nimbleness as a business will be paramount if we are to stay at the top of our game."
As Simon accurately says, 2019 has been a unique year to date, with numerous geopolitical situations resulting in some market instability. Nevertheless, he believes that with some much-needed certainty from the powers that be, Muraspec will be able to push on to a new level. "Here in the UK, when it comes to Brexit, what we want is certainty, because whichever side of the coin things fall on we believe there will be a whole raft of opportunities for us," he declares. "As a UK manufacturer, we are perfectly poised to serve the needs of customers at home, and with our international presence and experience we are able to respond when international markets open up. So, whatever the future holds, we are confident that there will always be opportunities for an agile, adaptable, innovative business such as Muraspec!"
Muraspec
Products: Commercial and bespoke wallcoverings