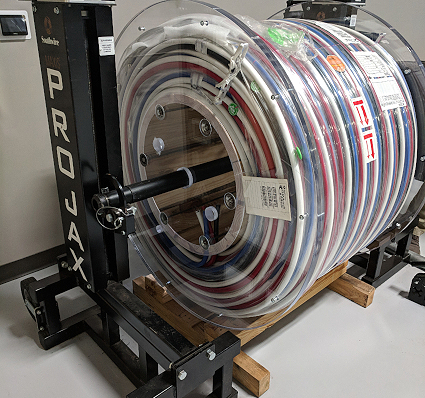 As a younger generation of manufacturing professionals prepares to take the reins, it brings forward new expectations for how facilities, sales teams and plants should operate.
It demands innovative methods of operation using smart devices that can talk to each other and produce real-time data. Using smart phones and living in smart homes, the new generation expects smart factories as well.
"IoT is a new but a very important element in manufacturing," says Brooks Rhinehart, vice president of strategic accounts at Mutual Mobile, a global firm specializing in mobile development and digital innovation. "The new generation is moving in and asking 'why don't we have these types of systems in place?' But some of these companies have developed processes that have been in place for 20 to 30 years and it's incredibly difficult to get them to change."
Austin, Texas-based Mutual Mobile specializes in product strategy, program management, user experience and visual design and digital product development – offering native and hybrid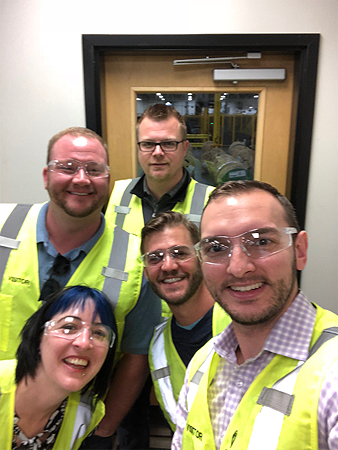 applications built for web, iOS and Android.
It has built more than 600 digital experiences for America's top brands on-budget and on-time. "The tools we are creating for companies are making a huge and immediate impact on customers and entire industries," Rhinehart says.
Redefining Reality
Southwire Company, one of North America's largest wire and cable producers, partnered with Mutual Mobile to design and build a web app to redefine Southwire's quoting, ordering and planning process for wiring materials.
The Configurator Plus app is a cloud-connected, username-specific, function-automating tool that allows the user to insert project requirements, visualize materials needed for a quote and make updates to feeder schedule by desktop, laptop or tablet.
"If you're going to be ordering wire for a data center, it could take weeks to insert all the wiring requirements and job descriptions that would typically be inserted into an Excel spreadsheet," Rhinehart says. "With so much data being added to a spreadsheet, it's inevitable that there will be mistakes by simple human error. One small typo could cost as much as a million dollars."
"Having built-in, sophisticated logic and business rules check your work and provide error messages in real time is a game changer," Rhinehart continues. "In addition to the customer benefits, removing the need for Southwire resources to review, correct and re-submit a quote has been a tremendous value/cost savings to the organization."
Designed for contractors, distributors, agents, engineers and sales teams, the app enables users to configure each wire pull by inputting the length, wire type/size, circuit ID/tag info and pulling sequence. Making corrections and adjustments to each process is simple and provides an uncomplicated method for communicating jobsite feeder pulling information.
Mutual Mobile first designed the Configurator app for Southwire in 2012. Last year, it was updated. Prior to the update, the app was only available on the iPad. The new, cloud-based platform can be used with almost any device and provides the user with greater accessibility, more functionality, faster quotes and direct wire requests.
"We can take the RFQ (request for quote) process that previously took weeks and consolidate it into five to 10 minutes with greater confidence in the accuracy of the quote," Rhinehart adds. "Southwire had thousands of new users almost immediately after the updated release and that number continues to grow."
Delivering Results
Mutual Mobile has designed a number of other unique platforms. One of its partners, a bed manufacturer, wanted to create an app that would allow its customers to monitor their sleep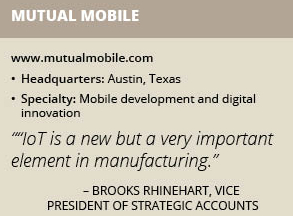 patterns. "We created graphs and unique dashboard tools so they can use the application to monitor their sleep," Rhinehart says. "But we also found that kids like to play with it and what they really wanted was a flashlight to look under their bed to find monsters. So we gave them a monster finder."
When an online marketplace for car purchasers and sellers wanted a better solution for purchasing new and used cars, Mutual Mobile approached the challenge through the lens of simplicity.
"They had 99 features on their website," Rhinehart says. "We asked them what were the four most-used features and created an app that has produced hundreds of millions in advertising revenue. We made it as simple as possible and provided the most value."
Mutual Mobile also created sophisticated apps for two companies that offer a vehicle subscription service. Customers are charged a recurring fee for the right to use one or more of its cars. The package includes car insurance and maintenance.
"The apps are slightly different," Rhinehart says. "But they are incredibly sophisticated behind the scenes. They can manage data and finances so the company can organize its business in a digital format. And the end user can use the mobile app to do everything from selecting and picking up their cars, making their payments and scheduling maintenance."
Digital Evolution
Mutual Mobile's design and engineering teams have built and launched some of the world's most innovative products in industries that include healthcare, automotive, real estate and more recently – manufacturing.
"We can partner with anyone that has a large distribution channel, warehouses or a significant catalog of products that require configuration," Rhinehart says. "We offer the most value to companies who need digital consolidation and transformation to delight customers and deliver on business goals."
Although Mutual Mobile's bread and butter has been mobile development, the company is aggressively scaling its virtual reality department as the market continues to grow.
"Using virtual reality for training is the next wave," Rhinehart says. "For manufacturers that are looking for a return of investment, virtual training platforms are the way to go."