Music to your ears
With the groundbreaking Mymanu CLIK, Mymanu aims to deliver truly wireless earbuds that can provide customers with the ability to connect on a global scale
Passionate about music and sound quality, entrepreneur Danny Manu established Mymanu in 2014 with the goal of providing customers with smart luxurious consumer electronics such as speakers that are small enough to put into a pocket or bag, but also powerful enough to deliver superior sound wherever the user is located. The first product, Myamnu's waterproof speaker
not only delivers on these capabilities, but also boasts a call answering system to ensure users can remain connected with friends as well as Bluetooth technology so music can be accessed from any Bluetooth device.
With these speakers a resounding success, Mymanu began developing earphones for even greater flexibility and convenience, as Danny Manu, Founder and Engineer of Mymanu begins: "The Bluetooth waterproof speaker lets you listen to music in the shower and make a phone call; it did really well in the market and was distributed around England, Canada and Germany. Since then, we have reinvested all of our efforts into the development of Mymanu CLIK, the world's first live translation earbuds which was launched at the Mobile World Congress on February 27th 2017."
Successfully funded with Kickstarter, Mymanu CLIK is the world's smartest truly wireless earphone with live voice translation. Available in black or white, Mymanu CLIK is set to revolutionise the way people communicate as it allows the wearer to interact with others in different languages, both locally and over a long distance range. Groundbreaking in its technology, Mymanu CLIK is able to translate 37 languages in real-time, which will thus help drive collaboration and break down language barriers in new and exciting ways. Moreover, it will enable more comfortable travel, freedom of movement and communication with everyone, while also delivering the most pristine sound quality for those wanting to listen to music.
Danny discusses the challenges of developing this groundbreaking product: "Developing CLIK is one of our biggest innovations so challenges included the fact that the majority of components in CLIK weren't even invented during its development. This means we had to invent a lot of new components to make CLIK possible; because the product has tiny earbuds with a lot of processors packed with technology, the components already out on the market were a lot bigger than we required. For example, the batteries were too big so we had to develop a whole new battery; we also had to develop a whole new touch centre so users could control their music or activities on their phone via the earbud.
"This was particularly challenging as we want people to be able to swipe left or right and touch with their finger, but a finger is huge in comparison, so it was about finding the right designers and engineers to make this possible. It was a huge learning curve, even for major technology innovators, and we learnt a great deal in the development process."
Danny continues to elaborate on the process and features of the voice translation platform: "This aspect of the project was particularly time consuming. We had 11 engineers working on the development of CLIK and five working on the software. We now have a proprietary system to handle the translation on the ear buds and have a digital platform that will be launched beside the hardware for the ear buds, so those without the ear buds can use the translating system via a mobile application. People using the mobile app will not be able to experience the full power and highest accuracy of our system compared to using the earbuds. This is because the headset incorporates different processors, our proprietary software and microphones to ensure the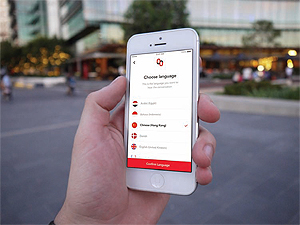 translation is the most accurate. In fact, you can translate in a noisy environment because the headset has four MEM microphones embedded in it, its own translation processor and noise cancellation options so the only voice recognised by CLIK is your own. In comparison, the mobile doesn't have these extra features. People will also be able to use the app to translate with multiple people at a time and use it for conferences; you can even read the conversation in the native and translated language on your phone."
Recently presented at CES in Las Vegas, CLIK generated notable attention from visitors thanks to seamless demonstrations that showed translations from Japanese and Chinese languages to name a few. "We generated huge attention at CES, with CLIK demonstrated on BBC Breakfast; the buzz was really exciting and the biggest retailers were at our stall wanting CLIK on their shelves. We met these retailers and distributor again at the Mobile World Congress in Barcelona and raised a strong presence there too. It is our goal through Mobile World Congress, which is geared more to our industry, to establish our brand within the mobile industry."
With the Mobile World Congress now complete, Mymanu will begin manufacturing Mymanu CLIK and will invite users for BETA testing in the coming days with the goal of starting shipping products in May 2017. Soon to be the must-have product for music lovers, travellers and tech enthusiasts, Mymanu CLIK is certain to be a revolution for the ears thanks to crystal clear HD audio, Bluetooth connections and live voice translation.
Looking ahead, Danny anticipates strong growth and demand for Mymanu's groundbreaking gadget over the coming years. "It is our goal to establish Mymanu as the top and most innovative consumer Electronics Company in the world over the next two to three years. Following our product launch at the Mobile World Congress, we also anticipate that Mymanu will be put in a strong position in the digital world of business," Danny concludes.
Mymanu
Products: Wireless speakers and smart wireless earbuds with voice translation