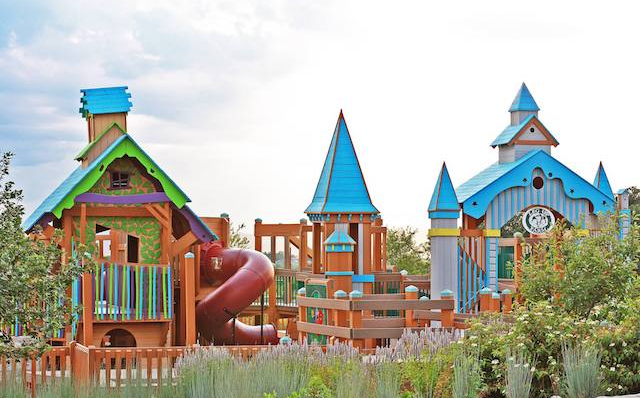 A leader in sustainable plastics technology, N.E.W. Plastics has developed an innovative product that could be the first-of-its-kind on the market.
The Luxemburg, Wis.-based company manufactures containers, plastic lumber and components made from virgin and recycled material. Its range of products includes anything from plastic solvent bottles and containers to planks for building a deck.
This year, the company unveiled a new composite decking board that it believes to be one-of-a-kind. Most composite decking boards are hybrids composed primarily of wood fibers and recycled plastic. N.E.W. Plastics' decking board is made entirely out of plastic.
It is virtually maintenance-free, and never needs to be sanded, scraped, refinished or stained. "The biggest plus to this product is that it will not mold, rot or mildew," President Mike Rekitzke says. "It's the only product like this on the market that we know of. Most of them use wood flour."
The product is sold through a variety of lumberyards and building contractors. It is available in three colors; California Redwood, Weathered Cedar and Coastal Driftwood.
For more than four decades, N.E.W. Plastics has been a leading innovator in plastics and recycling technology. Its annual sales total roughly $52 million – and it expects that number to keep growing.
The privately held and family-owned company has a number of business units offering blow molding, packaging supplies and extruded plastic. "I think we're somewhat unique because we are family owned," Rekitzke says. "We can handle a business of any size yet we're small enough to partner with our customers and make decisions quickly."
Expanding Services 
N.E.W. Plastics' injection and extrusion blow molding business unit features a catalog of stock containers, design services and custom runs. Clients can choose between a BPA-free formula, virgin or recycled material and rigid or squeeze containers that will fill up to three gallons.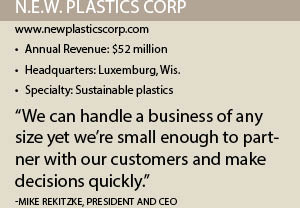 N.E.W. Plastics also offers advanced design services including 3-D modeling, virtual reality, and rapid prototyping and decorating. "We made bottles for pretty much any product you would see at a grocery store or pharmacy," Rekitzke says.
In 2016, N.E.W. Plastics acquired St. Paul, Minn.-based Fulcrum Inc. The move expanded both N.E.W. Plastics' services and geographic reach. Fulcrum Inc. became Fulcrum Container LLC – an N.E.W. family company now based in Little Canada, Minn. Both companies focused on custom blow molded plastic products, with sizes ranging from 10 cubic centimeters to three gallons. Both also have striping capabilities with materials including HDPE, ReHDPE, LDPE, PP and PETE.
The acquisition allowed N.E.W. Plastics' to offer new services that include product design, in-line pressure-sensitive and shrink labeling, silk screening and warehousing management.
"It was our competitor," Rekitzke notes. "They also do rigid packaging. It was a logistical acquisition. From a shipping standpoint, when you ship containers, having a plant in another area helps."
VBS Total Packaging LLC, N.E.W. Plastics' full-line distributor, is another N.E.W. Plastics business unit. It offers rigid and flexible packaging solutions including a  range of materials (plastic, glass, aluminum), closures (screw, snap) and printing options.
The company's plastic lumber division, called Renew Plastics, produces EVOLVE plastic lumber and TRIMAX plastic structural lumber made with high-density polyethylene (HDPE). These products are distributed by building suppliers across North America and beyond.
The lumber is a blend of virgin and recycled pre-consumer and post-consumer HDPE. It is suitable for all climates, impervious to most chemicals, non-leaching, fade and flame resistant and machinable.
Green Champion 
Dedicated to preserving the environment, N.E.W. Plastics can convert more than 25 million pounds of recyclable plastic annually into environmentally friendly products among its four Wisconsin plants. Two manufacturing plants are in Luxemburg, one in Green Bay and another Little Canada.
The company has been a leader in sustainable plastics technology since 1968 when its founder, Irvin Vincent, began exploring the possibility of recycled plastic. He toyed with the idea of recycling plastic trimmings and industrial waste.
Initially, his idea was met with resistance from a variety of industry experts who doubted the material could be reconverted. But Vincent didn't give up. In 1973, he successfully produced the industry's first recycled plastic lumber. Structures that were built using the recycled lumber still stand today.
For the next two decades, N.E.W. Plastics continued developing its recycling technology while industry awareness and acceptance of recycled plastic lumber grew.
"The owner of our company was instrumental in starting curbside recycling in Luxemburg. While we no longer do curbside recycling, our concern for the environment remains a major focus of the business," Rekitzke says. "And all the waste that we produce on the bottle side and lumber side is recycled."