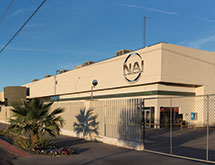 NAI provides industry-leading manufacturing solutions to customers around the world. Founded in 1993, NAI designs, manufactures and offers integrated cable assembly solutions for fiber or copper within the medical, aerospace, telecommunications and industrial control markets. The company's goal is to provide world-class connectivity manufacturing solutions to its customers for their  critical-to-life, flight, communications and infrastructure applications.
"In all of the industries we serve, we are most known for quality and service along with our technology," CEO Preston Speers says. "We build our relationships through results, as we are a very results-driven company."
Focus on Quality
Based in Scottsdale, Ariz., NAI has more than 340,000 square feet of floor space across all of its production facilities with production levels above 2.5 million assemblies with an estimated 15 million terminations per month. In addition to its headquarters, the company has facilities in Nogales, Ariz.; Suzhou, China; and Hermosillo, Mexico.  The company is ISO 13485:2003, ISO 9001:2000, TL9000 and AS9100 registered in Suzhou and Hermosillo, and it is Nadcap-accredited with merit status for electronics cable and wire harnesses in Suzhou. NAI has an ISO 8 cleanroom in Suzhou and a white room in both Suzhou and Hermosillo.
What helps NAI stand out is its commitment to leading-edge quality, reliability, durability and service. The company possesses extensive supply chain knowledge, which allows it to manage material costs for customers. It has the ability to combine a variety of manufacturing technologies into a successful solution for the customer.
In addition, NAI can service both high-mix/low-volume and low-mix/high-volume programs while complying with complex regulatory requirements. This enables NAI to support every customer's unique business needs.
NAI is also quick to market in terms of responding to industry changes and customer requirements. Its senior leadership team has a high level of experience in cable manufacturing and connector manufacturing across a wide variety of technologies, both fiber optic and copper. At the same time, NAI's engineering team has broad industry experience, which allows NAI to engineer and design manufacturing solutions for both new and existing products.
"We want to be measured based on the way our customers measure our success," Speers says. "We have an on-time delivery rate that is more than 95 percent, and we have a global sales and marketing team that is trained to develop relationships with our customers' decision-makers. That helps us find out what their problems are and how we can come up with solutions."
Speers says NAI's customers expect quality product 100 percent of the time. He says they also expect NAI to have a global footprint, extensive design and engineering capabilities, and broad manufacturing capabilities. NAI says it has the size and skills its clients need. In addition, because many of the companies NAI works with have a presence within multiple segments of the industries it serves, NAI has developed product offerings that have allowed the company to create cross-functional relationships.
Global Improvements
Because NAI has a large geographic footprint and works with clients around the globe, Speers sees communication as the No. 1 challenge and opportunity. Therefore, NAI is always working to drive communication improvements.
"Teamwork is also critical for us, which is why our teams are regularly running initiatives and reviewing our projects and goals to help us keep track of our operational and marketplace challenges," Speers says. "We have weekly team meetings, as well as team reports coming from various functional silos. We also have a global sales call every week so all of the leaders in all of the silos know what is happening on the sales end."
Among the major investment areas for NAI in recent years has been a focus on expanding its fiber-optic capacity and capabilities. The company has doubled its fiber-optic capacity in the past five years, adding fiber-optic capabilities in China. In the medical industry, the company has invested in technology such as lasers, advanced molding capabilities and advanced custom systems for complicated cables with PCB boards. NAI utilizes and develops leading edge technology for laser wire processing for micro wire applications like cardiac mapping, cardiac ablation and other catheter applications.
"We've added lasers for high-end cardiac ablation technology, and we have advanced vision systems and epoxy distribution systems," Speers says. "We've also developed leading-edge technology around wire harness boards. We can provide design services from the earliest stage of concept development and prototyping all the way to mass production."
Investing in human capital has been another critical investment area for NAI. Over the past few years, the company has added to its engineering expertise in the most complicated fiber-optic products. It has brought in expertise on cable and connector manufacturing, as well as expertise on various assemblies. "Many of the cables we build are embedded into finished products and can be processed into boards without damaging them," Speers says.
In the years ahead, NAI will continue to expand its customer base in the industrial, medical and fiber-optic industries. As it expands, the company will focus on maintaining its reputation for world-class quality and on-time delivery while also reducing cost.
"We are in the middle of an automation initiative that will allow us to develop new solutions and lower manufacturing costs over time," Speers says. "We must stay on top of the technology evolution curve, too. The critical components for our continued success are people, teamwork and technology."