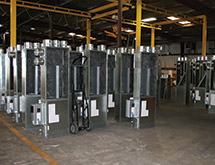 When the company was established in 1971, Nailor Industries manufactured one air control device. Today, the company's considerable growth has positioned it as a major manufacturer of air control and distribution systems that are sold all over the world.
"Our product line currently consists of more than 1,200 products," asserts Julian Rochester, Nailor's vice president of marketing. "We are a market leader in the HVAC industry."
The company has 10 plants totaling more than 800,000 square feet of manufacturing space. Distributing its products worldwide, Houston-based Nailor also has facilities in Las Vegas, and Toronto and Calgary, Canada. The company operates in the United Kingdom as Advanced Air (UK) Ltd. Nailor boasts an international distribution network, "[that works] together to not only meet but exceed the expectations of clients, engineers and customers around the world," the company says.
Nailor offers a wide variety of air-handling units, fan coil units, variable air volume (VAV) terminal units (commonly referred to as VAV boxes), grilles, diffusers, life safety dampers and louvers, as well as electric duct heaters, under-floor air distribution (UFAD) and displacement ventilation systems for the commercial HVAC market. Operating with state-of-the-art manufacturing equipment, including laser machines and robotic brakes and welders, ensures high quality in the company's finished manufactured products.
However, what sets this company apart is its technology advancements. According to COO Steve Nailor, his company is considered the industry's technology leader. "At our Houston facility, about 40,000 square feet of our manufacturing space is set aside for research and testing laboratories," he says. "We have the ability to fully test our products under actual operating conditions."
Nailor's research, development and testing laboratory includes a reverberant sound room to test product noise levels, an environmental room and a curtainwall facility to test products' energy performance, low-flow and dynamic wind tunnels, and a mockup facility. "We're a very market-driven company," Nailor asserts. "We listen to what our clients need both from a performance perspective as well as aesthetically."
Product Innovation
Nailor pioneered the  use of electronically commutated motors (ECMs) for the commercial HVAC market. The ECM is an ultra-high-efficiency, programmable, brushless DC motor that is used in air terminal units. Previous to this innovation, the single speed permanent split capacitor (PSC) induction motor, combined with an electronic silicon controlled rectifier (SCR) speed controller, was used, which proved to be very inefficient. Whereas the PSC motor efficiency ranged from 12 to 45 percent, ECMs maintain a 65 to 72 percent efficiency at all speeds. Nailor also maintains that the ECM uses one-third of the energy needed to power the PSC systems.
Another product born of Nailor's expertise was a UL classified combination fire/smoke damper that could also meet stringent European building codes. "Most damper blades, particularly at elevated temperatures under fire conditions, can separate leaving up to a 3/4-inch gap," Nailor says. "We created a damper in which the blades could interlock, thereby preventing smoke from permeating into other areas of a building in the event of a fire."
Hospital projects require the use of air-moving systems that mitigate germs and minimize the risk of surgical site infections (SSIs) due to bacteria in the operating rooms. The company created an advanced air-moving system called the Steri-System Hospital Operating Room Air System, which is comprised of two major components: linear slot diffusers and laminar flow diffusers.
Linear slot diffusers, which are located around the perimeter of the operating room, are used to create a continuous curtain of air that is angled 5 to 15 degrees outward. This airflow creates a curtain that encloses the operating area, thus minimizing the risk of contaminated air entering the surgical area. "The laminar flow diffusers are installed above the operating table," the company describes. "These produce a low-velocity, non-aspirating vertical air pattern that allows clean, conditioned air to flow over the operating table and greatly increase the ventilation rate within the surgical area."
"The air enters the room clean," Nailor asserts. "As low-velocity air flows over the patient, it's drawn away, keeping the patient as germ-free as possible."
The company was also instrumental in developing a VAV system for the Exxon Mobil Campus, which is currently under construction on a 385-acre parcel in north Houston. The 20-building campus, which will achieve LEED gold certification for sustainable energy efficiency, is one of the largest commercial construction projects underway in North America. It will consist of "multiple low-rise office buildings, a laboratory, conference and training centers, and facilities such as child care, a wellness center and other employee amenities," the client says.
Nailor was assigned the task of developing a custom  UFAD system. This air handler configuration consists of custom-designed vertical air column units and VAV ECM fan booster boxes feeding perimeter linear convection heaters and high induction floor swirl diffusers in the interior that will be installed under the floors. The floor diffusers allow personal control at each workstation. Designed as a partially stratified one-pass system, the air enters the room at floor level, mixes rapidly and rises slowly upward, exiting at ceiling level. Occupied comfort in the space is high with low average room air velocities of 20 to 30 feet per minute. This high-performance system is designed to significantly reduce the central air-handling energy required to deliver cooling to the occupied space. In addition, the one-pass system will improve indoor air quality (when compared to traditional overhead full mixing air distribution systems) by helping to carry illness-causing germs upward instead of across the room This, in turn, will reduce the spread of infection among building occupants, thereby improving both employee health and productivity.
Nailor states that the company's biggest asset is its employees. "I'm proud of all of the people here," he says. "We have many long-term employees who have helped the company grow."