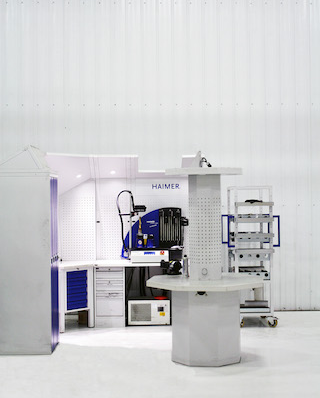 Like anyone who has worked in machining and manufacturing most of his life, Kevin Febrey has seen a lot of jobs shipped overseas with outsourcing. Febrey, president of Napoleon Machine, has worked in machining since he was 16, so he has seen all kinds of cycles – both good and bad. "We have all lived what has been going on with outsourcing," Febrey says. "Manufacturing is not for the faint of heart."
Unlike a lot of leaders in the machining industry, however, Febrey also has an MBA, and tends to look at things from a broad-based global perspective. "If you look at a lot of machinists, they are very good at the trade itself," Febrey explains. "But you have machinists that aren't business oriented, and that can be costly in a global economy."
Being able to identify key opportunities when they come along is the hallmark of any good manager, and that's just what Febrey found when he decided to join Napoleon as president and part owner in 2011. The company was still in its early stages, having been founded by Paul Schlatter in 2010. Now seven years old, Napoleon is a contract job shop that offers welding, machining, painting and assembly services.
Broadening Its Range
The opportunity that Febrey saw, however, would require some work. When he joined Napoleon, the company had decent, serviceable infrastructure and machines, perhaps enough to compete in the short-term, and could best be described as a niche player.
"It was niche because of the size of the parts," Febrey recalls. "Many large parts also began to be shipped overseas but when it came to lead time with requirements in four to 10 weeks, that's where we could better service our customers."
To broaden its capabilities and be more competitive in the marketplace, Febrey saw the need to modernize and expand its capabilities. "We have revived a shop with old equipment," Febrey states. "We have spent roughly $2.5 million in capital upgrades over the last 18 months." Upgrades have included a Toyoda LB633 Bridge Mill with right angle head and travels of 11 foot X 20 foot; An AWEA LP2526 Bridge Mill with with right angle head and travels of five foot X eight foot; a SNK Boring Mill with full 4th rotary; Tecnomagnete Work Holding Magnets; Custom Designed Quick Modular Fixture System; Haimer shrink fit machine and tooling; Bluco Modular Weld System including the rail mount feature for large components as well as a new tool room presetter.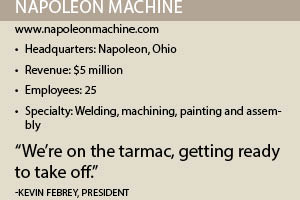 "All of our mills now have glass scales, through the spindle coolant, tool changers, right angle heads, probing, and the modular work holding systems," Febrey notes. "This combined with the Bluco weld system allows for quality to be built in the process. These features allow us to utilize all the technologies out there to be more competitive."
When it comes to purchasing cutting tools and designing his new tool management system, Febrey is not afraid to pay more for quality. "I have worked for various companies that focused on reducing cost through buying lower cost tools," Febrey explains. "When really at the end of the day it is not about what you spend on tooling, it's about being the lowest true cost to win business. Speed, repeatability, and reproducibility come through having high end work holding systems, tool holders and cutting tools in place that always repeat in diameter, concentricity and accuracy in a fixture."
Febrey also saw the need for Napoleon to adopt lean manufacturing methods. He spearheaded initiatives throughout the production operations to reduce waste, shorten cycle times, and enhance Napoleon's ability to adapt to rapid market changes. For example, he installed a Bluco modular fixturing station for welding parts. This gives Napoleon the ability to respond to smaller batch orders of welding parts. "I call it small batch repeat work," Febrey explains. "By changing just a few parts, custom fixtures can be changed for any size or shape in just a few minutes."
Diversification
Now that Napoleon has the capital equipment in place as well as the lean culture to compete at the next level, Febrey is spending time on the second part of the equation: sales and marketing, to spread the word that the company aims to be a national player. That also means taking a look at some other industries Napoleon could thrive in as well, such as oil and gas and aerospace.
"When I first arrived six years ago, we had the right relationships," Febrey recalls. "But not the right equipment." With the upgrades completed, Febrey continues to explore options such as the casting industry, where Napoleon could potentially provide casting and machining for overflow production.
As Febrey explores new industry options, his message when he meets with potential customers is clear. "The quality is built in the process," Febrey says. "With our quality process and lean culture and stellar reputation, we can now meet any job required."
But delivering that message takes time and effort. To that end, Napoleon Machine is active on Twitter, Facebook and LinkedIn. The idea is to get customers to actually visit Napoleon's facility to see the progress made. "It's harder now to get customers out to visit," Febrey notes. "And once you do, you really only have one or two minutes where they form their opinion on your operations and capabilities."
Fortunately, when customers do visit, all of the elements are in place for them to see. "We're on the tarmac, getting ready to take off," Febrey says.