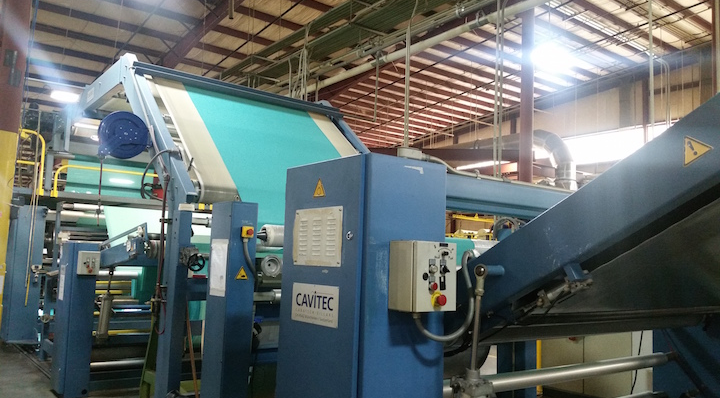 Started in 1955 as a division of a large fiber company, Narcote has built its presence by providing a number of markets with technical textile solutions. Spun off as separate entity in 1996, the company is based in Tennessee and also works with manufacturing partners in Asia. Today, Narcote serves the consumer, industrial, automotive, medical and military market segments.
Until 1997, Narcote was primarily a manufacturer of PVC coatings, but at that time it brought on additional finishing capacity, including state-of-the-art lamination. The company now engineers a wide array of innovative fabrics with both synthetic and natural fibers. These include both circular and warp knits, regular and stretch wovens, and light to heavyweight non-wovens. Narcote can also provide waterproof barrier films, coatings and multiple other finishes such as nano water resistant repellants, antimicrobial and antibacterial.
"Once we became a standalone business, we started to create new markets, adding some equipment and various finishing techniques," President and CEO Cary Green says. "We have tried to be more than a textile company by providing coating and laminating solutions. We touch a lot of different markets, working with our customers as they create their brand and becoming an integral part of their business by helping them develop solutions to their fabric needs."
Working Together
Because Narcote does not focus on creating brands or specific end-use products, the company's strength lies in working with customers to problem solve and develop/engineer new products. Whether that may be for automotive or medical market, protective garments, bedding and much more, Narcote works with customers in need of a textile composite and helps them to devise a solution for their problem and/or develop a new product in the most economical way.
"Because we work with so many different fabrics and markets, we have a lot of R&D cross-pollination," Green says. "We learn from the our markets and can apply and implement that knowledge to other markets. There are not many companies out there that do what we do. We feel like we've built a good name for ourselves in this niche, and that has led to positive word of mouth based on our performance."
With around 30 people on staff, Narcote's business is not particularly labor intensive. However, it does require investment in equipment. The company has put a lot of resources in new equipment and maintenance, staying on top of the market so it is up-to-date on the latest and greatest emerging technologies.
"We don't have to buy new equipment every year, and we don't have to run 24/7," Green says. "But we have strong capacity, and R&D is a collaborative effort with customers."
Investing in supplier relationships is another Narcote imperative. Many of the company's key suppliers work closely with Narcote, coming to the company with issues their customers are having and asking Narcote to help solve problems.
"That word of mouth comes from customers that we've worked for directly and indirectly, as suppliers also bring opportunities to us and allow us to work with them to find the right solutions," Executive Vice President Rolf Rupprecht says.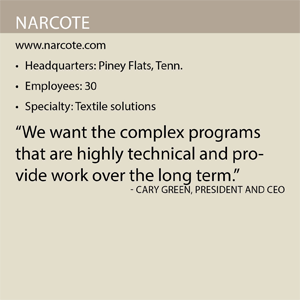 Room for Growth
With many decades of experience to build on, Narcote is optimistic about the future. Part of its optimism stems from the company's ability to understand where the growth opportunities and emerging trends can be found.
For example, the company believes its growth will come from the technical and demanding composite laminates. That means market sectors like protective apparel, the medical industry, the military and the automotive market.
"In general, these are not the big box products," Rupprecht says. "These are specific high performance products built and made to spec. Those are the areas where we feel have growth opportunity."
"Specialized programs like those takes years to develop, but once you get them you can keep them because there is a lot of work involved in the R&D process to get these products commercially ready," Green adds.
Additionally, the company feels that it is well positioned to handle changes taking place in the manufacturing world. It knows there is a resurging demand for North American manufacturing, but it also knows that availability of North American raw materials is a challenge.
"There is now a trend toward more domestic manufacturing as companies don't want to try to source with the long lead times and excessive capital requirements that come along with overseas manufacturing," Green says.
"But while the demand for North American manufacturing is growing, some of the supply chain parts aren't here anymore," Rupprecht adds.
Because the company has a presence in North America and partnerships in Asia, it is able to take advantage of the evolving market.
"Some people are trying to utilize more North American and U.S.-based piece goods textile composites and then have them assembled in places like Central America and the Caribbean basin because lead times and transportation are shorter and there is better control of the supply chain," Rupprecht says.
What the company is most focused on now is organic growth, taking existing accounts and coming up with ways to service them better. Although it is always looking for new business and acquisition opportunities, continuing to serve its existing customers to the best of its ability will help secure a strong future.
"We feel that if we can make our existing customer base successful and help them grow, our business will grow," Rupprecht says. "That is why we are very focused on establishing mutually loyal relationships with customers."
"We are not looking for one and done business opportunities," Green adds. "We want the complex programs that are highly technical and provide work over the long term."