National Composites has adopted unique approaches to the markets it serves
Small plant focus, big company resources' is the mantra that National Composites stands by to be a pioneer for plastic composite manufacturing, as we learn from Adam Fenton, the company's President. It is also the reason he believes the company's name has become synonymous with quality and durability. "At National Composites, we advocate having the same level of focus, dedication, and customer service that you would find at a small mom-and-pop shop, but with the added experience of a business that has expanded exponentially in a short space of time," he says.
Versatility is another quality that makes National Composites a unique business. The multi-plant OEM supplier of custom FRP and thermoformed products has also become an expert in product design, in-house pattern build, prototyping, tool and fixture build, a multitude of molding capabilities, fixtured trim and finish capabilities with multiple SKUs, and a full assembly group dedicated to value-added component installation and assembly. "Our production diversity is fantastic, and to make that possible, we have been powered by an aggressive expansion attitude and a team that is willing to invest and grow according to the increase in our customer base."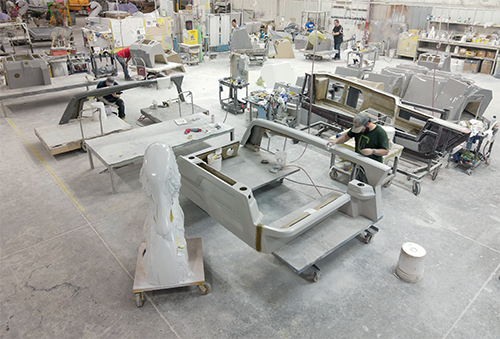 Geographical expansion
As a result of its expansive capabilities, the business has been fortunate to further diversify into other market sectors. "Our largest markets at the moment include agriculture, with customers like John Deere, and construction, as well as the marine industry. In addition to that, we do a fair bit of work in the specialty vehicle industry, particularly for electric vehicles," he highlights for us.
Mr Fenton noted earlier that National Composites is a young business, having only begun its operation in 2017. He took over the company in 2018, and has supported the company to push innovation boundaries in order to achieve impressive growth targets. "In 2019, we set a goal to expand by consolidating spaces that were left by smaller businesses in the market. I'm proud to share that we have kept up our momentum through organic growth and acquisitions," shares Mr Fenton. "From my perspective, as we have grown, we have always looked ahead to see what horizon we can take over next, and I believe that that is what makes National Composites an excellent business. First, our growth target was based on molding methods, and refining our ability to do compression molding and thermos-forming. Following that, when we felt we had a substantial amount of molding capabilities under our belt, we looked to the next targeted approach, which was how to expand geographically. This took the shape of a few acquisitions, and we have only continued to grow from there," Mr Fenton highlights.
Today, the company boasts five plants and an estimated 450 employees, and there is no sign of it slowing down as Mr Fenton divulges that the business is in the process of building its sixth production facility. "We're aiming to have our individual production sites be more product-specific when it comes to manufacturing, which then gives us space to refine our highly skilled departments, and centralize our headquarters. The new facility will enable us to really focus on growth and our customer management through a more streamlined process of fulfilling client demand," he says.
In addition to the investment in growing the company's operation, Mr Fenton goes on to share exciting news regarding the launch of National Composite's latest products. "There are a couple of proprietary products that we build for the marine industry; one of them is called a pedal wheeler, which is a recreational pedal boat that we sell to rental agencies and parks like Disney World. To complement this, we have just released an electric mini pontoon, which will be produced out of new our facility," Mr Fenton highlights.
One of the most impressive facts we learn from Mr Fenton is that despite the challenges that the manufacturing industry has endured over the last two years, National Composites has embraced automation to achieve its expansion goals. "The labor shortage highlighted what we needed to do, and the infrastructure we needed to invest in, to make sure we don't get caught in the same situation again. This is why automation has become a huge focus for us. We just installed brand new trim cells in two of our Michigan facilities, and we also purchased six more robotic cells from a separate company. We are now moving towards some of our higher volume electric vehicle lines, and I don't see that slowing down at all as we invest in the company," he says, adding that nearly all these investments will be closely connected to automation installations.
In certain instances, the discussion of automation can insinuate the redundancy of labor. However, this is not the case for National Composites, as the company still strongly believes in the value of its committed team. "The life blood of our company is the people on the floor making the product, and we want to always show our gratitude accordingly. Over the years, we have done a huge amount to increase the benefits we offer them, and try to be as flexible as possible when it comes to their working hours. We profit share all the way down to the manufacturing line level, as we know that this is one of the many ways that we can keep everyone engaged. In many ways, it also encourages our folks to push themselves in their careers, and we are more than happy to train and support them should they wish to do so," he shares with us.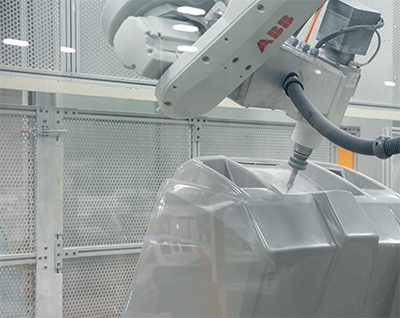 Targeted opportunities
In the coming years, Mr Fenton expresses that the business will be focusing intensively on geographical expansion. He has his eyes set on a few specific regions that he believes hold excellent potential for customer demand and growth. "I think what we must do in order to keep this growth is to start investing in new technologies, and new molding methods outside of the traditional open mold or light RTM. As I've mentioned, we have successfully grown from a one-plant operation to quite a sizeable business in a three-year period, and I have every faith that we can continue that trajectory. Although this journey is never easy, I strongly believe that we will keep pushing forward," he says.
"There are still some areas of the country where we do not have a presence, so I would say that in the next couple of years, our customers can expect National Composites to target opportunities to expand, regardless of whether it is through a new construction product, or an acquisition in different regions of the country. With this strategy, there is no doubt in my mind that the future for us will remain a successful one," Mr Fenton concludes.
www.nationalcomposites.com