Natural Alternatives International Inc.
San Marcos, Calif.-based Natural Alternatives International (NAI) Inc. creates and manufactures customized nutritional supplements with a remarkable commitment to health, scientific integrity and quality. The nearly 30-year-old company provides wide-ranging healthcare solutions based on scientific research, and produces them according to rigorous manufacturing standards and customer specifications.
NAI says it has established partnerships and works to develop tailored solutions for its clients' nutritional product needs. With state-of-the-art manufacturing facilities in San Marcos, Calif., and Lugano, Switzerland, and a sales presence in Yokohama, Japan, the company can fulfill the needs of customers around the world.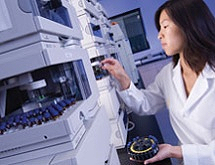 NAI uses an on-site laboratory to continuously monitor its output, with state-of-the-art testing equipment to examine products for weight, ingredient homogeneity, color standardization and content levels. Its tablets are tested for hardness, thickness, dissolution and integrity. "This extensive laboratory testing ensures that NAI's customers are supplied with products that conform to the highest standards," NAI explains.
The company's customers include direct sellers of dietary supplement and nutritional supplement products, as well as retailers. "Our customers have very high expectations of quality, since their end users are more selective on the type of supplements they are using," Vice President of Quality Nannette Monreal ex­plains. "These end users are not your typical Wal-Mart shopper.
"In June 2007, the federal government published the final rule for producing and selling products in our category," she continues. "This rule, 21 CFR 111 Dietary Supplement Good Manufacturing Practices, went into effect August 24, 2007, to promote and protect the public health. These laws were well overdue and will eliminate any manufacturer that tries to produce sub-standard product. No longer can it be said that our category is unregulated."
Making Milestones
CEO Mark LeDoux began NAI in his home in 1980. "Mark was looking for natural alternatives to over-the-counter medicines for his own ailments," notes Terry Doane, director of operations.
"He started NAI with one product, Herbal C, a non-drowsy allergy supplement. One year later, in 1981, the success of Herbal C led NAI to move to a larger facility. In this new location, Mark began making five additional products that would address a greater number of ailments."
These products included a diet capsule, a sleep assistance capsule and a menstrual relief product. In 1986, NAI went public on the American Stock Exchange. In 1992, it migrated to the NASDAQ exchange.
"By 1986, phenomenal growth drove NAI to move again to an even larger facility," Doane continues. All manufacturing was brought in-house at the newly purchased facility. In 1997, NAI formed NAI Japan, becoming the first non-Japanese manufacturer to bring capsules to the Japanese public, Doane says. In 1999, a facility in Lugano followed.
"The Lugano facility enables NAI to provide global manufacturing and shipping to customers entering the growing European markets," Doane explains. As NAI opened its European facility, it concurrently expanded into its current 160,000-square-foot Vista facility.
In 2000, in addition to contract manufacturing, NAI began diversifying its business offerings by creating a direct-to-consumer division.
Staying Ahead
NAI's Vista facility consists of a warehouse, weighing and blending departments and areas for encapsulation, tableting, coating and packaging. Ninety-five employees cover these operations, 22 work in quality assurance and 12 handle quality control.
These workers go through training to handle continuously evolving product lines and to manufacture to customer specifications. "Several times a quarter, new products are introduced for both new and existing customers," Doane notes.
"As a contract manufacturing company, we typically manufacture to customer orders rather than to inventory stock. In addition, most customers require specialized product ingredients and flavor profiles. Starting with research and development, the entire organization works together to develop and produce these unique product requests."
NAI employees undergo a combination of on-the-job and classroom training, and they continuously review standard operating procedures. Employees are briefed on safety regulations twice a year, and also undergo Good Manufacturing Practices training annually.
"The addition of new equipment and facilities has helped support our growth over the last 30 years," Doane says. "Our production staff has remained fairly constant, with long-term employees from 12 years to 25 years of tenure. We have a solid core of people that are dedicated to NAI's goals and objectives."
NAI audits its operations on a regular basis to make sure it is keeping current with the regulations. Twice a year NAI is audited by NSF (or the Public Health and Safety Co.), and the Therapeutic Goods Association for Australia audits NAI annually.
"Since we are a contract manufacturer, we are constantly audited," Doane says. "Our organization is always prepared for an audit, and knows how to support Q/A during that audit. With each audit, new ideas are presented on how to raise the level of excellence. Following each audit, our cross functional team develops meaningful actions to ad­dress any observations. Our clients are extremely happy with our facility and our ability to meet their needs."