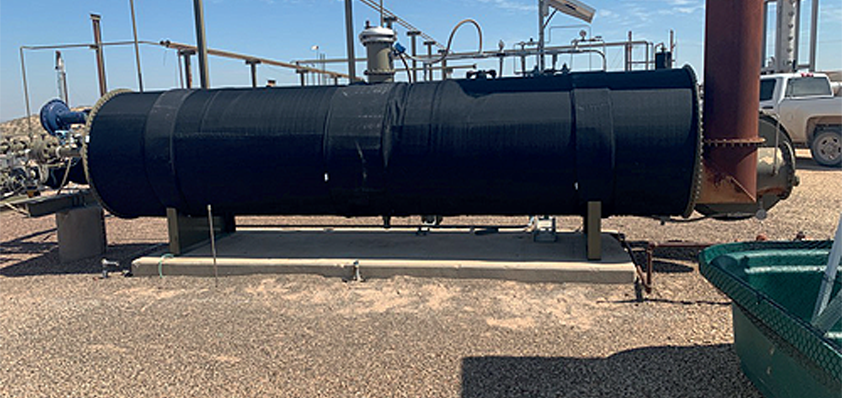 A new way of thinking
From a home garage to the Inc. 5000 – NeoInsulation has come a long way in seven years, and revolutionized the insulation industry in the process
When Justin Mecklenburg joined the operational team at NeoInsulation in 2014, he was intrigued. A career entrepreneur, Justin sensed the company's potential immediately. Excited by the firm's state-of-the-art protective solutions, Justin was compelled to increase his involvement in the business and by April 2015, he was its majority owner. The decision paid off and today, with Justin leading the firm as Owner and CEO, NeoInsulation is a multi-million-dollar organization
offering the industry something truly unique. With a nod to the company's origins, Justin explains that NeoInsul
"NeoInsulation was founded back in 2013 by a third-generation oil roustabout," he says. "The guy had been working in the field for a long time and was constantly being called out to deal with frozen pipes. Each time, he would have to steam the pipes and reinsulate them, and he noticed that he was going back to the same locations over and over again, so whatever method they were using was clearly not working. One night, he was watching a show on the Discovery channel and there was an episode about neoprene, a material used in wetsuits to keep divers warm in the ocean. It made the roustabout think – if neoprene can keep divers warm, I wonder if it can keep pipes warm too? The next day, he bought some neoprene and a sewing machine, sewed a few pieces of it together in his garage and the idea was born.
"From that humble beginning, NeoInsulation has really gone on to revolutionize the insulation industry," Justin adds. "It is an industry that has not seen much advancement or innovation over the last 30 or 40 years, but Neo has turned it upside-down with new pioneering, patented insulation applications that are removable, reusable, water resistant, fire retardant, and completely safe."
Today, in 2020, NeoInsulation offers insulation products for two primary purposes: freeze protection and heat retention. The company has also recently introduced a variety of electrical services to its offering. These include electrical heat tracing, which involves providing a heating element to be used in conjunction with insulation.
"We continue to evolve and improve our product line," Justin reports. "We are always trying out different raw materials, whether it is a different form of interior insulation, a different type of Velcro, or a different exterior fabric. It's important for us to constantly look for ways to upgrade the product, but still, there is little doubt in my mind that we simply have the best offering available on the market today. The fact that our product is removable and reusable is critical because traditional forms of insulation are not and so anytime you have to remove them, you have to pay somebody to come back out and reinsulate your equipment. That is not necessary with NeoInsulation, so your maintenance costs are virtually zero."
At present, NeoInsulation manufactures all its products in the United States. A 25,000 square-foot facility in Oklahoma City is home to the majority of the firm's in-house operations, but in order to meet growing demand for its products, NeoInsulation has recently partnered with an Arkansas-based outsourcing firm. With over 600,000 square feet of production space, the manufacturer produces a variety of standard insulation products for NeoInsulation, preventing the company's Oklahoma facility from ever becoming overwhelmed.
Rising demand for NeoInsulation products comes as a direct result of the company's success in the oil and gas industry. Having developed what Justin describes as a 'niche in the midstream sector', the firm serves a group of customers who, by nature of their work, are constantly changing their valves, pipes, and equipment.
"The midstream sector presents us with a very fluid situation and the companies who operate in that market have developed a fondness for NeoInsulation because of the removability aspect of our product," Justin reveals. "We have recently won some very large contracts with major midstream players in the US on natural gas processing facilities. It's very exciting.
"We continue to get work in new geographical areas across the country too," Justin adds. "For example, we are currently performing projects in South Texas. Now, if you are familiar with South Texas, you wouldn't think we'd be doing much insulation down there because it's pretty warm, but that is where our heat retention insulation has really come into play. A lot of refineries intentionally heat up their commodity in order to separate the oil and gas from the water and so it is our job to retain that heat through insulation.
"We are also performing HVAC work for large institutions like hospitals in Oklahoma and universities in Texas. The heating and air-cooling side of the business is a new venture for us because we started out solely focused on oil and gas, but we identified HVAC as a great opportunity and we are trying to expand our activity into that area."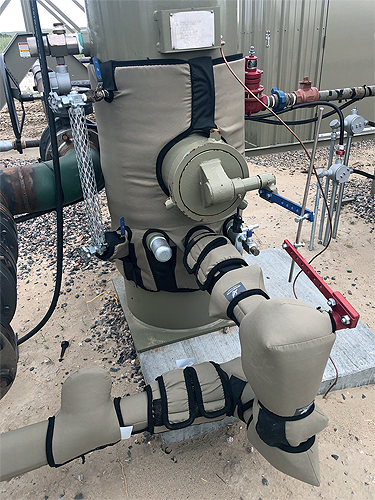 As part of NeoInsulation's latest research and development efforts, the company is now looking towards the introduction of Smart Covers – insulation covers that provide their own heating element. In addition to eliminating the need for an external heat source, the firm is hopeful that Smart Covers will be able to report data such as temperature and pressure drops back to a centralized location. Intelligent technology and data collection will help to modernize what is already a groundbreaking product, but Justin argues that NeoInsulation's success is not solely down to innovation.
"We are very innovative as an organization, but honestly, the biggest differentiator between Neo and other companies is the talent that I have been able to find and put together to form my team," Justin proclaims. "I'm a big believer in culture and developing people and I've been very fortunate to amass a team of people that are not only creative, but also aggressive and very willing to step out of their comfort zone and try new things. It has allowed us to execute with excellence, which is one of our mantras. If you can execute with excellence, and you have the best product, you've got a really good chance of success."
Having owned and operated multiple businesses throughout the course of his career, Justin believes that nothing is more critical to a company than its people. From his early days leading NeoInsulation, the CEO has made it his priority to instill a culture that worked best for the company, its employees, and its customers. Justin's efforts are reflected today in NeoInsulation's united focus on teamwork and a 'servant attitude' that aims to make life easier for every single one of the firm's customers.
"Our approach to service is taken straight from Jeff Bezos at Amazon," Justin declares. "We are absolutely obsessed with our customer. That filters down through our workforce. I spend a lot of time making sure we've got the right people on the bus in the right positions because it is vital that new hires share our values, understand our vision, and really buy into it. We want to be an organization where our employees are here for much more than just a paycheck."
One way Justin aims to accomplish this is through NeoInsulation's employee profit sharing plan. As part of the initiative, every quarter, the company disperses 20 per cent of its profits between all members of staff.
"People think I'm crazy for doing it," Justin says of the plan, "but it allows all our employees – no matter how high up or low down they are on the chain – to feel like an owner and believe they can benefit from the growth of the company. In my experience, it means that they start making better decisions for the business as they know it is going to affect their bonus and their bottom line."
The company's performance in recent times certainly justifies Justin's methods. In August 2020, NeoInsulation was named on the annual Inc. 5000 list, the most prestigious ranking of the USA's fastest growing companies. The achievement comes on the back of growth of 212 per cent over the last three years, earning the company a place at number 2005 on the list and putting it in the top 50 per cent of America's most dynamic independent businesses. The accomplishment has already got Justin itching for more.
"We are excited about our growth potential," he remarks. "I just met with my executive team last week and discussed this in detail. We currently have field offices in Oklahoma, Texas, Wyoming, and North Dakota, but we expect within a year or so to have field offices in Ohio, Pennsylvania, New Mexico, South Texas and Colorado. We go where the work is. It doesn't require intense amounts of capital for us to set up a field office, so we have the flexibility to grow and expand very quickly. Eventually, we aim to take that expansion overseas."
In what Justin terms a 'highly fragmented' industry with many small businesses jostling for position, the CEO believes that NeoInsulation can grow to dominate the sector in the next few years, becoming the standard name for insulation in the industry. "I joke with our employees and tell everybody that I want our company name to be used as a verb," he laughs. "I want people to say, 'Hey let's Neo this facility', or 'Let's Neo that!' I think once you're used as a verb you've made it."
In order for NeoInsulation to take that final leap and solidify itself in the consciousness of its consumers, Justin, as always, is aiming to focus on his people. "My main objective over the next three to five years is to continue to develop our team, changing lives as we change the industry," he asserts. "Profits will come, I have no doubt, but our number one objective is to develop people – professionally, financially, emotionally, and spiritually – growing together as a unique workforce and a better workforce."
NeoInsulation
Services: Insulation solutions
www.neoinsulation.com