A history of innovation
Neumeister Hydraulik is a producer and supplier of hydraulic cylinders and hydraulic power units
''Neumeister Hydraulik founder Otto Neumeister was always a step ahead of his time," reflects Neumeister Hydraulik Managing Director Ali Tolu. "His pioneering spirit has kept the company on the road to success since it was founded in 1929." Indeed the history of Neumeister Hydraulik begins with the introduction of Otto Neumeister's grease gun, which was produced from 1934 to 1936. Soon after innovations for tail-lifts and special cylinders followed during the time of the West German economic miracle in the wake of the Second World War. Today Neumeister Hydraulik continues to specialise in the production and supply of hydraulic cylinders and hydraulic power units, having built on its small-scale operations supplying the agricultural market to eventually serve a broad base of clients. The company prides itself on employing the very latest technology and advanced automated production processes and is considered to be a market leader in the production of hydraulic cylinders for axle springs in heavy goods vehicles.


From its headquarters in Neuenstadt am Kocher, southwest Germany, Neumeister Hydraulik continues to operate as a family-owned business that employs more than 290 people. The company manages a cutting-edge facility that encompasses some 16,700 square metres of planning, construction and production technologies. From this single location Neumeister Hydraulik is able to manufacture all of the components associated with its hydraulic cylinders, hydraulic power units and valves in-house. Its manufacturing technologies include machining techniques such as sawing, CNC turning, milling and grinding; various welding methods; electroplating; assembly; and painting. Furthermore Neumeister Hydraulik employs the latest fully automatic welding robots, which utilise computer-controlled NC turning lathes. In contrast there are still a number of manual processes in the final assembly stages of manufacture that allow the company to ensure the demand for flawless products. Therefore as a medium-sized company, Neumeister Hydraulik is committed to paving the way for young people into professional life and presently employs 20 apprentices in its training workshop.
The company's manufacturing processes are supported by computer aided design, with specially trained designers using the latest CAD workstations that enable them to assess how the developed cylinders will stand the test of time during daily use. The combined strength of Neumeister Hydraulik's manufacturing capability is designed to enable the business to respond to the demanding requirements of its clients and its production processes are continuously refined to this end. "Our production strategy is based on the company's new Neumeister production system. This production system is currently in development and will be introduced gradually over the coming months. The introduction of an integrated production system and thus the realisation of lean production and logistics processes will enable the optimisation of production cycles and offer significant advantages," Ali reveals.
"Specific client projects and requirements often mean that we face major challenges in terms of technology, functionality, delivery times, quality and price," he adds. "However these projects give Neumeister Hydraulik the opportunity to enter into dialog with its customers to learn a great deal about their needs, which allows the company to increase its knowledge base and realise its client's wishes accordingly. Consistent customer orientation is a vital part of our company's development."
Neumeister Hydraulik's range extends from telescopic cylinders, including single and double-acting cylinders to hydraulic hydraulic power units and equipment such as flow dividers, valves and roof lifting plants. With new products such as its HySafe non-return valve and a four-chamber cylinder for vehicles in public transport, the company continues to set trends in the market. Industries serviced by Neumeister Hydraulik include vehicle and equipment manufacturers, the concrete industry, producers of ground support equipment, tunnel boring and maritime segments. To date the company has worked with broad range of highly regarded industry players including Goldhofer AG, TII Group (Scheuerle, Kamag, Nicolas), Kässbohrer Transport Technik GmbH, Liebherr, Bauer Group, Hydro Leduc, Faymonville, Terex, Doll Kirow, etc. "We see ourselves as a supplier of ideas. The hydraulic components Neumeister Hydraulik designs are produced to realise the increasing demands of the market, which we view as an opportunity. Sound kno -how, years of experience and a desire to always offer our customers the best solution, give rise to leading market and customer-oriented products," Ali reveals.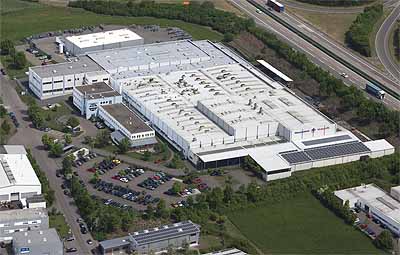 "We develop and produce hydraulic cylinders with all associated components, such as hydraulic power units and safety valves for heavy duty vehicles," he adds. "Our products are used in modular transporters, tippers, truck-mounted cranes, slag transporters, aircraft tugs, tunnel boring machines and other commercial vehicles. Safety, reliability and functionality are paramount for products 'Made by Neumeister'."
'Made by Neumeister' is the term that Neumeister Hydraulik applies to its products and denotes the pride the company takes in supplying the highest levels of quality. As well as supplying standard cylinders ranging from one kg to 12,000 kg, Neumeister Hydraulik is also able to supply bespoke solutions from batch sizes of as little as a single unit. This great flexibility allows the company to work with its clients to provide first-class, innovative solutions. "We see ourselves as a development partner for our customers, therefore innovations have a very important significance for our company," Ali says. "With both new and existing products, innovative ideas and product evolution is considered permanent."
Over the next 12 months Neumeister Hydraulik will work to continue the development and implementation of the Neumeister production system and to increase productivity. In the longer term it is intended that the company will continue the expansion strategy. "The current order situation is very good, with strong customer demand for the increased capacity we have at present," Ali concludes. "In spite of the challenges in recent years we are in a very dynamic market and therefore, we follow customer requirements and the competitive landscape very closely. We will continue in the development of new markets and industries with good growth potential and launch innovative new products. Key to this will be the expansion and development of close customer relationships and further investment in the organisation and its staff."
Neumeister Hydraulik
Products: Hydraulic cylinders and hydraulic power units
Sites: Neuenstadt am Kocher, Southwest Germany