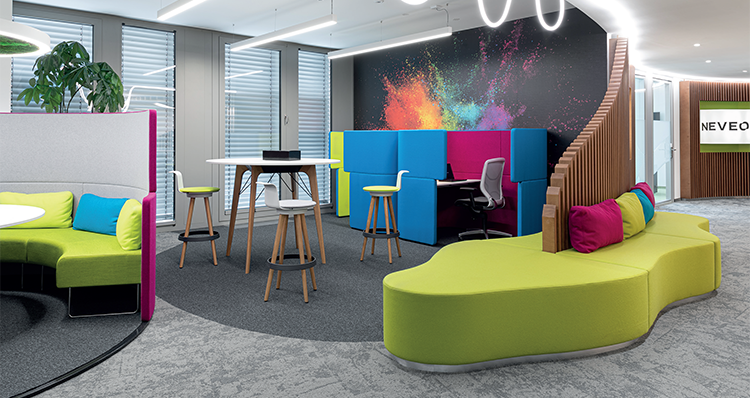 On February 1st 2021, NEVEON was founded by unifying the six Greiner companies, Eurofoam, aerospace, Multifoam, Perfoam, PURTEC and Unifoam under one umbrella brand. Since then, NEVEON has grown into a multi-disciplinary operation with an expansive footprint and industry-leading portfolio of foam products. Despite being such a new company, NEVEON benefits from years of experience and expertise, as the operation was formed of numerous smaller companies with existing market niche's and supplier connections. Now celebrating a year of success, NEVEON is making major investments into new facilities and technology, including robotics and data science.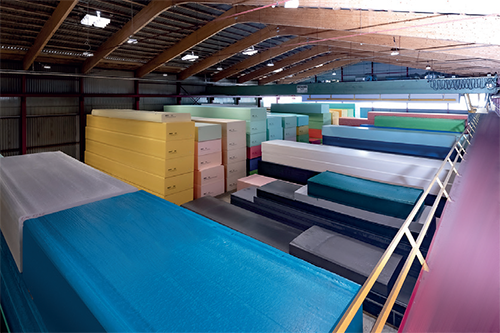 "NEVEON was founded as a merger between several previously independent foam companies. Greiner owned a number of different businesses that were part of the foam products industry; these companies had different strengths and weaknesses, and sometimes they found themselves competing with one another. As a result, they were all merged into an integrated foam company at the start of 2021," details Chief Executive Officer, Oliver Bruns.
Since its genesis, NEVEON has been a company dedicated to being the best, as Oliver reveals: "What is very interesting about NEVEON is that it was planned and founded with a blueprint approach. We sat down together and thought about what assets the world's most successful foam company might have; for example, how would it be organized? What kind of culture would we put in place? What kinds of products and services would we need to offer? What would our footprint look like? We also thought about things like applications, and different industries that use foam. We brain-stormed like that for a while, without restricting our thoughts, and that helped us gain an understanding of what we wanted the brand to look like.
"Once we had the blueprint ready, it gave us the starting point we needed in order to integrate all the different businesses. That's how we created NEVEON as it is today. It's a very exciting time, because NEVEON is already running like a well-oiled machine; we talk to partners along the value chain, as well as suppliers and customers, and it feels like those relationships and this company have always existed, even though in reality it's only one year old."
Putting the company together in this way allowed NEVEON to retain strong relationships with pre-existing customers and suppliers, whilst also making operations leaner and more effective. The collective now covers a vast area, and numerous industries, as Oliver confirms: "NEVEON operates in many different industries, and has more than 60 locations in 18 countries. This means we have an extensive footprint and a product portfolio that allows us to continue growing and succeeding."
In addition to its impressive portfolio and manufacturing reach, NEVEON has a strong, respectful and effective working culture. "Our biggest strength, and what we see as our USP, is our culture and our people. We have so many fantastic people with great characters and a huge amount of talent. The culture is really the umbrella that puts everything together, so this is where you might see us as being a little bit unconventional.
"Speed is essential in what we do, so we are always taking the lead and making decisions quickly. Fun is also an integral part of our daily working lives, because we believe that having a strong working environment attracts the brightest and most talented people, which is to our competitive advantage," says Oliver.
These characteristics have helped NEVEON thrive, despite the fact that its first year in business was characterized largely by the effects of Covid-19. "Things like the pandemic certainly have been a challenge for all of us, but at the same time, part of our culture is that we constantly need to adapt. We need to be fast and flexible; one thing the pandemic has done is made a lot of the industries we serve a lot more difficult to predict. In addition to many other industries, we serve the aviation, automotive and retail industries, all of which have seen periodical shut-downs and surges in demand during the pandemic.
"Our generally great atmosphere has been an advantage for us in comparison with some of our competitors. It's in our DNA to always strive for the best. Our tight-knit culture also helped with things like remote working. We have very strong bonds within our team, which makes it all the easier to work from home, as communication is clearer and people are more conscious of each other," Oliver discusses.
As it completes its first year in business, NEVEON continues to grow and flourish. In addition to its 61 locations, the company has recently invested in a molded foam plant in the Czech Republic. The new unit is just one element of NEVEON's projected growth, as Oliver highlights: "Over the next year we will continue to focus on developing the new facilities, with an eye toward Lean management and organization. In 2022, we are putting an operations plan in place for world class manufacturing; this includes more standardized processes and further automation. We will also be investing further in the effective use of robotics and data science."
Overall, the future looks bright for NEVEON, as it continues to expand its portfolio and operations to meet the demands of new and emerging markets. "Our business is performing well. We are serving new industries, which of course provides new challenges, but we have been doing extremely well. We have been outperforming the industry growth a lot, and we see positive feedback from the market place on all our products and services. We as an organization are optimistically looking at 2022; we know it might be a challenge, but that's something we are more than prepared for," Oliver concludes.
NEVEON
www.neveon.com
Services: Foam and foam products