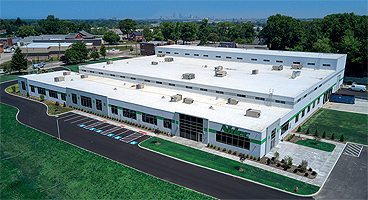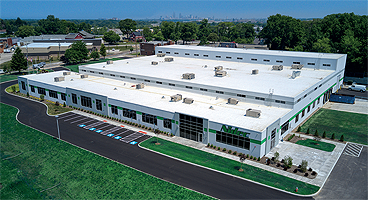 The $12m investment in this new building comprises 67,000 square feet of office and manufacturing space. The facility is a three-tier building and brings together 130 employees previously housed in three separate facilities.
The facility was occupied in March and has continued to engineer and manufacture at full-capacity throughout the Covid-19 pandemic. The site is classified as an essential manufacturing facility because NIS manufactures both its leading Nidec Avtron™ Encoders and large-scale controls and automation systems here for renewables and energy storage, oil and gas, steel, PPE production, healthcare equipment, US Defence installations, port and specialty cranes as well as pulp and paper machinery.
The brand-new state-of-the-art facility features a purpose-built area for the assembly and testing of large industrial controls and automation systems, Battery Energy Storage Systems and Medium Voltage Drives as well as a cutting-edge production area for Nidec's Avtron Encoders.
Take off for 3D parts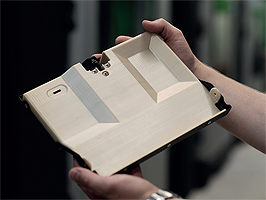 In what is one of its largest single orders to date, Stratasys has announced that Latvia-based specialist aerospace additive manufacturing service provider, AM Craft, has purchased four large-scale production-grade Stratasys F900 3D Printers to provide certifiable 3D printed parts for a much wider range of aircraft interior applications. This includes aircraft seating, panelling and ducting, as well as making it much more affordable for its aerospace customers to introduce customization within the cabin.
"In recent years, we've seen an ongoing demand for 3D printed production parts among major aircraft OEMs," comments Jānis Jātnieks, Co-founder and CEO, of AM Craft. "Although Covid-19 has shocked the industry in the last few months, we are seeing efforts to return to business by remodelling passenger planes for cargo shipments, as well as projects to increase customer safety measures and improve the inflight customer experience. In such cases, additive manufacturing is way ahead of slower and costlier traditional methods.
"One of the mainstay pillars that enables us to realize this business case into real-world applications is Stratasys' highly-repeatable FDM-based 3D printing technology in conjunction with aerospace-grade materials like ULTEM™ 9085 resin. Crucially, this gives us the capability to meet strict rules and regulations around certification that require the highest level of repeatability and traceability with every part manufactured," he adds.
The flame-retardant, high-performance ULTEMTM 9085 resin meets stringent flame, smoke and toxicity (FST) criteria and retains traceability required by the aerospace industry. The material is used by aircraft manufacturers such as Airbus, which has successfully standardized it for the production of thousands of flight parts for its A350 XWB aircraft.
High tech for classic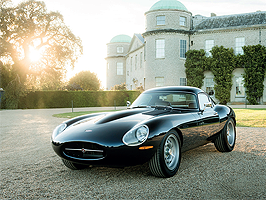 Eagle, a restorer of the legendary Jaguar E-Type car, has announced a partnership with Graphite Additive Manufacturing Ltd. to use HP's Jet Fusion 4200 3D printing solution to produce custom parts. Eagle has already seen a huge increase in quality, cost-effectiveness and efficiency since switching to HP's 3D printing from other 3D printing processes.
For the past four years, Eagle has worked closely with Graphite Additive Manufacturing Ltd., a UK-based 3D printing service provider which produces one-off models or production runs of functional parts for businesses and individuals. "Since we began using HP's 3D printing technology for production, we've been impressed by the improvement in how these parts look as well as their durability," said Paul Brace, director at Eagle. "HP's 3D platform consistently delivers the desired finish which is very important to our process. Additional benefits we've seen include the wider scope for shapes that we can now create using 3D printing, and the weight reduction in materials on offer. This adds value for customers who are keen to keep parts as lightweight as possible."
HP's 3D printed parts allow Eagle to produce in low volumes with design and economic advantages, as the digital 3D model is easily adjusted and the final part swiftly printed. This means that, if required, every part can be an evolution of the last with no cost implication from the change other than the shipping.
Easy opening
Adams Packaging, one of Poland's leading manufacturers of corrugated cardboard packaging, has selected Essentra Tapes' Rippatape brand, to help it meet an increase in consumer demand for functional e-commerce packaging.
Easy open and easy return boxes have seen significant growth and Adams Packaging was therefore seeking an effective solution to integrate tear tapes within its boxes.
Essentra Tapes' distributor in Poland, Paxton House, immediately helped Adams identify the correct tape solution for its corrugated production lines. As the original market-leading tape-based opening device for board and paper-based packaging, Rippatape was specified, and a 6mm wide, 60-micron tape was delivered quickly and efficiently to Adams for trial.
Intuitive to use and easy to implement, Rippatape gives fast, safe and immediate access to the contents of corrugated and fiberboard packaging. Rippatape is also easily applied to new and existing production lines, offering speeds of up to 450 meters a minute at the point of manufacture by using Essentra's custom build applicators.
Available in a range of colors, and also now printed, Rippatape is helping corrugated manufacturers integrate easy opening within their e-commerce packaging solutions, and also keep the integrity of the box for dealing with customer returns.
Using Rippatape means knives or other sharp implements are removed from the opening process, thereby minimizing the risk of product damage and possible personal injury. In addition, the tamper-evident nature of Rippatape gives a clear indication if a package has been opened previously, providing customer confidence on the authenticity of the delivery and its contents.
Importantly, from a sustainability perspective, Rippatape does not impede on the recycling of the boards that it is applied to, allowing the tape to be recycled through established recycling processes. This is a key benefit of Essentra's water-based adhesive solution.
"As the demand from consumers for e-commerce packaging increases, so we are seeing an increased interest in Rippatape, with its simple and effective integration enabling manufacturers to include easy-opening solutions into their boxes," said Ian Beresford, Head of Marketing and Development at Essentra Tapes.
News in brief
Multi-million UK investment
Schoeller Allibert, the European market leader in the production of recyclable, reusable and returnable plastic packaging solutions, has confirmed a multi-million investment programme is underway at its Winsford, Cheshire site.
Graeme Robinson, Senior Regional Director, North West Europe, said: "This investment sees us deliver additional flexible automation into the facility and supports our commitment to designing and delivering the next generation of transit solutions to drive down waste and cost for our customers, as well as boost their sustainability performance."
Jackie Johnson, Operations Director at Schoeller Allibert, added: "The fantastic part of this investment is that we are freeing up employees from manual roles, upskilling them and developing them within the business. Automation continues our absolute focus upon quality consistency, driving innovation, reducing lead times and achieving excellence in health and safety."
Meet the requirements
SGS, the world's leading inspection, verification, testing and certification company, has published advice to help manufacturers and suppliers understand US workplace regulations for electrical products. SGS offers a comprehensive range of services to help manufacturers and retailers ensure their products comply with US government requirements, including those of the Occupational Safety and Health Administration (OSHA). The SGS North America Listed Mark is a clear demonstration to retailers and consumers that a wide range of products, including power tools, household appliances, lighting, medical equipment, batteries, IT equipment, and audio-visual equipment, have been tested and certified in accordance with these requirements.
OSHA jurisdiction only applies to workplaces and so, when a business owner or manager is buying a product for their workplace, they should always check that it bears an NRTL mark. This provides assurance that the product is certified and therefore meets OSHA requirements.