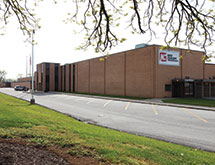 The "in-sourcing" trend of mov–ing manufacturing from offshore companies to a competitive source in North America is fueled by technology, innovation and automation, which rely on a highly skilled workforce. In the York, Pa., area where New Concept Technology is located, the Manufacturers Association of South Central Pennsylvania's training center keeps the local workforce prepared. New Concept Technology provides 5,000 square feet at its Emigsville, Pa., headquarters for the effort as well as additional support.
"Not only does this training center provide the required education for the tool and die apprentices, but also continuing education in specialized fields such as robotics, electronics, pneumatics and hydraulics," New Concept Technology President Thomas Baughman says. He is also vice president of the association.
Additionally, New Concept Technology has its own apprentice program. "We started the company in 1985, and immediately certified our apprenticeship program in 1986," Baughman recalls.
"That's how I started – I am a certified toolmaker by trade," he continues. "It's a five-year, state-certified program, and that's what we have at New Concept. We put on a minimum of two apprentices every five years to become a journeyman tool and die maker."
New Concept Technology invests approximately $250,000 per apprentice over a five-year-period in wages, benefits, books and classroom training. Tool and die apprentices need 10,000 hours of on-the-job training over those five years and take evening classes eight months of the year. Machinist apprentices participate in a four-year, hands-on, state-approved 8,000-hour program.
"The thing I'm really proud of is that one of our apprentices just graduated who's actually a third-generation employee here," Baughman notes. "His grandfather worked here, his father still works here, and he just received journeyman certification with us. So we're very proud of that."
That level of skill is required to reduce labor costs and make in-sourced components for similar prices to outsourced ones. An example Baughman cites is the company's reduction of manpower through automation to produce a high-speed network connector used on the back of computers from 42 employees to three, freeing up valuable skilled resources for other projects.
Single Source
New Concept Technology is a single-source supplier of design, engineering, process development, fabrication and manufacturing services from concept to finished product. Among the processes the company uses in its manufacturing are injection molding, high-speed machining, wire and sink EDM, high-speed metal stamping and insert and reel-to-reel insert molding. It has two manufacturing locations, one at its headquarters in Emigsville that measures approximately 200,000 square feet, and 50,000 square feet at its plant in Hermosillo, Mexico, which serves customers in that country.
"Much of the work that we do transcends different industry boundaries," Baughman says. "Many of our products are connector-related. Our business started with high-speed connectors for the electronics industry, but as the automobile market is integrating more and more electronics, we do a lot of connectors for infotainment and safety systems. The same connector technology we use in automotive assemblies might get used in medical solutions. Predominantly, the products will have a molding element and some metal components that could be used for applying spring pressure or electrical contacts or both, and possibly terminated as a cable assembly."
New Concept Technology is a contract manufacturer. "We use the term 'integrated manufacturer,'" Baughman says. "We do everything from design and building of the tooling through the production cycle so they can work with one contact."
The company has six design engineers, 45 toolmakers and eleven apprentices on staff. The tools it manufactures are used in injection molding, high-speed metal stamping and automated assembly equipment. Millions of parts are produced every month.
Embedded Technologies
The OEMs for whom New Concept manufactures components require the highest levels of quality. "It truly is a zero-defect world," Baughman says. "The only way to achieve that is with automation."
The company also supplies embedded technologies. "We've been putting more and more technology in the same amount of real estate," Baughman says. "We've been doing automated insert molding for quite some time. Now, we've taken it a step further, and components that used to take up room on the printed circuit board we are now putting right into the device. We're packing more power, speed and technology into a smaller package."
A trend in medical devices is to make them disposable to reduce the risk of infection from reused components. "Disposable surgical products certainly drive massive volumes," Baughman says. Molded medical solutions are designed for manufacturability in New Concept Technology's ISO 14644-1 Class 6 cleanroom using computer simulations of how the plastic resin will flow for optimum repeatability, performance and quality. "We work really hard to design the best possible tool before we start cutting the steel for it," Baughman says.
The quality of the resin for plastic parts affects their design and manufacturing efficiency. Celanese is one of New Concept's resin suppliers. "Of all our plastic resin suppliers, they are the most responsive and bring to us much more than just the material," Baughman attests.
For the future, Baughman expects the company's size to double in five years due to business from the medical, automotive and military aerospace industries. New Concept Technology is working hard to meet the brief lead-times required by its customers.
"That puts a lot of pressure to build strong, healthy relationships with customers," Baughman says. "You have to take care of your customer and you have to take care of your associates. We have to put them on career paths so they can continue to train in the new technologies."