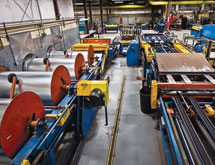 Based in Williston, Vt., New England Air Systems has been successful in the HVAC industry because it knows how to solve its customers' problems. The company has put its talent to good use, developing a suite of services and capabilities that includes design/build, plan and spec, operations and fabrication, plumbing and piping, insulation, duct cleaning an a 24-hour service department.
The company celebrated its 40th anniversary in March. Although its primary service area is Vermont, New Hampshire and upstate New York, New England Air Systems will travel outside of these areas as needed by customers.
Quality is King
New England Air Systems delivers single-source mechanical services, from design/build to installation and repairs. The company can work in many different settings and has a diverse base of clients representing a wide range of industries and environments, including office buildings; healthcare facilities; manufacturing plants; commercial, industrial and institutional facilities; financial institutions; and educational facilities. Its clients have included Fortune 500 corporations.
The company's goal is to build long-term relationships with customers based on high-quality craftsmanship. New England Air Systems provides facility evaluations to industrial and large commercial clients, as well as customer support, project trouble-shooting, engineering and design. Areas serviced range from heating, ventilation, air conditioning, plumbing, duct cleaning, refrigeration and commercial piping to process piping, medical gas piping, custom sheet metal fabrication, mechanical insulation, 24-hour service, ducts and equipment.
"We have the ability to analyze a wide variety of systems to help solve customers' problems and understand their needs," President Heather Ferrara says. "We integrate engineering and construction to facilitate seamless turnkey solutions while keeping the client's needs in mind."
The company operates out of a 30,000-square-foot fabrication facility. The facility provides the company with the space, capacity and state-of-the-art equipment needed to handle an array of projects. Whether a client needs a single unit or a large productions run, New England Air can provide the high-quality products, accuracy and speed its customers' schedules demand.
"Over the years, we have made just about anything that can be made out of metal," Ferrara says. "We specialize in stainless steel, galvanized steel, sheet metal, aluminum, black iron, angle rings and PVC."
Specialty work the company has done includes building or servicing everything from material hoppers, ladders, industrial wastewater cyclones and industrial stoves and ranges to kitchen hoods, exhaust systems, paint booths, cat walks, OSHA railings, agronomical workstations, dust collectors and prototyping.
New England Air is a job shop, not a mass production shop. That means customer needs drive its supply chain requirements. The company does look ahead so it can order in bulk and have the necessary materials at the best prices possible. But the key is to communicate with customers at the earliest stages of a project so it can make products as simply as possible.
"From there we look ahead at the needs of our customers and work to give them the best product and service in ways that will resolve their issues and speed up their production," Project Manager Don Chartrand says. "We try to make sure our employees all have a complete picture of what is involved on our projects, and then we bring in the raw materials here and work to turn projects around as quickly as we can."
Up to the Challenge
Although the last five years have been difficult and challenging, New England Air has managed to weather the storm quite well. The market is improving, but the competitive landscape has changed. Today, more small startup companies are bidding on jobs.
But New England Air feels it can continue to be successful by focusing on its customer base. That approach means that even when there aren't large jobs, there is consistent work, such as shutdown projects and maintenance work.
The company is also making some changes that it feels will add to its capabilities. It recently merged with a service company that had previously been part of New England Air. It had been spun off into a separate company, but bringing it back into the fold helps New England Air offer beginning-to-end service. The company also offers a start-up service division to beef up its offerings in the construction sector.
New England Air regularly upgrades equipment, too. It switched to computerized cutting tables several years ago, and it could end up moving to a water jet cutting system in the future.
"We always look at what we fabricate to determine the best direction to go in," Ferrara says. "We have worked on a lot of stainless steel products in the last 15 years, made a lot of galvanized product, and dealt with aluminum, black iron and copper. We are diversified in terms of product and material."
Having regularly demonstrated its project management, value-added engineering, color CAD drawings, coordination drawings, project scheduling, alternative system solutions and warranty support capabilities, New England Air is now looking ahead to its next 40 years in business. As it works to ensure that projects continue to be delivered as promised, New England Air will do exactly as it has always done: rely on the ingenuity and proficiency of its employees.
New England Air's employees are crucial to the continuation of relationships between the company and its clients. It has apprenticeship programs and offers cross-training to enhance its people's skills. This helps its employees stay valuable and productive no matter what the market conditions. And having reliable, long-term employees is central to New England Air's strategy.
"We are committed to providing the most-skilled tradespeople who have the highest level of training, certification and expertise," Ferrara says. "We offer outstanding customer service at the beginning, throughout and after the completion of the project. We are the single source for complete mechanical systems and service, backed by guaranteed results."