It takes a lot to tie seven major customer bases together, but New England Ropes has the rope capable of doing it. Since 1967, the Massachusetts-based company has been manufacturing high-performance ropes that serve almost every purpose, from helping movie stuntmen pull off amazing feats to providing a lifeline for the U.S. armed forces.
Founders Dave Aigler and Herb Repass met while working at Plymouth Cordage Co. in the 1960s. At the time, Plymouth was the largest rope-making company in the world, but after it was acquired by a competitor in 1965, the two men decided to take their knowledge of the industry and apply it to their own company.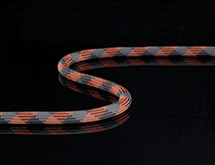 General Manager Chris Lavin says the company serves seven market segments, each with its own distinct needs. New England Ropes' largest customer base is in the high-end pleasure marine market, where it is the No. 1 supplier of high-performance ropes for racing, rigging and docking. In the recreation sector, New England Ropes supplies dynamic climbing lines used by rock climbers. The other side of that coin is its product line for the safety and rescue market. For arborists, it creates specialty rope used for climbing trees. It serves the utility market with high-performance synthetic-fiber ropes for winches and pulling lines. Its equestrian and ranching products are often used in rodeos, and its entertainment products in­clude ropes for stunt work and theatrical rigging lines. Finally, it serves the government sector with specialty rappelling lines and marine lines used by the navy and coast guard.
As a result of its diversification, New England Ropes doesn't have one competitor that can keep up with it in every market segment, Lavin says. "It gives us a very balanced financial performance as a business," he says.
Strong Ties
The key to the company's success over the years – and the reason it can serve so many disparate customers – is because New England Ropes takes its products and the needs of its customers very seriously, Lavin explains. The company does not manufacture bulk, one-size-fits-all ropes, and doesn't treat its products like a commodity. "We view our products as a tool more than anything," he says. "It's a highly engineered product." When developing new products, Lavin says, everything starts with the customer. "We also try to innovate on our own and bring to market new products," he says. "But mostly, we listen to our customer."
For example, it recently introduced its Tachyon brand rope to the arborist market. The company says its double-braided technology results in a lightweight climbing line that stays firm yet flexible and improves grip for less hand fatigue. In the industrial market, New England Ropes has been developing synthetic products to replace wire ropes and winches, resulting in lighter ropes. Lavin says the response to both products has been "phenomenal."
Leaner Methods
The drive for constant improvement has inspired New England Ropes to commit to enhancing its main manufacturing facility in Massachusetts, and Vice President of Operations John Tedder explains that this meant adopting a lean manufacturing model. "We've been on a lean journey for about 14 months now," he says.
Tedder says most of the company's staff has been trained in lean principles, and it has held six different events involving teams from the manufacturing floor. "The involvement of the manufacturing associates has opened the door to creative solutions to better serve our customers," Tedder says, adding that it has seen productivity improvements of more than 2 percent over the past year.
Lavin credits the company's diversity as well as the support of its parent company, Teufelberger, as being key to its success. These strengths will give New England Ropes the ability to rope in new markets, he says.
​