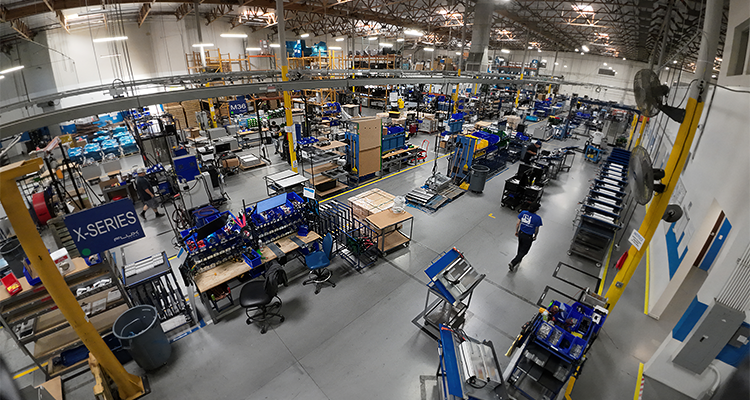 New renovations, leading innovations and a fierce approach to growth – how Flux Power is making moves in manufacturing 
Flux Power designs, manufactures, and sells advanced lithium-ion energy storage solutions to electrify industrial and commercial sectors including material handling, airport ground support equipment (GSE), and stationary energy storage.  
Ron Dutt, CEO, shares his insight into how the business came to be a success, as well as the developments under construction to further Flux Power's growth. "Flux was formed in late 2009, with a focus on lithium batteries for automobiles. However, we pivoted to material handling within an untapped sector of lead acid batteries in 2013.  
"We saw the opportunity to bring lithium packs to large forklift fleet managers who were ready and interested in replacing lead acid and propane. More energy efficient, lithium packs enable more pallets to be moved at a lower life cycle cost, saving carbon dioxide emissions in the process. Our underlying competency is technology and patents on lithium battery management systems. Lithium chemistry and having the latest tech in our pack gives us an enormous advantage over existing power sources," Ron explains.  
Ron has spent most of his career with large Fortune 500 companies, beginning with Ford Motor Company and later with Visa, DHL and others in financial and executive roles. "I was offered the Flux role by the original founder to introduce lithium-ion batteries to the material handling sector.  
"In 2013, we began with nine of us with no product, and nearly no revenue or customers. It necessitated a high risk, aggressive strategy, pioneering technology to sell to Fortune 500 companies. We are now an outstanding supplier to PepsiCo, Delta Airlines, Electrolux, Caterpillar, Toyota Material Handling, Crown Equipment, and others."  
As the leading lithium adopter in sectors that include forklifts and airport ground support equipment, the company is currently expanding into other emerging markets. "We are focused on large fleets in Fortune 500 companies, with our value proposition offering top quality, responsiveness, delivery, ease, and leading technology.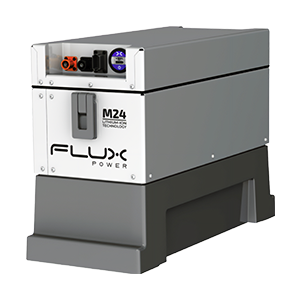 "We offer a full lineup of lithium batteries for electric forklift equipment ranging from 24-volt to 80-volt applications. We also offer 80-volt lithium batteries for a variety of airport ground support equipment ranging from baggage tractors to push back trucks. Additional special applications have included 400-volt lithium packs for autonomous, limited speed shuttle vehicles used in university and theme park applications," he highlights.
The company's packs for forklift applications suit a full range of commercial sectors from food and beverage delivery to heavy-duty applications, such as car assembly operations. "We can commit to producing and delivering products to a wide and diverse geographic range across the USA. We offer what large fleets and companies demand: UL Solutions listed products, UN38.3 certification for transport, ISO 9001 certification of our production, and approval by the major forklift OEM manufacturers." 
Safety and reliability 
Ron then discusses innovation and new developments under the company's remit. "Flux Power's vibration table is used to test battery systems under simulated vibration conditions to ensure that they can withstand the stresses of vibration and shock that may be encountered in their intended operating environment, reducing the time required from testing to certification.  
"Our full suite of testing equipment is capable of in-house qualification on everything from our smallest to our largest battery systems, eliminating the need to outsource any aspect of testing for either UL or UN certifications, thereby expediting the process. Our strong relationship with UL Solutions, coupled with these robust testing capabilities allows us to rapidly develop and deliver world-class energy storage systems to the critical applications of our end users. All Flux Power systems are designed and tested to meet the demanding standards of the modern operating environment with an unyielding focus on safety and reliability. We remain committed to the delivery of clean energy solutions to this rapidly evolving market."  
Furthermore, the company's product support facility in Atlanta provides call center and warranty repair services and coordinates its repair network with additional certified third parties in the eastern region of the US. 
To maintain innovation momentum, Flux Power has had ongoing discussions with potential partners to expand both its technology and sales footprint. "This reflects our strategy to build scale in support of our Fortune 500 customers that have large fleet demands. We are about halfway complete with implementing lean manufacturing in our operations. We do have a list of cost reduction initiatives that will be providing impactful improvements related to sourcing, design, and efficiency actions." 
Bold growth 
Taking this further, Ron shares that Flux Power intends to drive revenue and margin trajectories organically with current customers, adding several large new customers each quarter. "Our strategy calls for leveraging partnerships, both in technology and customer expansion over the coming years. We anticipate consolidation in this sector as building scale becomes a reality. Electrifying equipment in other potential applications will help drive our expansion, but this depends on the attractiveness of the business case. Expansion internationally by leveraging some of our current customers and OEM relationships is already under discussion for the future."  
In closing, Ron highlights that the experience of pioneering and growing Flux Power, including its Nasdaq listing, has been very bold and exciting. "Two core drivers of our trajectory have been the demand by large fleets for lithium-ion solutions and a company culture that breeds trust, respect, and best-in-class, and we are determined to keep it that way."