Newport Industries Limited
Straight to the source
Headquartered in Richmond-upon-Thames, Surrey, Newport Industries Limited is a well-established importer and stockist of chemicals and minerals in the UK and Ireland
Founded in 1997, and with operations today in London, Liverpool and Shanghai, Newport Industries Limited (Newport) has established itself as a niche distributor of chemicals relying on supply chain management activities to enhance its services to clients and suppliers. With over 350 clients – encompassing everyone from multinationals to local manufacturers – Newport's expertise is utilized for specific and precise chemical sourcing. In total, the company supplies in excess of 400,000 MTs of chemicals per year, with over 200 products spread over ten application industries, including the glass, cleaning and feed sectors.
In the case of the glass industry, Newport now supplies almost 75 per cent of the UK's demand for soda ash (sodium carbonate). The chances are high that if you were to pick up any kind of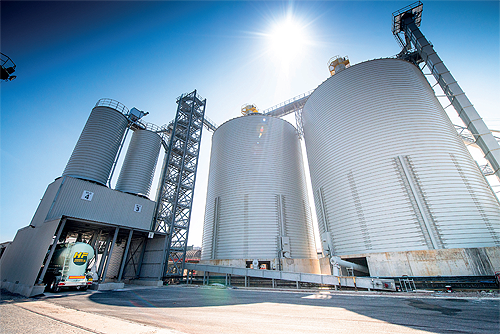 glass bottle or jar in the UK today, that it will contain a quarter of Newport's chemicals within its make-up. Likewise, most of the skyscrapers and other large structures found in the country to be using flat architectural glass due to its excellent insulating qualities, also make use of its soda ash products. The UK recycles over 75 per cent of glass products, making this a sustainable packaging material.
These facts speak for the exceptional growth that the company has experienced over the last 24 years. "Like other successful businesses in their infancy, our early years were marked by steady, consistent growth," explains Newport's Managing Director, Raj Patel. "After a decade or so, this really started to accelerate, and in the last three years in particular we have experienced a massive amount of demand, which has facilitated the expansion of our operations (more on this to follow)."
Since its doors first opened in 1997, Newport has stayed true to its belief that the three main ingredients to ensure formulated success are speed, quality and consistency. To this day, this mantra remains as important as ever, and can be found throughout the business, from its business cards and stationery, to the livery adorning the walls of its facilities. "It is this ethos that has helped us to grow, to win new business, and to retain clients who have continued to come back to us over the years," Raj adds.
Returning to the expansion of the business, in order to accommodate its customers' demands, in 2015 it established a sister company by the name of Bulk Powder Terminals Ltd (BPT Ltd). Based within the Port of Liverpool, BPT Ltd has developed a technology-led, purpose-built facility for the import of bulk minerals and chemicals, storage and final distribution to the end user client, which was completed in mid-2018. The facility specializes in dry bulk chemicals to service UK clients in the glass, detergent, chemicals and the animal feed industries, and was constructed in several phases. The first involved the construction of a pneumatic ship discharger and two silos, while the second saw the construction of a further four silos and a pallet warehouse. The raw materials utilized by Newport are extremely hydroscopic, meaning they have to be kept very clean and pure, and this new facility has been created with the intention of ensuring the quality and consistency of said materials.
"The idea behind the facility first emerged around 2013," Raj details. "At that time, we were working with Peel Ports Group – the second largest port operator in the UK – and encountering the challenge of accommodating ever larger ships that were bringing our raw materials to the UK. In response to this, our board went out and identified land in the Port of Liverpool area that we could secure a long-term lease for, and construction of the BPT Ltd facility began to take shape from there.
"It was, however, not without its challenges. One, was the fact that this was a manmade, five-acre piece of land that was first constructed in the 1850s. The uncertainty surrounding what lay beneath the bedrock of the site presented something of an obstacle, and one that was highlighted by the possibility of uncovering of a second World War bomb. Fortunately, we were able to overcome these issues with 3D sonic surveys, without any impact on our timescales."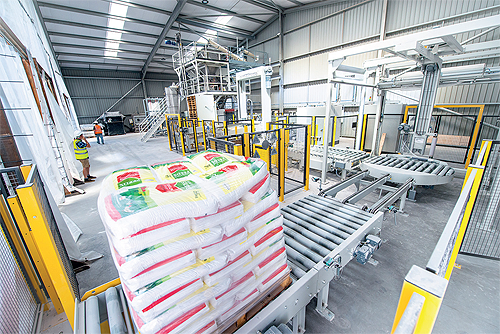 The facility represents a multi-million-pound investment, with its deep-water terminal providing Newport with the ability to not only capitalize on much sought after industrial space, but also to effectively double its production capabilities in the time since it become operational in 2018. There is also considerable room for growing this further still. "At present, we are bringing in around 200,000 tonnes of raw materials into the terminal, but we have the capacity to take this up to 750,000 tonnes in the future," Raj confirms.
There is little that hasn't been said about the year that was 2020, but for Newport – even in the face of the immense challenges posed by the Covid-19 pandemic and other external factors – it was a year in which the company continued to plan for investment in its own infrastructure. A notable example of this would be the €250,000 the company has set aside to invest in equipment and technology from Van Beek, to allow BPT Ltd to continue to operate in the event of what the company terms 'Black Swan' events, such as a National Grid outage or cyber-attack.
"This is something that we have been investigating for several years now, pre-dating what has been a Black Swan event in its own right with the emergence of Covid-19 at the turn of 2020," Raj details. "The event that we took inspiration from with our own investment was a major solar event that impacted Canada some years ago, which brought black outs to a lot of the country. For us, our clients run furnaces 24-hours a day, and if we were to suffer a major outage for any length of time that could end up costing said clients millions of pounds per day. The solution that we have chosen to counteract such an event is to put in a generator and create a system where we can load tankers in an automated way that can bypass our existing system, should that encounter a problem. We have everything on site for this solution to be installed and activated by Van Beek, and I hope that will come to fruition in the coming months."
Reflecting on 2020, Raj is also able to provide us with a few words about the performance of Newport's people in that time. "Our staff have been absolutely phenomenal over the last year, at a time of huge uncertainty," he states, before detailing their ability to adapt to what was a rapidly changing environment, particularly in the spring of 2020. "For our part, as we have an office and laboratories operating in China, we actually were ahead of the curve in reacting to the Covid-19's impact on the UK, as we had some first-hand experience of how the virus would change our lives once it hit our shores. To that end, we actually went into something of a lockdown in the first week of March 2020, with our office personnel switching to remote working, and our terminal staff continuing to operate in a way that maintained the highest of safety standards."
As spring rolls on, and the UK proceeds along its gradual reopening from the most recent lockdown, Newport is continuing to focus on where it can invest in order to build upon the success of its operations and that of BPT Ltd. "As we are in early April, I estimate that we have between £500,000 and £1 million in capex that we intend to invest going forward," Raj adds. "Internally we are looking to convert our existing racking systems into robotic shuttle dense racking solutions, which will further enhance efficiencies across the board, and we are also aiming to expand our footprint within the Peel Ports Group estate.
"We have designs on replicating our success with BPT Ltd elsewhere in the UK, and are looking at locations in the South West of England and also in the Republic of Ireland. We know now from experience that the model works, and we know where to source the best equipment and best engineers from. We have certainly learnt a lot over the last couple of years, and we look forward to reaping the rewards of this going forwards."
Newport Industries Limited
Products: Chemical sourcing
www.newport-industries.com