Roll out the carpet
A carpet manufacturer whose products are used on the ocean liner Queen Mary 2 is replacing the RFID tags that help control production at its Northern Ireland headquarters. Ulster Carpets has ordered 10,000 new tags from CoreRFID as part of the expansion of an automated system, which has helped to boost efficiency.
Ulster Carpets is the premier supplier of Axminster and Wilton carpets to the world market. At the company's state-of-the-art Dyehouse and Energy Centre, yarn is dyed to meet the specific colour requirements of every individual carpet. The yarn is then wound on to individual bobbins and placed on the loom to be woven. In the past, each bobbin held the same length of yarn but, as some carpets used more of one particular colour, the loom had to be stopped to replace a bobbin, creating delays in the weaving process. The labels on each bobbin were also easily lost.
RFID technology plays an integral role in a system, introduced in 2008, that is more intuitive to the exacting requirements of each carpet being woven. The RFID tag on each individual bobbin provides essential information from Ulster's database that is critical to the weaving process. This information can be accessed by staff using hand-held RFID scanners and has helped create a more streamlined system.
The success of the system and the company's growth has led to a new order of 10,000 new tags from CoreRFID.
Paul Richardson, yarn supply manager at Ulster Carpets, says: "We manufacture carpet for projects across the world so accuracy and speed are critical. Using RFID technology within our own state-of-the-art systems has enabled our business to create an efficient process that saves both time and money."
A cut above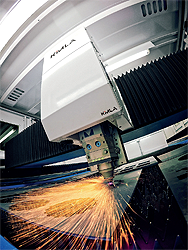 Two of the most advanced laser and waterjet cutting systems on the market from Polish fibre laser manufacturer, Kimla, are now on display in the UK after being installed at MBA Engineering – Kimla's exclusive distribution partner in the UK.
The Kimla powercut 6kW LF1530 full linear fibre laser machine and Kimla streamcut 4121 50hp waterjet have been installed at MBA Engineering to demonstrate the unparalleled performance of the Kimla equipment and how efficiently projects can be carried out companies to competitor machinery.
Kimla systems boast accuracies of 0.03mm, making it some of the most accurate cutting technology available on the market. The fibre laser now housed at MBA Engineering features a 3000mm x 1500mm bed and changing table, while the waterjet has a 4000mm x 2000mm bed, making them ideal options for manufacturers which require the most precise cutting options available.
Pressing ahead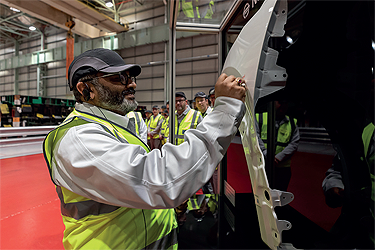 On March 6th Nissan unveiled a new £52m XL press line in its UK manufacturing plant, as preparations ramp up for the hotly anticipated next generation Qashqai.
The press, which weighs more than 2000 tonnes and has taken 18 months to install, is part of a £400m investment by Nissan in readiness for the new Qashqai, which will be the third-generation of the pioneering crossover.
The first specially commissioned panels on the press were produced at an official ceremony, led by Nissan Chief Operating Officer Ashwani Gupta, who said: "When the first Nissan Qashqai rolled off the line in Sunderland in 2006 it created the crossover segment.
"Designed, engineered and made in the UK, and more than three million vehicles later, it remains the benchmark, just as our team in the UK continues to set the standard for productivity and quality."
The £400m invested for Qashqai comes on top of the £100m invested for the launch of new Juke, and is part of an overall £1bn planned investment into the plant by Nissan over five years.
Engine from Aston Martin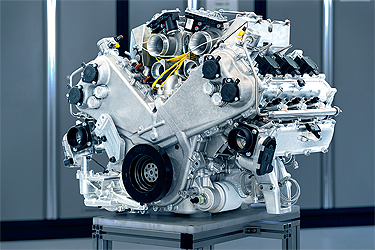 Aston Martin has revealed further details of its in-house designed V6 engine, which has been created initially for deployment in a new range of mid-engined sportscars, starting with the Aston Martin Valhalla from 2022.
Codenamed TM01 – celebrating Aston Martin's illustrious engineer of the 50s and 60s, Tadek Marek – the engine has already undergone a series of extensive testing on the dyno, as the team make progress towards creating the luxury British brand's first in-house designed engine since 1968.
Now confirmed as a 3.0-litre turbocharged V6, the full powertrain will be electrified – an aspect that has been key to the engine's development from day one. In parallel to recent tests, Aston Martin is developing a new range of hybrid systems that will ensure that the complete unit will become the most powerful in the Aston Martin range when on sale. The final power and torque figures for each application of this powertrain will be determined by the desired characteristics of each product it serves and confirmed at the time of launch.
Following the Aston Martin Valkyrie – the brand's first mid-engined hypercar – many key learnings have been directly applied to this project. As a result, the decision to develop the engine with a 'hot V' structure was clear from the start, with the configuration allowing for this compact engine to weigh less than 200kg.
Foam for E-Mobility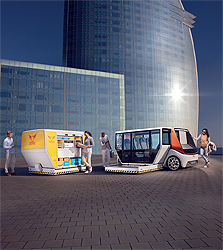 In its new modular MetroSnap concept car, Swiss mobility think tank Rinspeed is once again relying on innovative foam technology from FoamPartner to ensure highly effective acoustic and thermal insulation.
"One of the key advantages of electric vehicles is the ability for fast acceleration and low-noise drives. But the latter places higher demands on the insulation of the passenger compartment against rolling and wind noises," says Kay Kosar, Head of Marketing & Sales, Acoustics & Thermal Solutions (A&TS) Europe at FoamPartner. "At the same time, the power consumed by heating and air-conditioning must be minimised to ensure maximum driving ranges. In both disciplines, our advanced foam solutions are in their element."
The design of the MetroSnap builds on the MicroSnap and other concept cars from previous years. The main components of the concept car are a 'Skateboard' chassis and quick-change superstructure or 'Pods' for passenger and cargo transportation. The fully electric, connected and autonomously moving vehicle takes advantage of state-of-the-art technology from distinguished partner companies. Its encompassing concept – including a composite/steel body, 3D printed components, lidar sensors and a drive-by-wire system – also extends to battery leasing, insurance and payment services. The interior design features cutting-edge equipment, such as a digital cockpit and aircraft seats.
"For the interior of the MetroSnap, we paid special attention to providing high aesthetics, as well as being able to offer a durable and protective feel-good environment," emphasised Frank M. Rinderknecht, CEO of Rinspeed AG. "FoamPartner is the perfect address for us to meet these needs."
A matter of ethics
Rockwell Automation, a global leader in industrial automation and digital transformation, has been recognised as one of the 2020 World's Most Ethical Companies by Ethisphere, a renowned voice in defining and advancing the standards of ethical business practices.
"We are proud of this recognition by Ethisphere, which once again highlights our commitment to ethics and integrity," said Blake Moret, Chairman and CEO of Rockwell Automation. "We place a high value on integrity in every business decision we make, and that fosters an environment where all employees can and want to do their best work. Our culture of integrity is the foundation of our success and helps us deliver long-term value to our customers, shareowners, and employees."
Rockwell Automation has been recognised 12 times with this honour and is the only honouree in the Diversified Machinery Industry category. In 2020, 132 honourees were recognised spanning 21 countries and 51 industries.
Successful move
3DPRINTUK, a leading service provider of the polymer selective laser sintering (SLS) 3D printing process for manufacturing applications, has completed the transition to its new purpose-designed facility. Based within the Leyton Industrial Village in North London, 3DPRINTUK made the move at the end of 2019 to accommodate its current and future expansion plans.
The new facility boasts almost 10,000 square feet of space, providing an increase of 8000 square feet compared with the company's previous location. The new building has been custom designed to house 3DPRINTUK's growing fleet of EOS polymer SLS machines and to fully accommodate all the necessary ancillary and post-processing capabilities that the company offers clients as part of its service. This includes two rooms fully dedicated to post processing operations for cleaning and dyeing, as well as a dedicated break down room that is fully sealed from external environmental effects and to avoid powder contamination.