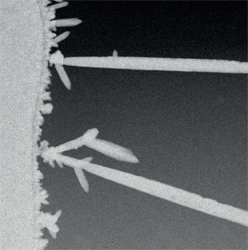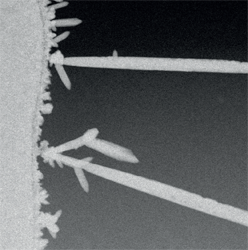 Working with the Consortium for Battery Innovation (CBI), the new industry-academia partnership based in Los Angeles will explore the fundamental processes occurring inside lead batteries as part of the Consortium's plans to deliver performance improvements in the technology for the growing automotive and utility grid storage sectors.
The University of California, Los Angeles (UCLA) will use an innovative implementation of Scanning Transmission Electron Microscopy (STEM) that allows researchers to observe the crystallization and dissolution of the phases involved in the charge and discharge of a lead battery during operation at the nanoscale.
This pioneering work, spanning 18 months, will provide deeper understanding into sustaining these materials to deliver improved battery performance and longer lifetimes.
Prof. Chris Regan, who leads the research team from UCLA said: "Lead batteries have been a mainstay technology for more than a hundred years, but there is a significant amount that is still to be understood about the fundamental reactions occurring in this chemistry. We believe this new technique will help unlock new technological data to improve the performance potential."
New business launch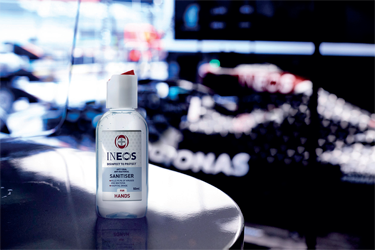 INEOS, one of the world's largest manufacturing companies, has launched its new global healthcare business, INEOS Hygienics. The new business will produce a range of hospital grade hand gels, sanitiser sprays for hands and surfaces and sanitiser wipes, for retail sale, available for the home and to the public. It will be headquartered in the UK and operate manufacturing plants at Newton Aycliffe in the UK, Herne in Germany, Etain in France and at Jacksonville and Neville Island in the USA.
George Ratcliffe, Chief Operating Officer of INEOS Hygienics, says: "To date, we've delivered more than four million bottles of sanitiser to hospitals around the world, bringing confidence to thousands of frontline medical staff and care providers. Now, we're able to offer that same level of protection to the public. INEOS sanitiser products will now help us all to target viruses and bacteria with confidence at home, at work and beyond."
The launch of the INEOS Hygienics business was announced at the British Grand Prix and is supported by six-time double world champions, Mercedes-AMG Petronas Formula One Team. Toto Wolff, Team Principal & CEO of the Mercedes F1 team, is delighted to have the backing of INEOS Hygienics and to be back racing at Silverstone, saying: "It is fantastic that we're back racing and it's only possible due to the stringent protocol measures that are in place across sport, including team members prioritizing hygiene. The INEOS Hygienics range of medical grade sanitisers is helping to protect the team, giving us confidence to get the job done at the factory and on the track."
Extended relationship
A member of the Volkswagen Group, and specializing in high-performance sports cars, Porsche AG was looking for a Contract Lifecycle Management (CLM) solution to provide a digital end-to-end contract management process. Operating in an industry where large, complex value chains are common, Porsche AG required a cloud-based tool that could provide efficient co-ordination with all internal stakeholders.
The company has expanded its relationship with Icertis and is rolling out the Icertis Contract Management (ICM) platform as its enterprise-wide contract management software. The platform is currently being deployed across an additional 18 organizational units of Porsche AG and will be used by more than 2000 users to manage over 100 different agreement types.
"The correct handling of contracts is an essential component of Porsche AG's success," said Dr. Melanie Schenk, legal counsel, Porsche AG. "ICM now enables transparent integration of all relevant departments in the process of contract co-ordination."
Illustrating the future
Canvas GFX, Inc, the leading technical illustration software provider, has announced that specialist Aerospace and Defense manufacturer GlenDee/MGI has selected Canvas X3 technical illustration solution to drive measurable improvements in its manufacturing workflows. The management team at MGI turned to Canvas X3 after becoming frustrated at the laborious and inefficient process of having CAD engineers provide endless product screenshots from CAD packages and provide them as images for inclusion in key documentation.
Canvas X3 allows users to import, manipulate, illustrate and annotate 3D models created in all leading CAD packages to create images for use in technical product documentation assets including installation and maintenance instructions.
It puts sophisticated illustration capabilities in the hands of everyone involved in the design and manufacturing processes, without the need for specialist CAD software and training.