Future proofing the supply chain
While newsprint circulations decline, Newsprinters' MD Darren Barker is driving a re-invention of the business. He tells Manufacturing Today Europe why he believes Newsprinters has reset to be more competitive, more collaborative and more end-to-end than ever before. All to ensure the client is getting the service they need
What has been your strategic focus been since becoming Managing Director of Newsprinters?
I took up the Managing Director role at Newsprinters last year. I'm very privileged to be working with a new leadership team who share my vision for the company and my commitment to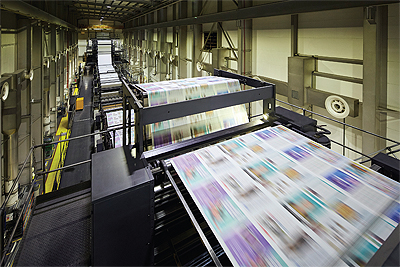 ensuring it changes at speed. That change is absolutely focused on better meeting the needs of clients whose own business landscapes continue to face significant challenge and rapid evolution.
I've spent my career working in supply chain and logistics, that experience – matched with the experiences of my wider leadership team – has informed a new strategy for Newsprinters. While our core values remain the same, our business model is transforming as we drive to become a more competitive supplier in the newspaper supply chain.
Three things define our strategy: ensuring we create a cost base that keeps us competitive for clients; driving collaborative working and efficiency across the sector; and developing our role in the supply chain, expanding our service offer beyond print and distribution.
A lot has changed in the last 18 months, can you outline your approach to future-proofing the Newsprinters business?
Eighteen months ago, we were an operations cost centre for News UK, now we are trading as a stand-alone business. That change has been significant, transformative and hasrequired a completely different mindset from the management team, and a cultural reset across the organisation.
We need to free our people up to think differently, be more creative and do things better. That way we can future-proof our own business. Bringing this approach into discussions with clients and partners will help us all progress in future-proofing the supply chain as a whole.
Our focus is very much on the long term: how do we ensure we're fully playing our role in getting newspapers into the hands of the nation's readers for as long as they want them? Clearly, the newspaper supply chain needs to change – the legacy model is cost-heavy and complex. I believe that to protect the long-term sustainability of both the retail category and the supply chain we need to optimise the network, remove low value-add parts of the chain and simplify everything we do.
How important is challenging the status quo?
In business, you're either the disrupter or you're being disrupted. My leadership team has taken the former route: challenging old assumptions, freeing up the wider team to be brave and think differently about doing things better. We're not dismissing our heritage, we're matching the best of it with a laser-sharp focus on strategic partnerships and client servicing.
The changes we have made have been underpinned by four internal drivers: Transforming our Cost Base, Developing our People, Growing our Revenue and being Future Fit. We've already made an array of operational changes to the way we do things – and there are more to come. We need to make sure our values and behaviours all underpin these drivers as we face out to customers and partners, because they are our priority focus. That rationale is helping every colleague in the business to understand how what they do contributes to our long-term success.
Of course – shifting from a cost centre to a P&L has meant we've needed to right-size. That's not been easy – but our people understand why. We need to be competitive in our offer to customers. We need to be constantly listening – and have the agility to respond to what we hear. By right-sizing our business now, we're well positioned to be a key service provider as the supply chain modernises and adapts.
So, what does the new-look Newsprinters offer?
Newsprinters has a fantastic infrastructure – with state-of-the-art facilities at Broxbourne, Knowsley and Glasgow – and has always prided itself on delivering a quality service to our clients. But our ambition – and our offer – is much wider than that: we want to be recognised as an end-to-end supply chain service partner in the print media sector. We are now ideally placed to offer a wide range of relevant services across print, primary distribution, B2B, B2C and ancillary back office services.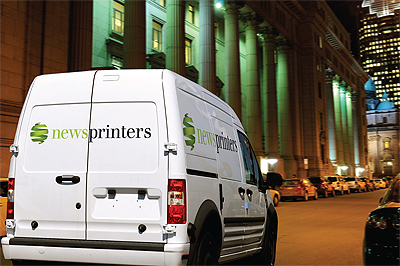 In today's newspaper manufacturing world, clients expect more than quality. They rightly demand ultra-competitive pricing, value-added services and – more than ever – a supplier who can offer a sustainable future by adapting to the changes in the newspaper supply chain.
We're now absolutely client-focused, with an end-to-end service offer that gives us flex to deliver bespoke arrangements that are robust and high quality. For us it's all about putting the building blocks in place to ensure long-term sustainable partnerships with our customers.
Operationally, all the old silos are gone – we're an integrated business with much more effective ways of working across key operations like Manufacturing, Logistics or Commercial. Culturally we now work as one team – which makes it so much easier for customers to benefit from a joined-up service.
What value has breaking down the silos unlocked?
The main change is our renewed focus on our clients. Our priority is understanding how clients want to work, what's important to them, how they want us to engage and – importantly – how they want us to provide services to them. If one-size-fits-all was ever relevant, it isn't now.
Having more integrated teams at Newsprinters really helps us deal with customers more efficiently. Joining up our print, logistics and commercial teams means we understand customer requirements much better and are more agile in building much more effective, efficient and robust solutions.
We're focusing on extending our services and provide a suite of products that create a one-stop-shop, or a menu to select from.
Have you introduced any new logistics practices to optimise your delivery?
We are constantly looking at our distribution networks and how we can optimise or help provide consolidated deliveries. This includes our doorstep delivery services and wholesale retail network located within the M25. We've undertaken many distribution tests to find suitable partners where we can offer both a wider reach into the independent retail network and a cheaper consolidated solution using our existing services. We're more competitive than ever in this area, and we are in the process of testing a number of key grocery products through these distribution functions.
Of course, you'd expect us to be constantly looking to optimise our distribution networks, and we use Paragon and Territory Optimiser to ensure our functions are as efficient as possible.
We're also in the process of exiting our 40,000-square foot Logistics Centre and moving both our logistics teams and operations into the main Broxbourne print site. This further drives our integration and helps streamline our operations.
What is your outlook for 2019? What targets are you looking to achieve this year?
As we enter 2019, the commercial newspaper print market is more challenging than ever before. Declining circulations, an over capacity of print and huge choice for publishers in the market means clients are quite rightly demanding the best. We need to meet that challenge in a way that works for our customers and sustains us for the long term.
The changes we've made to the Newsprinters operating model over the last year – and the changes we still have to implement – mean we've never been better placed to support the industry and provide robust, quality services at a great value-for-money price point.
We believe Newsprinters will have the right infrastructure, the appropriate cost base, an improved customer focus and the right skill sets to ensure we play a long-term role across the newspaper supply chain.
Where do you want to see the business in three-to-five years' time?
It's worth remembering newsbrands still generate an annual Retail Sales Value of £1.8bn each year. It's still a hugely significant market, a strong influencer and a major employer. There are lots of opportunities out there and the role of all partners in the supply chain is to keep it viable, keep newspapers visible and maintain a vibrant category in retail. I want Newsprinters to play a key part in that journey and be viewed as valued partner across the industry.
I believe Newsprinters can be at the heart of effective industry change, which means us being much more innovative ourselves, open to new ways of working with other publishers and suppliers and helping to create the right infrastructure that can support and be a value add to the industry for the long term.
Of course, change is a constant now, and we don't plan to stop looking for better ways to do things. But Newsprinters already feels very different, more positive, inclusive and – most importantly – much more customer-centric than we have ever been.
Newsprinters
Services: Printing and distribution of newspapers