Delivering the news
Newsprinters prints some of UK's most read newspapers. In 2018, the company is looking to grow as a standalone business by enhancing its service offerings
Few companies have experienced the same dynamics in operation as Newsprinters, in recent years. The whirlwind of changing market conditions in the newspaper industry over the past decade has imposed on the business a need to adapt, and Newsprinters has done just that. In 2017, the printing company underwent a major restructure that saw it emerge as a standalone entity, reporting directly to its main parent organisation, News UK. "It was an effort to bring a lot more commercial focus to our business, rather than just be seen as News UK's cost centre," comments Steve Whitehead, Group Manufacturing Director. "From now on, we will be more commercially adept and capable of controlling our P&L better. We want Newsprinters to be associated not solely with printing, so we are looking to scale up our distribution, commercial, and procurement activities, too."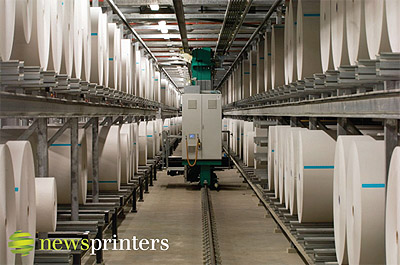 Ten years ago, the newspaper industry landscape was different from how we know it today. It was an age of hope and optimism with circulation numbers still high, when the digital era kicked in and shook the foundations of the market. Around the time, Newsprinters was engaged in talks for an investment of approximately $1 billion for three new printing facilities and new machinery that were projected to level up the company and substantially increase its revenues. They had also begun talks with other publishers, who faced reinvestment decisions themselves, which would eventually lead to Newsprinters taking on the printing of their titles for them, thereby future proofing this investment. Steve remembers the period: "There was a consistent advertising growth and big titles like The Sun decided they needed more colour capabilities in their papers, so we secured the delivery of 19 new triple-width presses to print 100 per cent in colour and produce copies at the rate of 86,000 per hour. It gave us a significant advantage at the time, but shortly afterwards, the digital age started to have its impact."
The drop of circulation numbers for titles such as The Sun, The Times, The Sunday Times and inevitably, the closure of the News of the World posed a challenge for Newsprinters to keep its new presses full in these changing circumstances. Benefitting from the new facilities it had already opened in Broxbourne, Knowsley, and Eurocentral, the manufacturer was equipped to take on more work. The discussions that had started previously led to it beginning to print for the Telegraph Media Group in 2008. "Over the ensuing years, we worked hard to develop our third-party portfolio," Steve explains. "In 2009, we started printing the Financial Times northern editions in Knowsley, and later on, we won contracts for some regional titles, including the London Evening Standard. We have also been printing The London Metro since 2012, which has now grown to include the Glasgow and Liverpool editions. I should also mention that we have established a strong relationship with the Daily Mail Group, and since 2017, we have been printing the Daily Mail in both Broxbourne and Knowsley."
As the market shrank, everyone at Newsprinters rolled their sleeves up, and began building up a more diverse expertise they could offer to existing and future customers alike. "We have mastered a wide variety of skills in every business department and we are always keen to add to our knowledge. A lot of our managers are regularly taking courses in CMI training to obtain diploma and degreelevel qualifications. The resilience we have demonstrated over the years, is one of our core strengths," Steve points out.
He goes on to praise the commitment to continuous improvement, the company has also developed. "When we started operating our three new sites in 2007, we aspired to create new benchmarks of excellence. As a result, we introduced some principles of ongoing improvement, starting with the basics of good workplace organisation." These efforts soon paid off, as Newsprinters won the British Excellence Award for the application of lean techniques twice – first in 2009 at the Knowsley site, and then two years later, for the work done in Broxbourne. The best was yet to come, though, as in 2014 Newsprinters was presented the prestigious Shingo Prize for Operational Excellence, becoming the only UK company to date, to have won the award.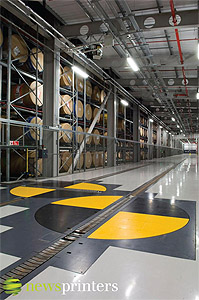 Newsprinters' distribution capabilities are also cited by Steve as a critical company asset. "We can offer a number of USPs in this area. Two examples to illustrate this would be the direct to retail operation the company has developed as well as the direct to consumer solution we deliver for customers of The Times in London. We intend to explore our distribution opportunities further, and see if we can add further value and maximise the potential of this particular capability.
"We have been fortunate enough to be continuously supported by News UK in terms of investments," Steve remarks. Alongside the three new buildings and the 19 presses, the company has taken advantage of additional investment in machinery. "In 2012, we boosted all of our presses with a newly-bought inkjet technology, and in 2014, we installed the world's largest closed loop density control system. It enables our customers to benefit from a more consistent control of colour, and allows us to keep our consumable costs in check, by optimising the amount of ink we use," Steve details.
Newsprinters in its new guise is still relatively young, so the rest of 2018 will be dedicated to aligning the working processes among all business departments. Steve elaborates: "At the moment we are refining our future strategy, and defining how we are going to articulate it to everyone at the company. The development and strategy of the new Newsprinters is being led by a new Managing Director, Andrew Hopkins.
"Staff engagement brings enormous benefits to our operation, and we want to make sure that we take our employees with us and secure their future with Newsprinters," he adds. "We expect that the consolidation in the industry will continue for quite some time," Steve suggests, when asked about his views on the present market conditions. "There has been a significant reduction in the number of publishers that run their own printing assets. A lot of them prefer to outsource the manufacturing process to other companies, and we are looking to capitalise on this trend, which will hopefully result in net gains in terms of volume."
Maintaining the key strategic relationships it has established with some of its biggest customers, like the Telegraph Media Group and the Daily Mail Group, is a priority for Newsprinters, as are the relationships it has with News UK's historic brands. "We are working hard to show them that we can add real value, and I think we have historically proven ourselves as a reliable partner, so this should help us remain in a good position in the industry," Steve sums up.
Andrew Hopkins, Newsprinters Managing Director adds: "Whilst the current newsprint market is extremely challenging we believe we have the key capabilities and organisation to build a sustainable business by focusing on the customer and providing a high-quality cost effective service."
Newsprinters
Services: Printing and distribution of newspapers