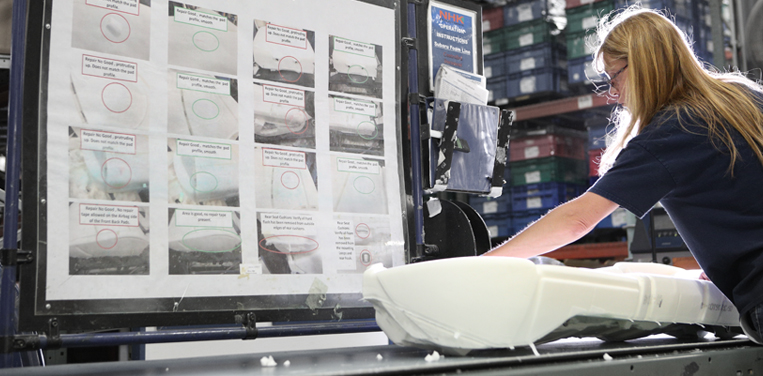 NHK Seating of America has not changed its product focus since it opened its doors 30 years ago. The product it manufactures, on the other hand, has changed significantly during that time.
"The car seat itself has evolved from a comfort standpoint and based on what consumers want," says Richard Reck, plant manager for the Tier 1 supplier to the automotive industry. "The safety structure of seats related to air bag functions has completely changed. We've seen car seats evolve from being bolted to the car body floor and being completely manually controlled to being something that can be adjusted by the push of a button and protect you with air bags from many angles during an accident."
The company regularly invests in its manufacturing capabilities to keep up with changes in seat design as well as increased demand for the vehicles their products are installed in. One of the company's recent major investments was the addition in 2013 of a foam molding line to one of its facilities. "We're one of the only companies in the United States that fabricates, welds and assembles seats under one roof," Reck says, noting that such an approach is common in Japan, where the company's parent organization is headquartered.
NHK Seating of America fabricates metal frame assemblies, molds soft foam pads and assembles finished seats in two plants. Its Frankfort, Ind., facility produces seats for Subaru models including the Legacy, Outback and Impreza. The company's Murfreesboro, Tenn., plant serves Nissan models including the  Altima, Rogue, Murano,Titan, Pathfinder and Infinity. The company is ISO 16949 and ISO 14001 certified.
Performing complete assembly of car seats in-house enables NHK Seating of America to provide a complete product to its customers at a low cost and high quality. The company's ability to do this was noted by Subaru, which in 2016 named the company its most cost-competitive Tier 1 supplier.
Quick Turnaround
NHK Seating of America was founded in 1987 as a joint venture between NHK Spring Co. Ltd. of Japan and Lear Corp. of Southfield, Mich., to supply seating to Japanese automotive companies with plant operations in North America. NHK acquired complete ownership of the company in  2006, changing its name from General Seating of America to NHK Seating of America.
Lean manufacturing principles have been at the heart of the company's operations since it opened, though the way it applies lean practices has changed. "One of the biggest changes we've made is the way we do assembly: when we opened, we built seats in work centers and not in a steady production line," Reck says. "In 1999, we went from manually taking sub-assemblies from one work station to the next to a streamlined conveyor system with 17 different processes."
NHK Seating of America's plants provide seat structures on a just-in-time (JIT) basis. Both plants operated 16 to 18 hours a day and run two shifts to accommodate production. Seats are assembled at the same time that cars are being painted; once completed, they are shipped to Subaru and Nissan's production facilities.
"We maintain less than one day of raw inventory – product on the floor today is gone by tomorrow," he adds. "We only carry about three hours of finished goods, and deliver products to our customers every 40 minutes."
Seats manufactured in Frankfort are shipped to Subaru's assembly plant in Lafayette, Ind. Nissan  frame structures manufactured in Murfreesboro are shipped to assembly plants in Smyrna, Tenn., and Canton, Miss.
NHK Seating of America uses a material requirements planning (MRP) system to manage its inventory. Orders to and from suppliers and customers are sent and received through electronic data interchange (EDI).
The company looks at its suppliers and customers as full partners in its business. "We don't look at our team as being just the NHK team, we look at it as the Subaru or Nissan team," Reck says. "We strive to create a very transparent relationship with our supply base and hold our suppliers to the same quality expectations that our customer requires of us."
Ramping Up
Being a Tier 1 JIT supplier requires NHK Seating of America to continually invest in its manufacturing capabilities. "We are challenged every single day to overcome the impossible," Reck says. "When the customer wants to add a new model, we add a new model. When the customer wants to increase production, we increase production."
Subaru for the past several years has increased its production to meet growing demand for its vehicles. Sales of Subaru vehicles have increased year-by-year for the past nine years. "They're one of the only brands out there that continues to grow," he adds. "They have a hot-selling vehicle, and that affects us in terms of overtime hours, bringing in new platforms and increasing our volume."
NHK Seating of America next year will begin making seats for Subaru's new eight-passenger SUV model. NHK Seating of America is investing $10 million in capital in preparation for production, including purchasing new equipment and expanding manufacturing operations.
The Frankfort facility will add two seat assembly lines and expand one of its welding lines. To do this, the company will add a new 50,000-square-foot facility located roughly one mile from its existing manufacturing plant. Roughly 150 jobs will be added to handle the added work, Reck adds.
Reck credits the company's ability to manage increased demand to its management and hourly staff. "We have a strong, long-tenured staff. Many members of our management staff have been here for more than 25 years, and a quarter of our hourly staff has been here for 15 years or more," he says. "Our staff's experience has allowed us to persevere through our steady growth."