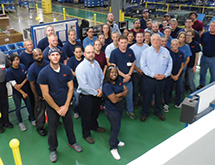 When owners of the popular Toyota Camry or Subaru Legacy and Outback settle into their cars, the comfort they experience is the result of work performed in Frankfort, Ind., and Murfreesboro, Tenn.
NHK Seating of America manufactures the seats for these exceedingly popular cars at both its Frankfort plant, which opened in 1988, and the Murfreesboro facility, which opened in 2010. The company expanded the Tennessee plant in 2013, investing $6.8 million in the facility. The expansion more than doubled the size of the workforce at the facility.
Two Key Clients
The company manufactures approximately 110,000 front and rear seat sets annually for Subaru and an additional 70,000 for the Toyota Camry, says Fred Myers, vice president of operations. Having two of the most popular auto manufacturers as clients is a significant benefit for the company. In fact, the Camry was the No. 1-selling car in the United States in 2014. The Subaru Legacy and Outback nearly doubled their sales in 2014 compared to 2013.
"We're in a good position with our main customer being Subaru," Myers says. "And what can you say about Toyota. They're number one." He doesn't expect the popularity of Toyota to decline and believes Subaru will continue to gain marketshare. Both cars are known for their safety, reliability and dependability, he says. The design of the seats plays a large role in safety. "They're a safety- critical item," he says.
But not all seats are the same, which presents a challenge. "The seats have several different styles," Myers says. For example, some automobiles come with standard, cloth-upholstered seats. Others, however, feature four-, six- or eight-way power seats, lumbar support, leather and heat, Myers says.
'Beehive of Activity'
NHK Seating of America is a just-in-time (JIT) supplier and assembles the necessary seating at the same time the car is being painted. Once the seat sets are assembled, they are shipped to another location to be placed into the automobiles, Myers says. Seats are shipped from NHK Seating's Frankfort facility about every two hours, he says.
The plants operate 16 to 18 hours a day and rely on two shifts to get the job done, Myers says. Subaru Outbacks and Legacy and Toyota Camry seats are shipped to the Subaru assembly plant in Lafayette, Ind. The Nissan seat components are sent to seat assembly plants in Murfreesboro and Canton, Miss.
The JIT manufacturing model makes for "a bee hive of activity," Myers says, but tight scheduling and production-control measures ensure that the process stays on track. "We have good people," he says. "We just let them do their thing, and it works very well."
While robots are relied on for a significant portion of auto assembly, manufacturing seats remains a human endeavor, Myers says. "It takes a human being to put the trim cover on," he says. Myers adds that employees are needed to perform the details of properly installing seating, such as ensuring that there are no wrinkles in the fabric. The company's Tennessee facility, however, uses robots and programmable logic controllers for frame assembly.
Frankfort is a town of about 16,000 people located about one hour north of Indianapolis. NHK Seating of America is one of the town's biggest employers, and many workers have been employed at the company for several years and are familiar with the process. "We're a family oriented company," Myers says.
Teamwork, safety
The company strongly believes in collaboration and teamwork, Myers says. For example, representatives from each department get together once a week on the shop floor to exchange information and ideas. A variety of topics are discussed including progress on continuous improvement activities, sharing information, addressing issues and problem-solving. The weekly routine contributes to better quality, productivity and communication, he says.
NHK Seating of America strictly adheres to safety protocols to protect employees and improve productivity and quality, Myers says. The company  offers extensive training programs that begin with new-hire training and continues throughout an employee's tenure. Additionally, a training center located on the shop floor and cross-training sessions conducted in small groups help employees to advance and attain multiple skills.
Partners Play A Role
Myers credits the company's partners with helping it succeed. "Plastic Solutions in particular have been a vendor for us since the early 1990s," he says. "They have been very dependable and have gone to China and Japan as well as local shops to have tooling made for us. Their quality has been great. There have even been a couple times when their management has personally gone in on their own time, including weekend, to run parts for us if we had to meet impending deadlines or changes in schedules. ML Industries also has been a very good supplier for us."
Additionally, he says, Precision Wire Forms, which manufacturers parts for automobile seats, and Alex Products Inc., which makes automotive seat frame components, have been valuable partners.
NHK Seating of America was founded in 1989 as a joint venture between NHK Spring Co. Ltd. of Yokohama, Japan, and Lear Corporation of Southfield, Mich.
The corporation was formed in the United States to utilize NHK and Lear Technology to manufacturer, assemble and distribute seating and other automotive parts to Japanese Automotive plants in North America. NHK Spring Co. acquired the company in 2006, and the name was changed from General Seating to NHK Seating of America at that time.