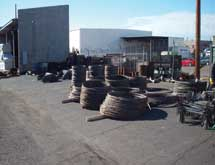 With 50 years under their company's belt, the employees at Nina Construction Supply have learned a thing or two about getting repeat business from clients. The company established itself in 1961 as a manufacturer and supplier of wooden construction surveying stakes, and has since evolved into a concrete rebar fabricator and supplier. Continuing to offer the best stakes around, Nina Construction Supply says, the company now provides rebar for masonry, cast-in-place foundations, tilt-up panels, box culverts and concrete road construction. Being located in Arizona and serving the Southwest, Nina Construction Supply has provided rebar for several pool foundations, as well.
"Two things that set us apart from our competitors are our top-notch service and high level of quality that we deliver," explains Pete Knudsen, general manager. "Those are things that our new customers don't always expect – but they get."
Nina Construction Supply begins a project by providing a contractor with an estimate of the rebar costs. On acceptance, the company's detailers redraw the plans to show a detailed map of all rebar components that will be needed for construction.
"Our company employs the latest Autocad software programs to ensure our drawings are as precise as possible," Knudsen says. "Our customers know that we offer exceptionally high-quality drawings."  Corresponding estimation software ensures the costs are contained with no hidden extras. The company also has invested in plotting machines to print accurate scale drawings for the installers to use on site.
Once the plans are made, the rebar is fabricated to the exact specifications called out in the prepared drawings. Using commercial-grade fabrication equipment from KRB, Wrightsville, Pa., Nina Construction fabricators can cut and bend rebar into a variety of shapes and sizes specific to a set of plans. "We have multiple shear lines and benders as well as an automatic stirrup machine which enables fast and accurate fabrication," the company says.
This particular phase of Nina's operation saves considerable site work time, as well as costs. "Most contractors do not have the equipment available to cut and bend rebar at a job site as quickly and as accurately as we can," Knudsen attests.  "We can do in hours what it could take site crews days to fabricate." Additionally, the estimators and detailers also can save material costs by utilizing, say, longer lengths of rebar that can be cut to the fit the specific application.
When complete, all rebar orders are bundled, tagged and delivered to the site where installers can easily locate and identify the pieces needed for a specific application.  "One thing our customers can be assured of is the precise accuracy of both length and bend angles," Knudsen says. He adds that component counts are also double-checked prior to delivery.
Knudsen maintains that there is nothing worse than having an idle crew on a jobsite. "Many of the people at Nina have been in the construction industry for many years," he explains. "They know how a short rebar count or a mistake in rebar fabrication can stall construction and cost money.
"We prevent these things from happening by providing the best quality and best service possible," Knudsen continues. "Our customers know they're getting our best efforts every time they come to us."
Its prices aren't always the lowest, but he believes that Nina provides an invaluable service to its clients through its high level of quality and accuracy in its products. "Even our surveying stakes are made from good, sturdy wood that can be driven into the ground," he says.
Smart Evolution
Nina's quality philosophy has kept its customers coming back. "Close to 90 percent of our customer base in Phoenix is repeat business," Knudsen boasts. "In fact, many of our customers have simply given us work – without having to bid the job – based on our past project success."
Knudsen credits a reliable staff for Nina Construction Supply's continued success.
"We expect our people to do a great job and they come through for us,"
he stresses. "They take the time to do their jobs with precision." He adds that the fabrication staff is cross-trained, enabling each team member to use all of the equipment in the yard. Safety training is led by the management staff.
The company has adapted to changes in the industry by offering its services to both commercial and residential construction companies. "We have evolved by taking care of our customers and employees over the last 50 years," Knudsen claims.