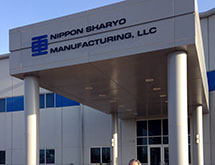 Two years ago, Nippon Sharyo U.S.A. rightly saw that the "Buy American" trend in the United States was a growing force. Nippon Sharyo U.S.A., which is the North American division of the Japan-based company, has been supplying passenger rail cars (locomotive hauled and self-propelled) to commuter rail operations since 1982. Until two years ago, however, the U.S. headquarters in Arlington Heights, Ill., primarily served as a project manager. Carbody shells were manufactured by its parent company in Japan and assembled via third-party North American contractors. In 2012, that all changed.
The majority of Nippon Sharyo U.S.A.'s contracts are with government agencies, such as transit authorities and departments of transportation. Many of its clients' contracts require their passenger rail cars use a certain percentage of American materials and are assembled in America.
"There has been discussion in the government to increase the percentages of Buy America," says President Kevin Koyasu. "Because we have large contracts with organizations such as Chicago Metra, we thought it was a good opportunity for us to open our own production facility so that we can be more competitive and comply with any contractual requirements."
Two years ago, Nippon Sharyo opened a 436,000-square-foot manufacturing facility, divided into shop one and shop two, to conduct its carbody assembly, final assembly and quality testing in-house. The facility came in time to deliver on a major contract with Chicago Metra, which contracted Nippon Sharyo U.S.A. in 2010 to manufacture 160 cars. The first 80 carbodies where manufactured in Japan and assembled in Rochelle, Ill. The next 80 cars, however, will be manufactured at Nippon Sharyo's recently expanded facility.
More Space Required
"In June 2014 we opened shop three, which is another facility next to our existing Rochelle building," Koyasu says. "In this new facility we have the capability to produce various parts and components from scratch. We buy raw materials from U.S. mills and we cut, bend, fabricate and weld the components here. So we now have the ability to build everything from scratch to meet 100 percent Buy America."
The company never planned on following up with a third facility so soon, but in analyzing market demand, it decided a second expansion was a prudent decision.
"Around the same time of winning the Chicago contract we won another contract for 130 bi-level cars for California and Illinois," Koyasu says.
The Right Resources
Over the past two years, Nippon Sharyo U.S.A. expanded its workforce to include sales, engineering, tests, inspecting and manufacturing and went from 30 employees to 500. The third shop has opened up another 90 positions for professionals skilled in welding, press brake operating, laser cutting and spot welding. Lots of spot welding.
"The cars we are building for Chicago Metra are assembled by spot welding," Koyasu says. "One car will have over 50,000 spot welds."
Koyasu says that investing in its workforce and technology is crucial to meeting the sophisticated requirements of today's transportation industry, especially when it comes to safety.
"The regulatory requirements around safety are getting bigger and bigger," Koyasu says. "Our recent model of B&E units for California and Canada have a crash energy management feature that acts as a shock-absorbing mechanism in a worst-case event, such as a crash. We have also designed new features to comply with the American Disabilities Act."
The North American market has responded to Nippon Sharyo U.S.A.'s deepening commitment to the region with contract after contract. "When we built our new facility in 2012, we didn't think we would grow this rapidly," Koyasu says. "But back then we didn't have as many contracts as we have right now."