Stepping up a gear
From its manufacturing base in Lincoln, NMB Minebea UK Ltd. has established itself as a global leader in the field of aircraft landing gear attachment bearings and large-size bearings
The history behind NMB Minebea UK Ltd., a world leader in the design and manufacture of bearing technologies, is both long and illustrious, the story of which the company is rightly proud of. It begins with the work of William Rose, a small town tobacconist in Lincolnshire who would go on to be recognised for his business acumen and entrepreneurial spirit, and his creation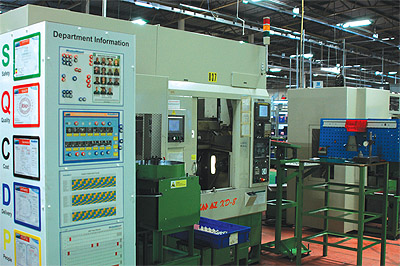 and patenting of a machine to automatically wrap packets of tobacco.
Rose's achievements in the decades that followed included producing some of the world's first commercially successful motor vehicles under the 'Rose National' brand, the creation of Rose Brothers and its machines for wrapping confectionery and baking products, and the establishing of Rose Bearings. It was the latter which, in 1954, began to concentrate exclusively on the development and production of spherical bearings and rod ends.
By 1985, the company's emphasis had gravitated to focusing on the sale of specialist and aerospace bearings specifically for Airbus and BAe, and two years later Rose Bearings found itself being acquired by the then Minebea Co, Ltd. Japan. Come the turn of the century the company has commenced with delivery of its first titanium bearing solutions for landing gear for the Airbus A380, bearings that would quickly become the de facto standard for future programmes such as the A350 and Boeing 787, establishing the company as the global leader in the providing of aircraft landing gear bearings in the process. In 2002, it diversified further still with design, development and production of railway and tram bearings, before officially taking on the name NMB Minebea UK Ltd. in 2003.
"Today, our core competencies extend across landing gear bearings, aerospace bearings of swaged and split construction, helicopter and tram coupling, and special vehicle suspension bearings," begins NMB Minebea UK Ltd's Sales Director, Alan Morton. "As a part of MinebeaMitsumi Co Ltd. Japan's Rod End Fastener Business Unit, we are also able to call upon its expertise in producing aerospace fasteners, machined components, rolling element and standard bearings for customers across the world."
NMB Minebea UK Ltd's largest market, which is reflected in its sales figures, is continental Europe, however it has attracted customers from further afield, particularly in the Americas, which makes this a growing market by value and volume. "Our key customers are the major airframers and engine builders, so the likes of Airbus, Boeing, Rolls Royce, Safran Engines and their tier 1 OEM's and nominated third party integrators," Alan continues, "while some of our main contributory programmes have included the Airbus A350XWB, Airbus A320NEO and the Boeing 737MAX.
"Meanwhile, in more recent years, we have forged relationships with a number of customers of choice within the BRiC countries. This will see us taking the lead on projects such as bearings attaching the landing gear to the Embraer E2 programme in Brazil and the landing gear to the Irkut MC21 in Russia. At the same time, we are developing strong partnerships with leading Chinese aviation companies, as well as operating a technical and engineering centre in India."
In addition to being well versed in the design, manufacture and testing of its products, NMB Minebea UK Ltd has carved out a position within its field as a specialist when it comes to metal finishing, specifically in its ability to achieve the desired tribology of a bearing, as well as the life expectancy of the metal assembly. What also sets the company apart is the way it can take industrial grinding machinery and technology, and customise it in-house within the group.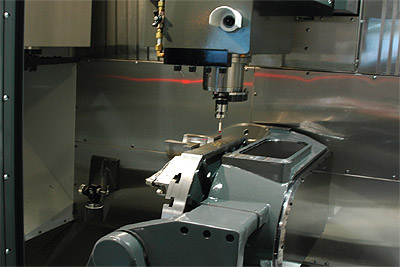 "The initial operations and metal improvement techniques that make a product available for finishing are as important as the finishing process itself," Alan stresses. "Aerospace, for example, is often a high stress bearing application, therefore the successful management of material properties through manufacturing stages is key to achieving high specification performing parts. We, and our parent MinebeaMitsumi Co Ltd, operate a vertical integration philosophy, keeping as many processes as possible in-house. As a result of this, we are able to push the frontiers of bearing technology in aerospace applications to include performance testing and the development of coatings and weight saving solutions.
"Supporting this philosophy is an intense programme of investment, which has seen around £1 million pumped back into the business on a yearly basis over the last decade.This investment has resulted in several examples of new machinery and technology being put to use to better facilitate NMB Minebea UK Ltd's manufacturing efforts. An example of this is the addition of a new Nakamura Tome machine, which has brought about modern rapid metal removal into the process of final sizing, resulting in significant productivity improvements, as well as the technical and manufacturing excellence demanded in our market. The investment we continue to make has also allowed for in-house metal improvement facilities, both mechanical and metallurgical, to be introduced, while our infrastructure has also been upgraded to house future new equipment and improve work handling ergonomics."
With 2017 marking the 30th anniversary of the company's acquisition by Minebea Co, Ltd. (MinebeaMitsumi) of Japan, it continues to develop next generation components and materials in order to provide lighter weight metallic and composite solutions, advanced surface treatments to replace cad/ chrome coatings, seal arrangements and longer life liner.
"We always strive to devise products and solutions that we don't have today, but that will be essential for tomorrow," Alan concludes. "A combination of our UK engineering and test facilities, partnerships with international industry leaders, and the backing of our multi-national parent company allows us to be fully engaged in this quest. As we move forward, key acquisitions will open more doors to lateral thinking, while the offering of collaborative technologies will help catalyse the realisation of new products, especially those that reside in the SMART future of materials and machine tools."
NMB Minebea UK Ltd.
Products: Bearing technologies
www.nmb-minebea.co.uk
Facebook – NMB-Minebea UK Ltd
Instagram – nmbminebeauk