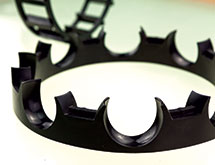 .Its footprint has evolved, and it has grown organically and by acquisition. Today, it has a global reach with local depth. NN is striving to be the leading manufacturer of high-performance precision components by providing high-quality products and superior service.
NN produces metal bearing components, plastic and rubber products, and precision metal components. It has 4,200 employees and serves more than 400 customers in more than 30 countries. Its global footprint includes 25 manufacturing facilities in the United States, Western Europe, Eastern Europe, Latin America and China.
"During the recession, we downsized, slowed down and took pay cuts from the shop floor to upper management," Vice President and General Manager Jeff Hodge says. "We've rebounded and are now looking for aggressive growth."
Only a few individuals have led the company during its existence. After Ennen, Rock Baty served as president and CEO from 1997 until retiring in 2013. Rich Holder became president and CEO, focusing on a strategy that honors NN's legacy and embraces change.
Expansive Options
NN's capabilities allow it to produce a wide array of products. Its metal bearing components group manufactures precision steel balls, cylindrical rollers, taper rollers, spherical rollers, bearing retainers and precision stampings. NN's bearing components can be found in markets such as automotive, heavy truck, agriculture and more.
NN's plastic and rubber components group manufactures bearing seals, plastic retainers and other precision plastic components which can be found in bearing, automotive and oil drilling applications.
NN's precision metal components group manufactures highly engineered precision metal components, shafts and fluid control components and assemblies. Those are used in applications such as automotive, HVAC, diesel and fluid power.
Innovation will continue to be a major focus for NN. The company is looking to achieve product development and operational excellence initiatives that will improve its current products and processes while developing new offerings that can provide customers with more solutions. NN is investing in everything from manufacturing process design and specialty machine design and construction to customer solutions, distributed capabilities and sharing of best practices.
In addition, NN is looking to globalize the business through local product manufacturing while devising differentiated solutions across the globe. It is also working to deliver expanded service capabilities throughout the world while introducing a more cost-effective method of machine control and expanding its participation in distribution.
"We are focusing on R&D and technology advancements, as well as sales and marketing," Hodge says. "Those areas are key to growth."
Adding to Excellence
Acquisitions will also continue to fuel NN's growth. Just looking at its activity so far in 2014 bears this out. In February, the company announced that it had completed the acquisition of the assets of V-S Industries, a privately held manufacturer of precision metal components with operations in Wheeling, Ill., and Juarez, Mexico. In June, it announced the acquisition of 79.2 percent of the outstanding shares of RFK Valjcici d. d. Konjic, a manufacturer of taper rollers with operations in Konjic, Bosnia and Herzegovina.
In July, NN acquired the assets of Chelsea Grinding Company, a manufacturer of cylindrical rollers used primarily in the hydraulic pump industry. Also in July, NN announced its entrance into a definitive agreement to acquire Autocam Corporation, a global leader in the engineering, manufacture and assembly of highly complex, system-critical components for fuel systems, engines and transmission, power steering and electric motors.
"New acquisitions continue to diversify our services and customer base," Hodge says. "Historically, we've been about 65 percent automotive. We're getting into more industrial, residential and mining applications."
Many trends will impact NN's direction. Increased capital investment in manufacturing, supplier reduction with tier 1 and tier 2 auto suppliers, offshore sourcing and re-shoring, and continued growth in Asia are just a few of the trends it is watching closely.
NN's strong financial position will allow it to pursue growth organically into adjacent markets and by acquisitions. The European economic recovery, along with strong U.S. automotive markets and the company's global footprint, should help in NN's pursuit of aggressive financial and operational goals that can lead to long-term earnings growth.
"Improving shareholder and stakeholder value is key for us," Hodge says. "We want to honor the legacy of our founder while we continue to execute on our new strategy."