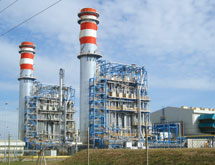 As Nooter/Eriksen marks its 25th anniversary, it sees a world much differently from the one in which it started. Although the company is now the undisputed market leader, it faces much stiffer competition than it did two-and-a-half decades ago. Senior Vice President of Sales and Marketing Mike Filla says even though the challenges that exist today are greater than ever, the company's strengths are more than a match for them.
Nooter/Eriksen is the world's leading supplier of custom-designed heat-recovery steam generators (HRSG). These generators are used behind gas turbines to generate electricity for utilities. The company is the result of a merger between Nooter Co­generation group and Eriksen Engineering. Nooter entered the heat recovery business in the early 1980s. In 1987, it acquired Eriksen Engineering and merged the two groups into Nooter/Eriksen. Today, what was Nooter Corp. is known as CIC Group, and Nooter/Eriksen is one of its 20 subsidiaries.
According to McCoy Reports, an independent publication concerning the electric power plant market, Nooter/Eriksen is the No. 1 supplier of heat recovery steam generators in the world. However, Filla notes that it hasn't been easy to maintain that title in recent years.
"We have much more competition now than we did 25 years ago," according to Filla. "We have a lot more global competition."
Although the competition Nooter Eriksen faces depends on the market, Filla says the company has at least two main first-tier competitors in Europe and Asia, and North America. That doesn't count the multitudes of smaller suppliers it competes with, either. Fortunately, Nooter/Eriksen has devoted itself to serving its customers with high-quality products and innovation, and Filla says these will continue to serve as the foundation of the company's efforts as it begins its next quarter-century.
Long-Term Success
Perhaps the most important aspect of what makes Nooter Eriksen successful is one of the simplest things, according to Filla. "I would say it really gets down to our culture," he says. "Our interest is in developing a long-term relationship. We don't want to do just one project."
The company has been very successful in that regard, Filla continues, adding that Nooter/Eriksen has many relationships with customers that have lasted more than 10 years. What makes it attractive to these customers also is simple, he says – it delivers on what it promises. "A company can only be so good at selling its product," Filla says. "Eventually, you have to perform. I think what puts us above our competition is our ability to successfully execute projects and generate long-term, reliable performance from our equipment."
Pushing Innovation
To make sure its equipment is precisely what its customers need, Filla says Nooter/Eriksen pays close attention to what they ask for and which trends are likely to have the biggest impact on their operations. "Over the years, we've been very innovative by listening to what our customers want, and providing that in many different ways," Filla says.
The company has made strides in recent years to improve the constructability of its heat recovery steam generators. Filla says improved constructability features reduces the construction schedule and also reduces the overall installed cost of the HRSG.
Filla says many of the features Nooter/Eriksen uses to improve the performance and reliability of its equipment are things that customers rarely notice, but still have a significant impact. For example, he says, the company replaced industry standard pumps with external heat exchangers to improve the reliability and reduce the potential for corrosion. A reheat bypass feature controls the steam temperature for better reliability and efficiency. Standard features also include coil layouts and piping configurations to accommodate industry demands for cyclic operation.
The Next 25
Filla says Nooter/Eriksen continues to pay close attention to the needs of its customers. The need for fast-starting power plants has increased as utility providers require natural gas combined cycle plants to serve as back up to wind farms and solar collectors. "That is certainly an issue that we see with just about every U.S. customer," he says.
Looking into the future, Filla says the company has reason to be optimistic. Natural gas prices in the United States are at their lowest point in nearly a decade, and the market should improve significantly in the coming years. Nooter/Eriksen also is exploring new applications for its technologies, including a solar farm. Although the company's first 25 years were focused on heat recovery steam generators, Filla says Nooter/Eriksen plans to become more diversified in the future.
"We're looking at growing into other areas that allow us to use our core competencies and provide added value to our customers over the next five," Filla says.