The original wedge-locking technology
As it celebrates 40 years of business, Nord-Lock Group looks back on its long history and unpicks the nuts and bolts (and washers) of its sustained success
Established in 1982, Nord-Lock Group is now a global leader in engineering and bolting technologies; specializing in washers, hydraulic nuts, and tensioners, as well as a plethora of other industrial bolting solutions. Since inception, the company has absorbed a well-established market share within its own specified niche.
On a mission to safeguard human lives and customer assets, Nord-Lock Group's products bolster and fortify essential public and private infrastructure. While the firm was first established as Nord-Lock in Mattmar, Sweden, it is now a resoundingly global operation: Nord-Lock wedge-locking washers, through strategic acquisition and rich organic growth, has become Nord-Lock Group – an impressive collection of four brands. Within them, 25 individual companies in as many countries work across entire product life cycles, from initial design to manufacturing and, finally, distribution.
Those four brands are: Nord-Lock, the flagship business that brought the organization to where it is today, specializing in wedge-locking washer technology that secures bolted joints in place even when they are exposed to severe vibration, weather, and dynamic loads; Superbolt, which creates ground-breaking designs for nuts and bolts by incorporating multi-jackbolt tensioning; Boltight, a specialist of hydraulic bolt tensioning solutions; and Expander System, offering a permanent solution to persistent lug wear problems through innovative replacements for traditional axle pivot pins.
"We are incredibly proud to be celebrating our 40th anniversary," says Graham Souter, Regional Sales Director for EMEA at Nord-Lock. "While Nord-Lock was once a family-owned operation based in Sweden, it has for many years been wholly owned by Investment AB Latour (Latour), which is quoted on the Nasdaq OMX Stockholm. Latour have been instrumental in transforming us into a global enterprise, providing all the investment and support we need; and it continues to guide us on our journey today.
Global footprint
"In the early 2000s, we knew that Nord-Lock, while excelling in the wedge-locking washers niche, needed to branch out and diversify its investments," he goes on. "Around that time, we decided to enact a strong buy-and-build strategy, acquiring some of the distributor companies that we were already working with as well as setting up our own versions through the business. From then on, it has been nothing but rapid growth; throughout the last two decades, we have spread across Europe – establishing Nord-Lock in Germany, for instance, which is our single largest European market – and into other territories like China. By acquiring Superbolt, Boltight, and Expander System in a space of just five years, we were able to cement our global footprint and serve new markets with a diverse product range."
In the last two years alone, Nord-Lock's flagship manufacturing facility in Mattmar – the locus of the company's inception – has grown its footprint and number of machines by more than 65 percent to accommodate increasing market demands. "The reason is quite simple," explains Anders Manfred, who serves as Divisional Director at Nord-Lock and manages operations in Sweden. "We needed to upgrade our machine park to raise our facilities to an even higher standard of production. However, it is also a straightforward expansion in that we needed to increase our manufacturing footprint; for example, we have upgraded our research and development laboratory, which will offer us more possibilities to accelerate product innovation – of course, that requires more space.
"Being based in Sweden, we also have quite stringent regulations that we must follow in terms of sustainability," he continues. "Therefore, the investments that we are making here in Mattmar are all infused with considerations for the environment and how we can mitigate our impact upon it. To that end, we are incorporating the latest possible technology and trying to upgrade all our existing structures to future-proof the facility. It is certainly a moving target, and we will not get everything right the first-time round, but we will continuously improve our facilities and the operations we conduct within them as we move forward into the future."
In terms of new products, Nord-Lock Group recently channelled its focus into smart technology through a new range of Superbolt load-sensing tensioner (LST) solutions, which the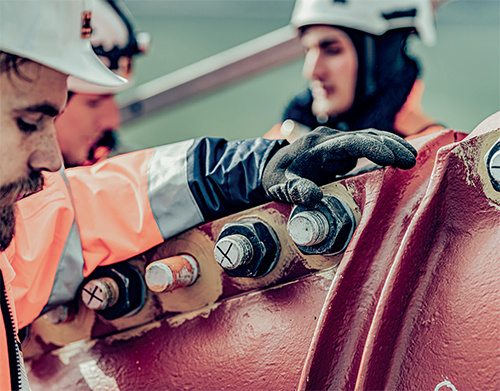 company has billed as the next level of innovation, and will upgrade its Superbolt offering with a new model to be launched later in the year. "Our core Superbolt MT and CY products have been successfully securing bolted connections for many years, but it is time to give them a bit of an upgrade," Anders insists. "It will be easier to assemble and handle and will also be more attractive to look at. We are looking forward to sharing this new development with our customers."
"We are constantly innovating, and we never stop in terms of development," Graham adds. "For instance, most recently, we have been investigating how we can improve our tensioning products and have created ancillary devices such as our new Superbolt Tool, which enables a much quicker and more efficient installation of our Superbolt range. Where there are many tensioners to install this can make a significant saving on installation time for our customers."
Back to the washers, it is no secret that Nord-Lock's products have tightened and secured billions of bolted connections in a multitude of applications all over the globe – often in environmentally testing conditions. So, when asked about the quality control process behind those products, Graham is quick to respond.
"We run every kind of test you could possibly imagine," he laughs. "Across all our production steps, we conduct a variety of quality approval processes to ensure finalized products meet our standards – which are no less than perfect. Everything from initial examinations to in-depth corrosion tests, we really put our washers in the toughest of conditions to see how they react."
"We also work with several customers that have extremely high demands due to the nature of their work and the environments they operate in," Anders continues. "In response, we have approved and tailored our production methods to comply with their standards. As a testament to the power of the Nord-Lock brand, we laser mark each washer with the material used and the individual batch number to show our customers that they are buying a genuine Nord-Lock product. Our name means something; through it, we assure our customers that they will always receive a proper solution by coming to us."
"Our rigorous quality tests set us firmly apart from the competition," Graham concurs. "As Anders has said, we put all our products through incredibly stringent tests, and always look at ways we can improve them. However, without a doubt, the most important thing for us is that benchmark of quality. We pride ourselves on the fact that we can guarantee our products. That is not 99 percent; that is 100 percent.
"We can make assertions like that because we always commit to doing everything as well as we possibly can. Attention to details is everything," he concludes. "That means making sure products are not only manufactured to the highest of standards but are also available to our customers when they need them." Reflecting on the last couple of years Graham says: "If Covid-19 has taught us anything, it is one, our biggest asset is our workforce who we must communicate with, protect, and make feel comfortable even in these difficult circumstances at all costs; and two, the supply chain constraints brought on by the pandemic have shown the necessity of strong availability. Good products are no good if they are not available. As we move forward, we will not lose sight of this and we intend to keep things fresh, grow year-on-year, and manufacture the most innovative bolting solutions on the market."
Nord-Lock
www.nord-lock.com
Products: Washers and industrial bolting solutions