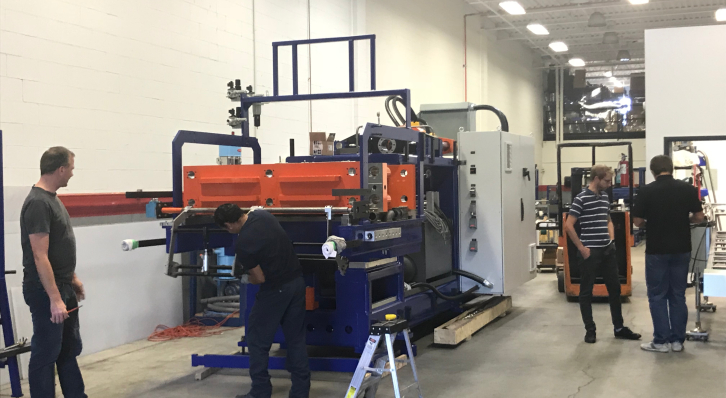 Nordic Sensors Industrial Inc.
Nordic Sensors Industrial Inc. started out small, with the goal of becoming the premier temperature sensor manufacturer. This is where many manufacturers' stories trail off – they want to be the top in their market, and they continually work toward that with continuous improvement projects. Nordic Sensors, however, achieved its goal with temperature sensors, so it needed a new goal. Now, the company aims to be the best in providing complete process control systems, and that is where this story starts.
"My brother and I were the original founders of this company 22 years ago," President Max Di Paola says. "We started by making one simple product – temperature sensors – and we got so good at it that our company expanded rapidly within the first three to four years. We perfected the design and production of sensors to a point where our customers began to approach us with demands for other products. They appreciated our service and our quality. One of the requests we received was to provide heaters, while still ensuring the same level of quality and customer service excellence. After a couple of years, we began manufacturing heaters, even though they are completely different from sensors, where one gives off heat and the other reads temperature."
With that experience, Nordic Sensors continued to add to its product portfolio with anything that catered to the same type of customer. Di Paola explains they didn't want to have a million different customers, but to sell to its existing customers as many products as possible with the same high level of quality and customer service excellence. With every new product the company manufactures, it gains new opportunities to expand, and in the past three years, Nordic Sensors has grown from just making components to manufacturing complete machines.
"We are diversified," Di Paola says. "We manufacture different industrial components and equipment – some related and some not. We know how to optimize our operations to ensure we can manufacture a lot of components while still driving efficiency and quality. We are known in the market as being able to cater to our customers' needs by finding specialized custom solutions to issues they may be experiencing. We don't have customers adapt to us, we adapt to our customers. This is key to our success. We remain flexible and employ key talent to help us achieve our corporate goals. We work with a team of engineers, millwrights, process control experts and professionals with manufacturing expertise to ensure we always work toward finding the best solution for our customers' applications."
Unique Solutions
Based in Montreal, Nordic Sensors manufactures industrial components, sensors, heaters and related instrumentation. In the last three years, however, it has evolved to manufacture complete custom plastic processing equipment, as well as all of the auxiliary equipment. The company's largest market is the plastics processing industry, but about 30 percent of its business is selling components to other manufacturers who need them for final assembly or use them for their own equipment. Nordic Sensors takes pride in its comprehensive offering, including working in partnership with its customers.
"Customers consider a supplier's capabilities and experience," Di Paola says. "We also train and teach our customers how to use the components we sell. Our products can be found in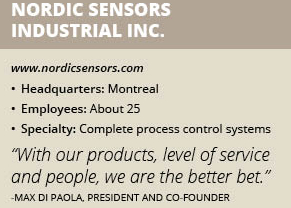 different markets and in diverse businesses. This gives our team exposure to whole series of manufacturing challenges, which enables us to acquire a significant amount of valuable knowledge and build a repertoire of key data points that we have access to when helping our customers problem-solve."
With experience serving such a broad range of customers, Nordic Sensors "always brings something to the table," he notes. The company is constantly coming up with new ideas and different approaches to problems, and it also provides its customers with engineering services. Di Paola explains that if a customer has a unique application and isn't sure where to go to get help, Nordic Sensors likely has a good solution.
"If we can't help them, we'll redirect them and tell them where to go," he says. "However, our people come from different disciplines and backgrounds, and we often can find a solution. We're known by some of our customers as a go-to company for specialized projects, and our current line of expertise is in plastic processing and packaging. If it's anything to do with big machinery or the smallest component, we can help them out."
Additionally, Di Paola stresses Nordic Sensors is a Canadian company, but it has distribution throughout the United States; 70 to 80 percent of its business is with U.S. customers, and 90 percent of the goods it purchases are from America. He notes that when customers purchase from Nordic Sensors, they don't have to worry about border issues, because the company handles all of that and makes the transaction seamless. With its location in Canada, Nordic Sensors can take advantage of a favorable currency exchange and a highly qualified workforce, allowing it to remain competitive with Mexico and China.
Quality Formula
A quality and service focus is important for most manufacturers, and Nordic Sensors takes pride in its ongoing ability to maintain that as it grows. Di Paola explains whether it is serving one customer or a hundred, the formula for quality and service is the same – always being attentive to what the customer wants.
"We've been in business for 22 years and throughout this time, there has always been competition from China, South America and Mexico, but we're good people and we're competent," he says. "Clients won't tolerate bad service or bad quality regardless of who you are. Although we've been in business for two decades, people have more choice today than ever before. It's easy to search and find a multitude of potential suppliers, so if you're not attentive to clients' needs and providing them with the best service you can and do so honestly, I don't think you'll be in business for long. The business cycle is a lot quicker than it was in the past, so issues of quality and mistrust come to light sooner."
Di Paola attributes much of Nordic Sensors' success to adaptability. The company is happy to adapt to its customers' needs, even if they are in different countries with different business cultures. Every customer has a special requirement, he says, and there's no use applying one rule of quality to everyone. Nordic Sensors' strategy is to always be attentive, adaptable and to never take any customer for granted.
"We depend on repeat business, and our orders are not one-time deals," Di Paola says. "Our customers purchase multiple orders monthly or yearly, and we built our business by retaining customers. No customer would go back to a supplier that they felt wasn't giving them quality or value for their investment, and that is the proof of our commitment to excellence customer service and product quality."
He notes that many of its clients are other manufacturers, so he understands their challenges and they understand his. "There is shared learning, and we benefit from this exchange because what may have worked a couple of years ago may not work today," he adds. "It is important to be receptive to change and to be open to critical feedback. It definitely helps to hear the good and the bad."
The Complete Package
Nordic Sensors continues to invest in its operations to better serve its customers. The company has put a lot of time in redistribution centers because it's stocking more goods to reduce delivery time for its components business. In the past two to three years, Nordic Sensors has invested $500,000 in increasing inventory in strategic warehouses so it can ship orders the next day.
The company has also added two new engineers to its custom machinery division – one with a Master's in Automation, the other with a Master's in Electrical Engineering – and it has been developing new websites to help customers determine what will work for them. The new sites allow customers to configure their components online and help them figure out exactly what they need to purchase. All of this is about serving its customers better, especially as more business is coming back to North America.
"I feel like the trend is to buy American again because people want quality, they want goods that will last, and they want reliability and accountability," Di Paola says. "Customers want products that won't break down after a few years, so more people are looking at buying locally. Customers understand their true costs, and at the end of the day, it's probably less costly to buy locally, get reliable equipment and get your money's worth."
He stresses Nordic Sensors has the capabilities and people to meet these needs that many overseas manufacturers can't. "The people who work for the company are a great group," he says. "They are my colleagues, and without them, I don't think we'd be successful. I don't think what we manufacture is unique, but it's the complete package that we bring to the table. With our products, level of service and the caliber of our people, we are the better bet. We are attractive because of the people who work for us and our overall know-how."