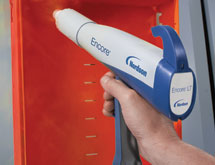 With between 100 and 150 exhibitors and approximately 3,000 attendees, this year's Coating 2012 will feature the latest in paint and powder coating technologies and bring together industry professionals. It will offer them unique opportunities to network with peers, make contacts with key coating professionals, enhance their professional development and do business with leading manufacturers, distributers and suppliers who are all there to discuss one thing – coatings.
And right in the middle of the St. Louis American Center Oct. 9 to 11, Nordson Corp. will debut several new products all centered on providing value-added solutions.
Nordson, which operates in 30 countries around the world, is the leader in precision dispensing equipment for applying industrial liquid and powder coatings, adhesives and sealants to numerous consumer and industrial products during manufacturing operations.
The company's extensive solutions also include test and inspection equipment and curing and surface preparation systems.
Product Pipeline
In June, Nordson, a multidivisional company, announced a new line of non-electrostatic guns, stainless steel pumps and plural component metering systems for liquid applications. Some of these new products will be displayed at Coating 2012.
"Nordson brings nearly 60 years of expertise to liquid applications and this market is key to long-term growth of our industrial coating systems group," states Brad Syrowski, global liquid business development manager for Nordson.
"For the last 18 months, we've been laying the groundwork for this expansion and we are excited to offer customers in all of our geographies a more comprehensive line of liquid coating equipment."
In regard to liquid paint spray, Nordson will present its new Trilogy NES spray guns and Trilogy dolly system. The non-electrostatic spray guns encompass air assist airless, air spray and low volume/low pressure technologies that incorporate the latest in design technology to provide excellent spray quality while being durable enough to withstand harsh manufacturing environments.
In addition to new liquid spray technologies, Nordson will also highlight new powder painting equipment. It recently launched a new powder handgun, the Encore LT mounted on a mobile system.
"Designed with everyday coating in mind, the Encore LT gun has excellent features at an affordable price," states Bob Allsop, marketing manager, Nordson powder coating systems.
"It is an extremely robust gun that can handle the rigors of everyday use, while its lightweight, well-balanced design and ease of use make it a big hit with operators."
Also in the powder coatings category, Nordson will highlight the new Prodigy Color-on-Demand Manual System. The system, which includes a gun, pump and controller, provides an integrated solution for precision dispensing and sophisticated, ultra-fast color-change control. Vice President of Supply Chain John Dillon explains that this is an important trend in the coating solutions industry today.
Covering the Trends
Nordson's industrial coatings division provides solutions for a number of industries, including construction, automotive, energy, appliances and electronics. When it comes to consumer product industries, the company has noticed a bend toward lean manufacturing, which means manufacturers are producing just the right amount of product in just the right colors rather than stocking large inventories.
"One of the biggest trends over the last couple of years is not only the adoption of lean, but how our customers apply lean," Dillon says. "It has resulted in shorter runs with more discretion. For instance, someone may build appliances and apply different color powders and will change over to another color very rapidly. They are building to what the customers' orders actually are. So they may build 10 in blue, five in white and 10 in red. We've been really leading on our part to provide that solution to the customer since it allows them to produce more efficiently."
The new Prodigy Color-on-Demand systems combined with Lean Cell spray booth technology enable a manufacturer to change colors in as little as 20 seconds, which can boost productivity due to faster deposition, higher transfer efficiency, improved process control and faster color change time. In between color changes, some of the powder may be lost, but the efficiencies vastly outweigh the cost of the small amount of powder that end users choose not to spend the time to recover or recycle.
The other trend that Nordson sees among its customers is less of a reaction to an immediate need and more of a long-standing evolution in the business. Dillon explains that one overall goal is to figure out how to achieve a high-quality finish with the least amount of product possible.
"Something that never really changes in the marketplace is how to get better material utilization," he explains. "If we put material on a product, how do we maximize the value by putting the most product on for the lowest cost? It's determined by the material equipment dispenser, and that's an overriding theme here. It's nothing new, but it's also something that we've been very successful on over time."