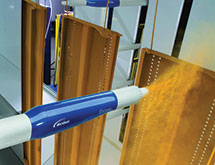 Some companies excel at tech–nology, but their relationships with their customers are not so strong. Nordson Corporation manages to do both, Business Unit Director Yan Maschke says. "We really try to create an outstanding customer experience from the very start, first by understanding their needs, then by providing a wide range of products, including highly custom-engineered systems, and finally, by servicing and supporting the customer through the life of the products," she says.
Based in Westlake, Ohio, Nordson manufactures and markets products and systems for dispensing adhesives, coatings, sealants and biomaterials, with related solutions in fluid management, test and inspection, UV curing and plasma surface treatment. Director of Communications and Investor Relations James R. Jaye notes that the company's roots go back to 1909 as the U.S. Automatic Co., a manufacturer of screw machine parts.
In 1954, the company became Nordson Corporation and since then it has grown to have operations in more than 30 countries. Nordson serves a broad range of markets, including packaging, nonwovens, electronics, medical appliances, energy and transportation. "For decades, manufacturers around the globe have turned to Nordson for our customer value proposition," Maschke says.
"This includes product reliability and support, which translates to uptime, speed and productivity, which translates to increased yields, and efficiency which enables them to use less of the expensive materials they are dispensing," Maschke says. "All of this results in lowering the total cost of ownership for the customer."
Enhanced Solutions
Nordson's operating segments include its Industrial Coating System (ICS) division, which offers powder coating, liquid painting, adhesive and sealant dispensing, UV curing and container coating products. "From simple, low-volume, manual systems to precise, high-volume automated systems, our team of experts can engineer a solution to meet your needs," Maschke says.
Maschke, who manages a portion of ICS, notes that the division meets customers' changing needs by continually enhancing its products, such as its Encore family of powder-coating equipment. Recently, it introduced its new Encore HD spray guns, the company's fourth generation of high-density, low-velocity (HDLV) spray technology.
"Providing superior process control, Encore HD gives our customers greater transfer efficiency, less overspray and [a] better cured finish quality for every conceivable part type they might be coating," she says.
ICS also has expanded in other areas such as its liquid painting product lines, and most recently in its ambient, or "cold," adhesive and sealant material dispensing products. "This product depth lets us bring customers solutions that others might not be able to," Maschke says.  "For example, a manufacturer of appliances might be able to use our glue dispensing equipment to help assemble the product, and then employ our powder coating solutions to paint it. We can be there every step of the way."
Ongoing Support
ICS provides strong service after the sale of its products, Maschke says. After installation, "There will be ongoing consultations from our global team of direct sales people," she says. "We will visit the customer on a regular basis to see how the system is running, and to both answer and ask questions."
By doing this, she explains, ICS can determine whether its customers are maximizing their use of its systems. "We can help you diagnose what changes to make in terms of the setup of the system," Maschke says. "We want our customers to get maximum return from their investment.
"The customers we have view that as very significant," she continues. "They trust Nordson to provide that ongoing support."
Going Global
Maschke joined Nordson in June 2013 after working for Eaton Corporation, a global technology leader in diversified power management solutions for the electrical, hydraulic and mechanical power sectors. One accomplishment she is especially proud of is in helping Eaton set up a business startup in China. "Our team negotiated a land purchase agreement with the local government and built a new, world-class facility to expand production locally to satisfy growing local and regional demand," she recalls.
Maschke was attracted to Nordson by the opportunity to increase her personal level of responsibility and by the many growth opportunities that are still in front of Nordson. "I was excited by the prospects and I believed I could make a bigger impact with a medium-scale, global firm," she says.
"Global growth is a key focus for us – about 70 percent of Nordson's revenue comes from outside the United States," she says. "Overall, I'm trying to help serve our customers at the highest levels and inspire my global team to do the same."
Culture of People
Maschke says Nordson's culture values its employees and treats them like family. "As a result, employees have tremendous loyalty towards Nordson," she says. "Nordson employees' deep knowledge and experience is an important contributor to our ability to execute our strategy and differentiate us from competition."
As a female leader, Maschke also appreciates that Nordson increasingly champions the role of women in manufacturing and has many in leadership roles. One way the company promotes this is through its Leadership Direct program, which gives selected emerging leaders specific training and experiences to help them lead the company.
"Many emerging women leaders are part of this program," Maschke reports, noting that Nordson also has a formal mentorship program. "In the ICS business in particular, we have added a range of very capable, young female leaders in the product management function.
"We've also recently launched a new scholarship program called Nordson BUILDS, which emphasizes STEM skills – science, technology, engineering and mathematics – for qualified male and female students."
Targeting Growth
Nordson plans to keep looking for ways to achieve profitable growth. This is achieved by "meeting your customers' needs more efficiently and better than your competitors," James Jaye says.
By keeping them satisfied, "There's no reason for them to want to go anywhere else," he says. "We want them to have a level of service and technology that they can't find from any other single supplier."
Nordson also will stay innovative by applying its expertise to new areas and applications. As an example, Jaye notes that the company recently took technology it was using for dispensing material in a printed circuit board and transferred it to an application for LED light assembly.
It also recently took technology used for assembling window frames and applied it to solar panels. "At a high level, window assembly and solar panel assembly have similarities," Jaye says. "We were able to adapt our technology and move it into that space and now we have another area to grow."
But to keep growing, Nordson will need to keep employing talented people, Maschke asserts. "We see people as our biggest asset," she says.
Jaye agrees. "We need talented people to serve our customers at the highest levels," he says. "It's all grounded in helping that customer be more productive and more profitable."