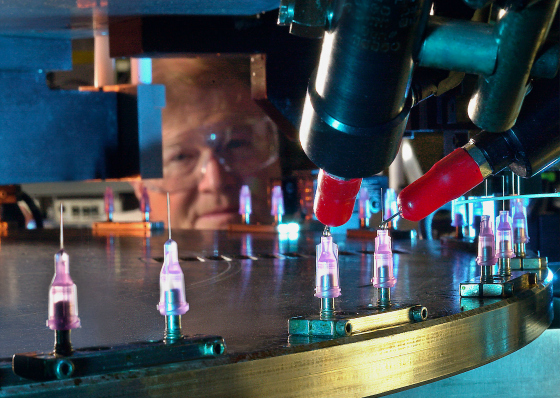 With the costs of adhesives, sealants, lubricants and other assembly fluids increasing, companies need engineered fluid control systems that will keep their costs low. They often turn to Nordson EFD, Vice President and General Manager Ken Forden says. Usually, "They have some sort of dispensing problem that they would like us to help them figure out," he says.
The East Providence, R.I.-based company is part of Nordson, a leader in precision dispensing, fluid management and related technologies. Forden notes that the division's history goes back to 1963, when it started as a provider of welding equipment to the jewelry industry.
Nordson acquired the company 37 years later. Today, "We serve most of the manufacturing industry," Manager of Global Marketing Services Clara Calain-Tatry says. This includes markets such as automotive, electronics, food processing, fluid packaging and life sciences. Nordson EFD's list of clients include Dymax Corp. and Ford.
Forden adds that Nordson EFD stands as the clear market leader in North America and Western Europe. In emerging economies such as Eastern Europe, "We're quite strong," he says. "We also have significant sales in Asia, but it tends to be with companies looking to make higher-quality products or that find the costs of materials are significant."
Avoiding Waste
Nordson EFD's products are used in a broad array of applications, ranging from the manufacture of chocolate candy to cameras and smart phones, Forden says. Its products lines include dispensing robots, valves, fluid dispensers and components such as dispense tips, syringe barrels and cartridges, and other plastic components that are used to dispense a single type of fluid.
EFD also has a two-component line that includes static mixers, side-by-side and u-TAH™ cartridges, dispense guns and meter mix valves that are used to mix two fluids to form a bond during the manufacturing or repair process. Often, they are used in the automotive, aerospace and construction industries.
But the overall goal of all product lines, Forden notes, is to prevent fluid from being wasted. "The value of material getting dispensed is getting higher and higher," he says. "You can't afford to leave any residue in your syringe, and customers come to us because we can provide products that dispense with the least amount of waste."
New Additions
Both 2014 and 2015 were strong years for Nordson EFD, which saw the launches of many products, including its PICO® Pulse™ jet valve and Touch™ controller, Forden says. The valve is capable of dispensing up to 500 cycles per second (Hz) continuous with 1,500 Hz bursts.
With the Touch controller, the valve can meet specific application requirements. "If the application requires dispensing a line that's 750 micrometers wide by 105 micrometers thick, the customer can easily program the valve to dispense that very specific type of deposit," Calain-Tatry says.
"We're extremely proud of the work and efforts put into those," Forden says, also highlighting the xQR41, a micro-dispensing needle valve. Sixty percent smaller than conventional needle valves, it can dispense micro-deposits 150 micrometers in diameter.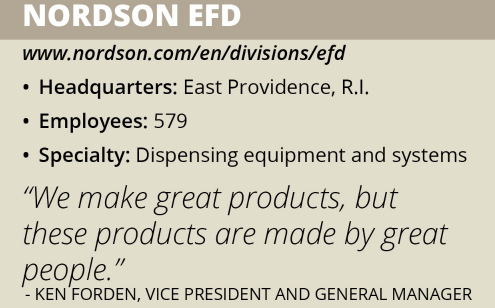 "When we talk to our customers, we hear that the ability to service a valve in the shortest amount of time is critical," Forden continues. "The PICO Pulse and xQR41 can be serviced in a matter of seconds."
Nordson EFD also recently launched its E, EV and PRO Series of tabletop robots. The latter, Calain-Tatry notes, includes DispenseMotion™ software, fully integrated vision and laser height-sensing capabilities, and closed-loop encoding.
"These features simplify setup, operation and programming – making it easier to implement automated dispensing and ensure the most absolute accurate fluid placement, even over uneven surfaces," she adds.
The company also released its Clear Flex Piston, which minimizes piston bounce when dispensing viscous and particle-filled fluids. "Its design allows it to flex under pressure so that it creates a tighter seal between piston and the barrel," she states.
Nordson EFD also recently acquired Liquidyn, a Germany-based manufacturer of non-contact, micro-dispensing valves. "We think that was a good acquisition for EFD," Forden says. "[We were] able to add to our portfolio of jetting valves."
Those additions include its P-Jet and P-Dot valves and V100 controllers, which can jet low- to high-viscosity fluids with great precision. "The P-Jet and P-Dot non-contact jet valves offer manufacturers a fast, simple way to generate precise, repeatable micro-deposits for even the most demanding dispensing processes," Business Unit Director of Valves Peter Langer said in a statement.
Staying Local
Nordson EFD is proud to have kept the majority of its manufacturing in the United States, at its locations in Rhode Island and New Jersey. "We make over 95 percent of our products out of these two facilities," Forden says.
This fits well with Nordson EFD's North American customers. "A lot of people have discovered you can make high-quality, very cost-competitive products here in the United States and you don't need to go offshore," he says.
"We see many clients that are looking to do it in ways that minimize some of the labor and quality concerns that they have," he states. "We can reduce some of that variability for them and keep their labor rates extremely low."
Forden praises Nordson EFD's staff, which it has stationed in more than 40 countries. "We wouldn't be what we are without them," he says. "Over 40 percent of our people have been here more than 10 years.
"We take care of our folks, and we should at the end of the day," he continues. "We don't do anything without the best people in the industry. We make great products, but these products are made by great people."
Calain-Tatry agrees, noting that Nordson EFD's employees are essential to two of the main reasons clients turn to the company: customer and technical service. "They're helping the customer in the application process," she says.
They also aid the community through the Nordson Corp. Foundation, which contributes philanthropic resources to address local needs. "Our employees represent our company to the world," Forden says.
The Next Level
Nordson EFD's future will include more additions, Forden says. Recently, the company made more investments in R&D and engineering for new products. "You've just started to see the first wave of that," he says.
"We also have scheduled to launch some new two-component mixer technology as well as refresh several electronic lines," Forden says. "As a leader, it's time for us to take them to the next level.
"We know what products would help the customer get to the next step and we are actively working on those," he states. "You should expect to see continued new product launches, a lot of effort on reducing waste and increasing throughput."