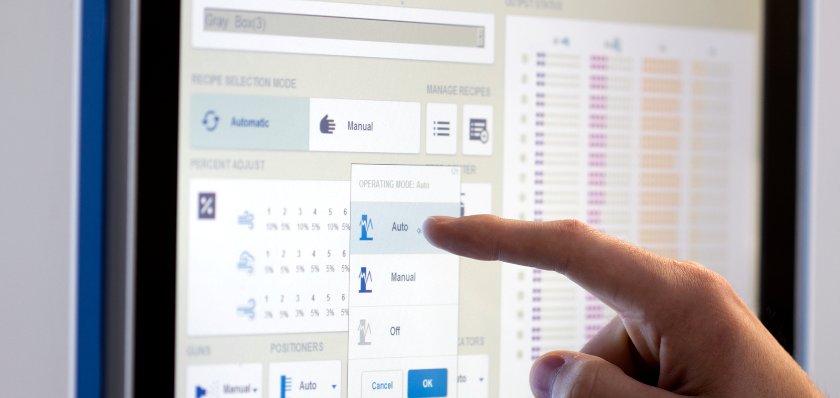 This year at FABTECH, Nordson is immersing visitors in what we call the Nordson experience. Whether you're a longtime Nordson customer or you're brand new to the finishing world, visit Nordson's booth (B13018) to try out new products, meet our people and learn about service and training programs.
Perhaps most notably this year, we're showing off new technology, and it's not what you might expect.
At Nordson, innovation drives everything we do. Sometimes that technology changes the way our customers dispense coatings. This time, we're ready to change the way customers manage their entire powder coating process, driving the factory of the future.
Customers want easy access to performance data. They want to be able to predict required maintenance and know when they'll need to replace parts. They want to avoid downtime and make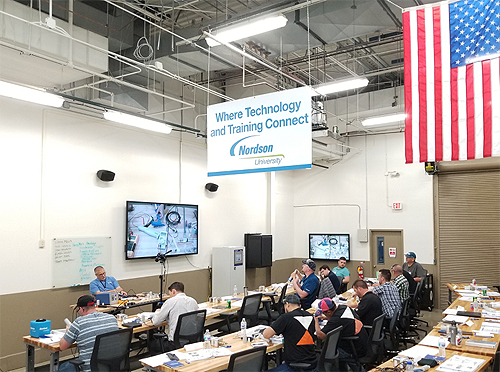 sure their equipment is running as well as it did the day it was installed.
The factory of the future brings that information to customers' fingertips. Literally.
At FABTECH this year, Nordson will show customers how we're bringing the Industrial Internet of Things (IIoT) and Industry 4.0 to product finishing. It's Nordson equipment expertise combined with the user experience consumers have come to expect of the tools they use not just at home, but at work, too.
Be the first to experience Nordson's new technologies
Wisdom™: Nordson's smart connected platform
Wisdom™ is Nordson's smart connected platform designed for the factory of the future. If you want more data, analytics, remote connectivity and tools to manage your powder coating process from anywhere in the world, you'll want to check out Wisdom.
Cloud-based and now available on the App Store and Google Play, Wisdom's first offering is a mobile app customers can use for part lookups and help with ordering replacements. They can also learn about training opportunities and product promotions.
Today, Wisdom users can:
Identify 1000+ parts for the ColorMax® 2 and Spectrum® VT/HD systems
Fill a shopping cart and create a purchase requisition
Access manuals and troubleshooting guides
Link to Nordson University for training opportunities
Receive news about upcoming events and product launches
With a continuous rollout of planned feature releases, the Wisdom platform combines IIoT and Industry 4.0 with Nordson Industrial Coating Systems' proven hardware, controls, application expertise and field support to help customers improve their manufacturing process.
Next up for Wisdom? Additional lines of business, more analytics, training suites, data delivery and recommendations to optimize system performance.
Take total control of your powder operation with Encore Engage™
If you run an automatic powder coating operation, you must stop in to Nordson's booth to experience the debut of Encore Engage™, Nordson's next generation powder controller for automatic spray guns and engineered systems.
Encore Engage features a sleek, modern 15-inch touch screen interface that will dazzle its users. The re-imagined design is carried through advanced recipe creation, system production data monitoring, and self-guided prompts and video aids that make powder system controlling easier than ever. Integration with Wisdom will bring IIoT to your powder coating line.
Talk with Nordson experts
If you have an eye to the future, but need to make some smaller changes right now, don't miss a chance to talk with our experts in the booth. There will be a full staff of application specialists who can help you find solutions, improve your process or troubleshoot issues across our full range of industrial coating offerings, whether you spray powder or liquid, as well as UV curing systems.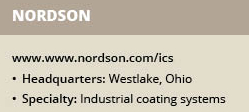 Check out Nordson's full range of comprehensive customer support packages
The Nordson experience doesn't stop once the sale closes. We want to help you become experts in your coating application.
Two opportunities we suggest all Nordson customers take advantage of are Nordson University, Nordson's in-house training and development course, and our TrueBlue® Preventative Maintenance Program, a personalized regimen of system health assessments, preventative maintenance and on-the-job training that can keep your powder coating operation running like the day it was installed.
At FABTECH, you can register for an upcoming Nordson University session. After attending two days of hands-on workshops at Nordson's campus in Amherst, Ohio, you'll leave with a greater understanding of industrial coating, and an appreciation for new technology.
TrueBlue Preventative Maintenance Program is new to Nordson Industrial Coating Systems, helping powder customers maintain their equipment. Meet with a Nordson expert to talk about how you can maximize your productivity and protect your investment. More TrueBlue offerings will be added soon.
Understand Why Customers Choose Nordson
In highly competitive manufacturing markets, productivity is vital and performance is essential. That's why we apply both to everything we do, whether it's our products, expertise or outstanding customer service. We'll always be there to help maintain the new standards you've set, with expert service and support delivered through our teams working across the globe.
This unique Nordson approach helps you reach new levels of production, while working more accurately, efficiently and competitively than ever. Precisely why manufacturers who demand quality can rely on Nordson.
Visit Nordson at FABTECH (B13018) and find out more about why customers choose Nordson again and again for their industrial coating needs.