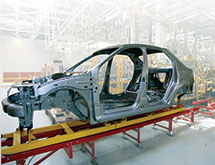 Some companies conduct business without strong values, but Norgren takes the opposite approach. "We take our integrity and our code of conduct very seriously," CEO of Latin America Ricardo Rodrigues says. "We have to make sure we act with integrity [everywhere]."
Littleton, Colo.-based Norgren manufactures high-quality pneumatic and fluid controls, such as actuators, filters, regulators and lubricators, fittings and valves. Founder Carl Norgren started the company in 1927 and initially operated it from his kitchen in Denver. Now, Norgren is part of IMI, a British group of £1.7 billion turnover (2013) and more than 12,000 employees worldwide.
Today, Norgren has 22 manufacturing locations globally and a sales and service network in 75 countries. Rodrigues manages the company's Latin American business, which has locations in Mexico and Brazil. Additionally, all the other countries like Argentina, Venezuela and Chile are served by authorized distributors.
"Over the years, Norgren has grown organically and through strategic acquisition," Rodrigues explains. "We have continually added companies to our portfolio where we identify differentiated technology and application synergies. Some of our brands include Buschjost, Maxseal, Herion, ISI, Syron, ERIE, and Watson Smith & Thompson. By leveraging the capabilities of these acquired companies with our core Norgren offering, we bring true engineering advantage to customers."
Driving Success
Norgren's sectors in Latin America include commercial vehicles, which it services with truck parts, Rodrigues says. "We service all the biggest OEMs around the world," he states.
"In Latin America, truck parts represent 50 percent of our revenue, with a very strong presence in the Brazilian truck and Mexican truck industries," Rodrigues says. "[We are seen as] one of the main players for valves and fittings for trucks."
Norgren plans to release new products to lower vehicle emissions and increase fuel efficiency, Rodrigues says. "This is a new territory we've been working in with good results," he reports.
Energizing Work
Norgren serves Latin America's energy industry with valve instrumentation for onshore and offshore clients. Its main customers in this market include Pemex in Mexico and Petrobras in Brazil.
The company's valves, Rodrigues explains, pilot and signal the opening of larger valves. Additionally, "We have some interesting products in the field that improve safety and reliability in the offshore applications specifically," he adds.
"One of the most recent [examples] of our engineering development is the new Redundant Valve Manifold designed to replace piped or 'nippled' systems, providing redundancy in the event of valve failure while increasing time intervals between plant turnarounds and delivering a variety of circuit functions without the need for pipework," Rodrigues says.
Although Norgren has a strong presence in the commercial vehicles market, it has a smaller marketshare of the energy industry, Rodrigues admits. "[We have] to make our name more embedded into this sector," he states.
Partners in Productivity
Norgren also provides products to the industrial automation sector, Rodrigues says. "We have all those types of products that fit into pneumatics, [including] industrial automations and cylinder valves," he describes.
The sector is also very competitive, he notes. "We've been suffering with a lot of engines from Asia and lower-cost countries," he says. "They're challenging the automation arena."
Norgren has coped by moving away from the commodities and providing consulting services for its clients. "[We're] a partner for our customers to develop a whole solution to increase the productivity in their factory," he says.
That fits the need of many of Norgren's clients, whose budgets are limited. "They need suppliers like us to become partners in solving their issues," Rodrigues says.
Economic Environments
Norgren is coping with economies in Mexico and Brazil that could not be more different, Rodrigues says. Although it faced some difficulties at the beginning of 2014, "The Mexican industry has really proved to have a lot of potential," he says.
Many Mexico-based companies, he notes, are outsourcing less and moving production from China to back home. "Logistically, it's more friendly," he says.
At the opposite end of the scale, "The economic situation in Brazil is horrible," Rodrigues says. "[It is] the biggest market where we are struggling."
Although trucks currently comprise 50 percent of the company's business, "The production of trucks in Brazil this year is down by approximately 30 percent or so," Rodrigues explains. "In general, Brazil is very volatile."
The recent Brazilian Carnival and World Cup also had impacts on the economy that were "worse than expected," Rodrigues says. He adds that members of the business community are avoiding large investments until they know the outcomes of the presidential election in October.
No matter who wins, "We're expecting an adjustment period," he says, noting that it will impact gas prices that are already affecting Norgren's supply chain. "Whoever wins will have to focus on creating more infrastructure. It's definitely impacting business in Brazil."
Room to Grow
Rodrigues sees a strong future for Norgren's Latin American operations, even with Brazil's poor economy. "Although the market is down, there's a lot of room to grow in the sectors that we operate in," Rodrigues says.
For instance, "There are a lot of opportunities for new trucks to be built in the [next few] years," he explains. "We are optimistic for the long term."