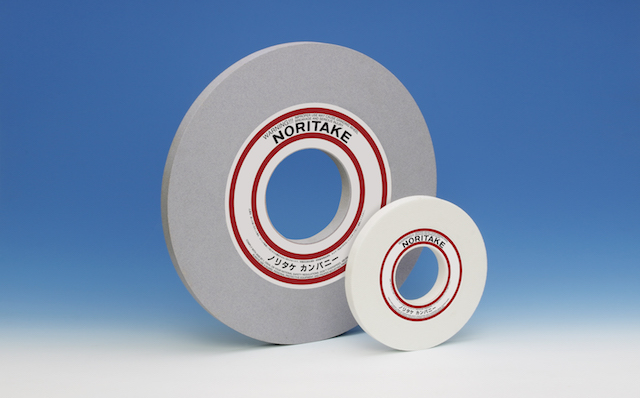 Noritake Co., Inc.–Abrasives Division
In 1904 in Nagoya, Japan, Noritake was founded as a Western-style tableware manufacturer, with the aim of exporting the finest-quality products to the rest of the world. And while it excelled at producing quality ceramics, throughout its history Noritake has amassed a wealth of various technologies that have since been adopted for use in other sectors. With these technologies, Noritake has expanded into four major business groups: tabletop, engineering, ceramic and materials and industrial products.
The industrial products group was started in 1939, when Noritake launched full-scale production of industrial grinding wheels. "Since then, Noritake has become Japan's largest manufacturer of grinding and polishing tools," U.S. Assistant Sales Manager JD Carlson says. "Noritake produces a complete range of abrasive wheels, diamond and CBN tools and coated abrasives."
Today, with the philosophy of "local production for local consumption," Noritake has established abrasives manufacturing bases not only in Japan, but also Thailand, China, Mexico and the United States. In 1971, the company developed the first vitrified-CBN grinding wheel for use in the automotive sector. Since 2003 Noritake has been manufacturing these high-precision/high-performance Vitrified-CBN grinding wheels at its factory and sales office in Mason, Ohio, located just outside of Cincinnati.
Complete Range
Noritake manufactures a complete range of conventional and super-abrasive grinding wheels, and is strategically manufacturing Vitrified-CBN grinding wheels in Mason, due to the large market demand in North America. These are used in the automotive, bearing, steel, heavy-duty machinery, medical, aerospace and IT industries.
Administrative Manager Hide Shibata notes there is a cultural drive for excellence in all phases of production. "Our goal is to make the highest-quality wheels using the safest methods," Shibata says. "We want to manufacture the highest-performing product on the market with the best price that offers the best performance."
In addition to bonded abrasive grinding wheels, Noritake manufactures a complete line of diamond tools, such as diamond band saws, for the cutting of silicon, glass, magnetic materials and carbon. Additionally, Noritake manufactures diamond wire for LED, semiconductors and solar cell applications. It also manufactures diamond dressers for the resurfacing/resharpening of grinding wheels. It excels in coated abrasive products, including sandpaper in a full range of shapes, from flat sheets to looped belts, offset wheels and flap disk fused cutting blades.
In addition to abrasives, the Noritake Industrial Products business manufactures coolants and lubricants for use in factory machinery, as well as peripheral equipment such as the Balance Eye – ZZ portable grinding wheel balancers, fully automatic grinding wheel balancers and the Super Toucher dressing system designed for vitrified-CBN wheels.
Expansive Market
Noritake is already the largest abrasives manufacturer in Japan, and with sales offices and/or manufacturing bases located throughout Asia, Europe and North America, the company plays a major role as a supplier to many of the world's top automotive, bearing, steel, aerospace, medical, heavy-duty machinery and IT manufacturers. Carlson notes that what sets Noritake part can be found in its motto. "'Good quality, export and co-prosperity' have really defined this company," Carlson explains. "And that is really reflected in our manufacturing process. With a rigorous inspection process, we are able to make a consistent product, with high-quality standards, every time."
"Good quality" refers to making an all-out effort to manufacture the finest-quality products with social common sense. With its roots in making the world's finest tableware, Noritake applies the same standards and similar technologies when it comes to the manufacturing of grinding wheels.
"One thing we pride ourselves on is the ability to tell our customer that every grinding wheel we make – whether it was 20 years ago, today or many years from now – will have the same quality and same result every time, ensuring extremely consistent performance for the machine operators who are using our wheels," Carlson says. "We invest in a lot of one-on-one training to ensure that happens."
Factory Manager Aki Mizuno notes that Noritake's factory in the United States is actually small in size, typically employing 10 people or so. "When employees are hired, there is a lot of cross-training that goes into developing them," Mizuno explains. "That way, if something happens and we lose an employee, we have others that can step in who know every step of the process."
Though Carlson focuses primarily on the sales side, he notes that for Noritake to function at a high level, every one of the staff members is well-versed in the functions that others serve. "Our training for the sales staff is ongoing," Carlson says. "We really want to make sure that the sales staff is more engineering oriented, so they have as much knowledge as possible when speaking to customers."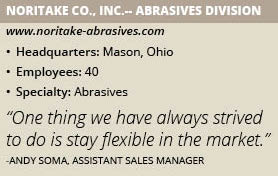 The "export" part of Noritake's slogan refers to the company's pursuit of internationalism and its contributions to society based on its global vision. "As many of our customers have global manufacturing facilities, we aim to provide them with the highest-quality product at the best price," Carlson says. "We also want to provide the fastest delivery time. With sales offices all over the world, we are able to achieve this by hiring local sales and engineering staff to support our customers in real-time and in person."
"Co-prosperity" refers to Noritake's creed to grow and develop with its customers and with society to become an outstanding corporate citizen. Another aspect Noritake prides itself on is the ability to add value-added services, such as free-engineering support, at any time, to any of its customers. "One of the most enjoyable parts of the job is to be on-site with the customer," Carlson says, "helping them fix, improve and optimize their grinding process by testing grinding wheels with new technologies, as well as adjusting the grinding and dressing parameters on the grinding machine itself." This hands-on approach has allowed Noritake to develop great relationships with its customers and amass a portfolio of case studies in virtually every grinding application.
In developing great relationships with its customers, there is always an intense focus on information. "One thing we strive to do is get as much information as possible," Assistant Sales Manager Andy Soma says. "We acquire as much information as we can so we can engineer the exact grinding wheel that the customer needs. Whether it is a longer dress interval, better surface finish, or a shorter cycle time, we are able to deliver a high-quality product that ultimately comes from the customer's request."
"We need to know what type of material they're grinding, how much stock they are removing, and what kind of surface finish they require," Soma continues. "The main thing we do is try to find out as much as we can about the grinding parameters, dressing conditions, and the capabilities of the grinding machines themselves."
Flexible Range
Like all abrasives manufacturers, Noritake is heavily reliant on the automotive industry. But as the market has changed over the years and automotive manufacturing has shown that it is not always stable, Noritake has developed products that target specific applications in non-automotive industries. "One thing we have always strived to do is stay flexible in the market," Soma says. "We have the ability to apply our grinding wheels to a wide range of industries."
One example is the fine grit resinoid silicon carbide wheel developed for grinding medical steels, specifically the beveled edge of hypodermic and biopsy needles. Another example is the "nonclotty" grinding wheel, a vitrified conventional wheel with broadly-spaced grains and a porous structure, allowing for high material removal rates while eliminating the risk of grinding burn. The nonclotty wheel is especially effective in the grinding of difficult-to-cut materials as well as ultra-heat resistant metals, which are commonly used in the manufacturing of aerospace components.
Another example is the ultra-hard, ultra-coarse resinoid "3Z" wheel for the grinding of slabs and billets, which are manufactured at steel mills around the world. In 2013, Noritake invested in a brand-new state-of-the-art manufacturing facility that produces the 3Z wheel solely for the steel industry.
With an abundance of successful working relationships with a variety of customers, Noritake plans on further expanding its local manufacturing bases, capacities and production ranges. "Ultimately, we will do so to meet the demands of customers who are looking to save delivery time," Carlson says. "Plus, our localization plans should also save money for both our customer and us."
In addition to expanding its locations, Noritake must also keep expanding its product line to suit its customers' needs. "Our product line is constantly evolving to keep up with the requirements of the customer," Carlson says. "Whether it be a better surface finish or higher-precision tolerance to maintain on the workpiece, or simply a reduction in cycle time, or improvements in dress interval, etc., Noritake is always working to develop new technologies in bonding systems and grain characteristics."
Fortunately for Noritake, developing new technologies does not require major adjustments to its manufacturing processes, as most of the product development involves changing the chemical make-up of the grinding wheel, and not the manufacturing process of the wheel itself.
The Noritake Abrasives division, with its vitrified-CBN manufacturing facility, warehouse and sales office in Ohio, as well as a sales office in Atlanta, employs about 40 people combined. With those locations, Noritake is ideally situated to serve customers at a moment's notice, Something Carlson takes great pride in.
"To be able to provide a great product with consistent quality and performance is something we are all proud of," he says. "But we also love to interact with the customer and have the flexibility to engineer a product that will fit the customer's need. Our expertise allows us to react to any emergency a customer might be having."