North Coast Composites Tool and Mold
Aerospace composites and tools
North Coast Composites Tool and Mold manufactures advanced composites and tooling for the aerospace industry
North Coast is made up of two business units: North Coast Tool & Mold Corporation, founded in 1976, and North Coast Composites, founded in 2003. Both business units are located in a 65,000 square foot facility in Cleveland, Ohio and are ISO9001 and AS9100 certified. In July 2016, North Coast was purchased and became part of Unitech Aerospace.
Eddie Morrison, Vice President and General Manager of North Coast was keen to explain the reasons behind the partnership with Unitech Aerospace. "We were very much a stand alone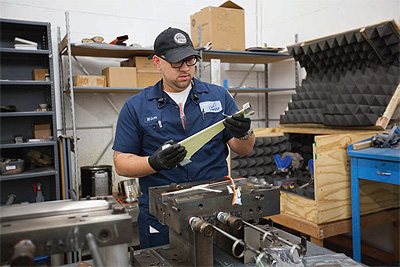 business prior to being acquired by Unitech Aerospace. We didn't have a lot of capital investment and selling the business to Unitech provided the access to capital that we needed. Furthermore, Unitech brought improved business practices and a larger portfolio of customers. What was originally a small company without a lot of leverage has now formed meaningful relationships with the bigger customers that Unitech has access to."
North Coast specialises in the development of complex, high tolerance composites and are industry experts in Resin Transfer Molding (RTM), vacuum-assisted resin transfer molding (VARTM), lay-up molds, compression molds, bond tools, invar tooling plastic injection molds, assembly jigs, trim & drill and machining fixtures, investment cast dies, handling equipment, stretch form dies, turnkey manufacture work cells and contract machining. It provides turnkey solutions for RTM/VARTM and resin impregnated parts, including product-design assistance, tool design and fabrication, prototype part fabrication, manufacturing planning assistance, and production part fabrication.
The company's main focus right now is on resin transfer molding: "Our core competency is in RTM and the majority of the parts we manufacture are resin transfer molding based. We make large containment cases for the Honeywell HTF7000 Series Engine, ducts for the new GE LEAP engine and inlet guide vanes for the B-1B Lancer Bomber. The applications are varied, but its mainly all RTM now. We are starting to move towards compression molding and will be focusing more on these components this summer," says Eddie. This is an exciting development for the company as it has been given the go ahead to manufacture compression molding components for the military helmet heads up displays, a see through display that sits directly in a pilot's line of sight to significantly increase the perception of environmental elements. "We are going to provide compression molding components for the heads up display and have invested in a brand new press to carry out the work. We expect to complete the contract by the end of the year and will be looking for additional compression work," explains Eddie.
In 2016, North Coast produced over 1550 composite assemblies with a 100 per cent on-time delivery record.
The tooling side of the company supports the manufacturing side of the business. The sector develops tools for its own company and produces precision mold tools, holding fixtures, trim fixtures, assembly fixtures, breakdown autoclave tooling and steel and invar autoclave tooling for its customers. Currently it's the tooling side of the business that has attracted most of the company's international interest, and its biggest tooling job is for the French owned multinational aircraft company Safran.
Membership and recognition by worldwide organisations highlights the level of service provided by the company. "As a National Aerospace and Defense Contractors Accreditation Program (NADCAP) certified manufacturer, we instill confidence in our clients that North Coast Composites is a vendor with unmatched quality, highly responsive, and industryleading services for the dynamic global aerospace industry," explains Eddie.
"Our strategic vision for the next three years is to double the business. The tooling side of things currently represents about a third of the group. We are purchasing a lot of new equipment including new CNC machines. We want to expand the area of tooling so we can deliver larger fixtures and more complex tools. We've spoken to our customers about this and they are excited about moving forward with us. Regarding the composite side of the business, we have a reputation for being able to create complex parts that other companies can not do. We already work with the likes of Honeywell, GE, and IAI and we are striving towards expanding our portfolio in 2017," concludes Eddie.
North Coast Composites Tool and Mold
Services: Manufactures composites for the aerospace industry, and tools to support its work and other companies