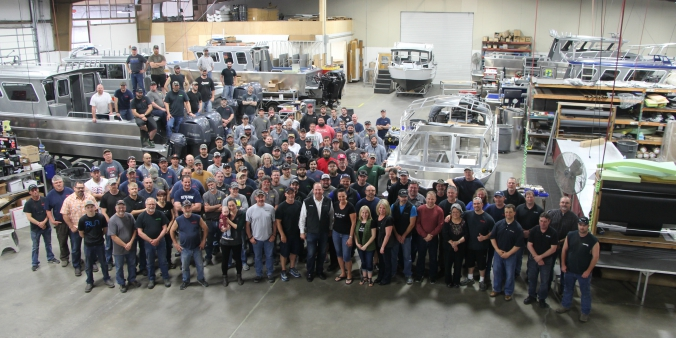 North River Boats is one of the largest heavy-gauge aluminum boat manufacturers in the United States, and it has a national and international customer base serving three distinct segments: government, commercial and recreational.
The Roseburg, Ore.-based company's customers include the U.S. Navy, U.S. Coast Guard, Trinidad Pilots Association, Authority Canal de Panama, and many commercial businesses, and state and county municipalities throughout the U.S.
North River Boats prides itself on building world-class products on time and within budget. Its mission is to enhance the lives of its customers, employees and community by building the best aluminum boats in the industry.
In Control
CEO and majority owner Brent Hutchings attributes the company's success to its 135 dedicated employees. "North River is a passionate group of boat builders who belong to a small, economically distressed community," Hutchings explains. "Roseburg is a former mill town, and the economy here has struggled to find replacements for timber industry jobs."
Hutchings notes that North River Boats has been "a bright spot" in the community's challenged economy. "Our people are really committed to each other, the community and our customers," he says proudly.
As the company celebrates its 44-year anniversary this year, it also is proud to now be an employee-owned company. North River implemented an employee stock ownership plan, or ESOP, effective Jan. 1, 2016. Hutchings notes that as an ESOP, North River Boats has made the strategic decision to remain in Roseburg permanently.
"Many small town companies are bought by outside buyers, and that is not going to happen with us," he says. "I will not entertain any offers to sell to an outside buyer. I am fulfilled by what we are doing in this community and am committed to my people."
Hutchings adds that the history of the boat manufacturing industry is filled with consolidation and mergers that, ultimately, move the acquired company to a bigger city. "Typically, workers do not follow when that happens," he says. "So it ends up leading to the demise of the company and hurts the small town community. The ESOP is a very deliberate approach that keeps that from happening, and helps secure a better retirement for its employees."
Through the newly created ESOP Trust, North River Boats' employees own one-third of the company. "Many people might say that must increase our employees' commitment and their alignment with ownership and management," Hutchings notes. "While that is true, our employees already behaved like owners. So it felt appropriate to make them actual owners."
He adds that because North River Boats is growing, the value of its employees' stake in the company is growing as well. "It is a very significant development for this company, and our employees appreciate it," he says. "Again, this company is successful because of its people. So we are putting our money where our mouth is."
Seeing Growth
North River Boats' revenue has tripled in the last five years. Hutchings attributes the growth to several things, including expanding its business with companies that sell its recreational product. "We have worked with that customer base to grow organically, but have also added new dealers," Hutchings says.
He adds that with its government and commercial business, North River Boats has become "more geographically diversified." "We work with municipalities all over the United States and with commercial customers all around the world," he explains.
Developing new products has also contributed to the company's significant growth. According to Hutchings, North River Boats has rolled out new products for its commercial and recreational customers in each of the last four years, which has created even more demand for the company's products.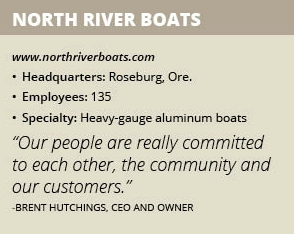 "We now build a crew transport vessel up to 60 feet in length that has been well received," Hutchings says. "We have several different new recreational products, which also expanded that segment for us. This includes a Seahawk Offshore vessel up to 35 feet in length."
North River Boats began increasing product releases to meet its customers' demands. "Our customers continue to push us to build larger and more complex vessels, which is a compliment to us," Hutchings explains. "It is something you want to do in baby steps, but we have grown steadily to a high level, which we have the ability to do because of our in-house design department and experience gained with our demanding commercial and military customers."
The company is also expanding its 90,000-square-foot manufacturing facility by 34,000 square feet later in 2017. The expansion will also include a training facility so that North River Boats can develop new trainees to meet growing customer demand.
"The welding position is the bottleneck in our company, which means the community does not produce enough welders to satisfy our needs," Hutchings says. "To keep up we conduct in-house training and also benefit from hiring students who have completed the aluminum welding curriculum at a local college, Umpqua Community College.
"Although the college program is very helpful, we are about to embark on our own internal training facility, which will teach the specialized welding skills necessary to be a successful boat builder," he adds.
Key Partnerships
North River Boats thinks of its vendors as partners. "I want them to enjoy a long-term, positive relationship as well," Hutchings says. "In an industry like boat manufacturing, you need to buy the best possible materials. We believe we are good buyers, but you never want to push vendors to the breaking point where it hurts their business."
Hutchings recalls a seat supplier who found "a win-win" for them both. "We are always trying to reduce the weight of the boat, so they found a way to take weight out of the seats, with no sacrifice in quality or performance," he explains. "The result was an improved product that is simpler to manufacture and costs both the supplier and North River less, which saves both companies money. This is an example of a long-term partnership that is working particularly well."
He adds that the company's aluminum and motor supplier relationships are also key to North River Boats' success. "The boats are made out of aluminum, so we work closely with those partners," Hutchings says. "Similarly, with valued motor suppliers like Yamaha, we are working together to provide our customers the best product. A good working relationship and communicating with our suppliers definitely translates into a high-quality boat that is delivered on time."
Looking Ahead
After 44 successful years in the industry, Hutchings says that he is most proud of the impact North River Boats has had on its employees' families and community. "We conduct tours for various groups, including our state governor's economic team," Hutchings says. "We also host a summer barbecue and holiday party to share our appreciation with employees and their families."
Ultimately, North River Boats aims to fulfill its promise to the company's ESOP participants and customers by continuing to build the best heavy-gauge aluminum boats in the industry. "We intend to continuing growing into the future," Hutchings concludes. "While we have accomplished terrific growth to this point, we want to continue growing at a rate of at least 10 percent or more per year for the indefinite future. To do that we need to continue hiring and training to be the best, as well as expanding to meet our customers' demands."