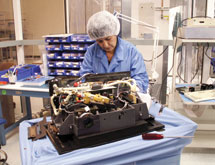 Northrop Grumman AOA Xinetics
When the manufacturing industry is called upon to innovate and grow the economy as a result, many turn to Northrop Grumman to see what it is doing. In fact, the company's mission is to be "at the forefront of technology and innovation, delivering superior capability in tandem with maximized cost efficiencies."
AOA Xinetics, a business unit of Northrop Grumman, shares the passion for innovation of its parent. Based in Cambridge, Mass., AOA Xinetics uses its advanced engineering and manufacturing capabilities to develop a variety of standard and custom electro-optic and opto-mechancial systems.
"We are a key supplier for companies that need someone to invent, manufacture or service electro-optical systems," Systems and Service Business Area Director Cameron Dryden explains. "We work with government clients and a number of different commercial industries – we have the knowledge to help companies with design for manufacturing and design for serviceability."
Dedicated to providing the highest-quality products and services, AOA Xinetics works with its customers to develop advanced products – sophisticated electro-optic and opto-mechanical products that often fit into the machine vision category.  They provide product design, maintenance and installation services. Dryden describes the company as a "one-stop shop for engineering" because it has optical, mechanical, electrical, software and systems engineers on staff.
Engineering Depth
In 2011, AOA Xinetics helped Kroger – the largest traditional grocery retailer in the United States with 2,424 supermarkets and multidepartment stores – to develop a scan tunnel system, also known as the Advantage Checkout system. "It was the world's first practical automated checkout for grocery stores," Dryden says.
Kroger explains the many benefits of the Advantage Checkout system:
It enables the recognition and differentiation of stacked items and/or side-by-side items even if the barcodes are hidden.
The system has product identification rates of 98+ percent and has the ability to manage exceptions and restricted items while reducing shrink and improving data integrity.
It's designed for reliability and ease of checkout, so it reduces checkout time and enhances the customer checkout experience.
It provides the customer with a choice of high-touch, concierge-level of full services for a fast and accurate self-checkout experience.
"This is very much a system where Kroger came to us with an idea and we helped them to invent, manufacture and service it," Dryden says.
Some of AOA Xinetics' other work includes patenting and building hundreds of automatic identification and data collection systems for parcel shipping, and developing extreme UV equipment for lithography and clean rooms with VOC controls.
"We are approached from companies in all different industries around the world," Dryden notes. "We have the engineering depth to do very precise things. We are very fast, very cost-competitive and provide very creative solutions because of our engineering edge."
Bullish About Prospects
Dryden explains AOA Xinetics' "key secret sauce" is its breadth of engineering matched with top-flight production capability."
AOA Xinetics performs a lot of high-mix, low-volume product runs, so it continually "straddles the boundary between design and manufacturing," he notes. "We work with the customer to find a technical plan that meets their needs and then work with them on the contractual type as well – be it fixed price or cost-plus. We're flexible, you might even say, 'Adaptive.'
"Once the program starts, managing inventory is a key part of our ability to deliver," Dryden says. "We have really amazing supply chain folks who can handle our high-speed logistics needs under pressure."
Its ability to quickly and nimbly respond to customers' needs is important because AOA Xinetics has seen a large increase in production and maintenance contracts among its customer base, he says. The operation has made great strides in solidifying strong domestic supplier relationships, partnering with companies like Treske Precision Machining for complex mechanical builds. A leading American manufacturing supplier, Treske leverages innovation and technology to help AOA Xinetics respond to complex market demands.
"Part of our strategy is to delight customers as much as possible by meeting their cost, time and performance needs, but also by driving down their costs over time," Dryden says. "By enhancing what we offer, we can continue to grow our customer base in a sustainable way. We are looking into different industries, such as semiconductor, alternative energy and more software applications.
"We're very bullish about the prospects for American manufacturing companies and our company in particular," he adds. "We are cost-competitive, quicker, have better cost controls overall and we have the best engineers in the world on staff."