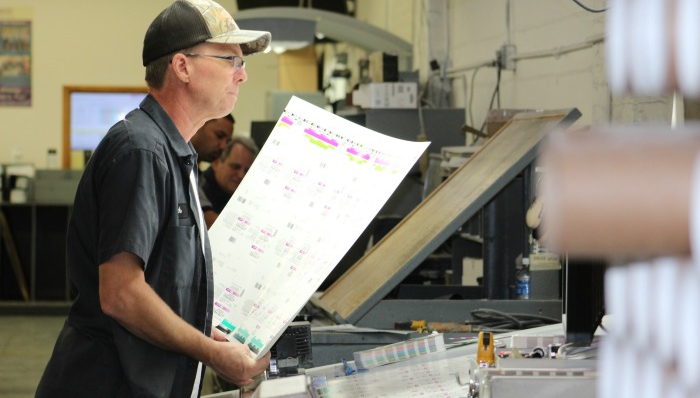 Nosco has established a century-long history of quality as it has served the pharmaceuticals industry. "We have been doing it for a long time and have an effective, quality approach," Senior Vice-President of Operations John McKeough says.
Based in Gurnee, Ill., the full-service packaging provider caters to more than 350 healthcare customers. McKeough notes that the company started operations 110 years ago as a national office supply firm.
In the 1930s, it moved into printing for the pharmaceuticals industry, which is where it has stayed for the last 80 years. Today, "We offer what we would consider a full breadth of product offerings from a packaging standpoint," McKeough says.
These range from labels to folded literature and cartons to combination packages. "Our processes really span virtually all of the current printing technologies," he says, noting that these include offset and flexographic printing. "Our business is very made to order."
For example, it recently developed a product for a client that combined a folded insert and a folded carton. "Both of those components were folded separately and joined on their filling lines when they put the drug in the box," McKeough explains.
But by putting the two together, Nosco has helped its client reduce waste as well as costs. "We believe that we're providing solutions more than products," he says. "A lot of people can put ink on paper, but we like to think [what we do] goes deeper than that."
This has helped make Nosco a leader in several areas, including digital printing. "We introduced some first-of-its-kind technology," he says. "We have a large digital footprint and capability."
Making Packages Pop
Nosco recently expanded its customer base and now serves adjacent markets such as nutraceuticals, which includes supplements. "We've also extended our reach to the 'health' side of health and beauty," he says. This has resulted in the company providing packaging for over-the-counter products sold at places such as Walmart or Target.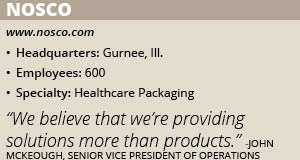 Digital technology also allows the company to establish a leadership position in serialized and personalized packaging. "For our pharmaceutical customers, that capability allows us to do some serialized printing from a security standpoint," McKeough says. Nosco also provides Personalized Packaging using Digital technology for Consumer Goods Companies who are looking to connect more closely with their customers.
It also enables Nosco to be decorative in its packaging. "Each unit can be unique in some way," he says. "Things like tactile coatings, embossing and debossing, and unique substrates give a package a particular pop or zeal."
Giving Back
Nosco is an employee-owned business, which not only gives its associates an incentive in its success, but also drives them to invest profits back in the business, McKeough says. Its recent investments include a greenfield startup in Bristol, Pa.
"That's an all-digital site," he says. "All the printing and packaging is done with digital technology. We've currently got three printing lines running out there and about 50 employees."
Equipment includes the HP 30000 carton press. "We were one of the initial four beta sites for that press," McKeough says, noting that Nosco has two of those presses currently operating.
Ensuring Satisfaction
Nosco utilizes quality systems that are very consistent with ISO and other programs. That way, "We can ensure what gets out the door meets or exceeds the customer expectations," McKeough says.
The company implemented lean practices in 2007 and began utilizing the Six Sigma system earlier this year. Both have led to significant improvements for Nosco, McKeough asserts.
"Lean is a great way to have continuous and incremental improvements," he describes. "Six Sigma is more of a nod to our process culture. It's in conjunction with the lean, so we're continuing to optimize flow and look for waste."
A Great Place
McKeough, who joined Nosco in March 2010, is proud of the company. "We've had very, very consistent growth through times when a lot of printers weren't growing," he says.
"I also love being part of an employee-owned environment," he continues. "That's a healthy and positive environment to work in."
The company's management, he notes, truly values its people. "We talk about things like retiring with dignity and mutual respect," McKeough says. "But it's not just talk. It's a great place to work."
Nosco plans to continue growing, McKeough says. "We are just reaching our stride in the market extensions I talked about," he says.
"We believe that our focus on process excellence and speed to market are appropriate," he continues. "We'll continue to invest in the lean, Six Sigma training and continuous improvement efforts, and we believe we can grow faster than the market."