On A roll
Constantly evolving, Nova Tissue is a family run manufacturer of toilet tissue with a reputation for utilizing the latest equipment to execute on contemporary market trends
When people hoping to purchase toilet roll began to gather outside the gates of Nova Tissue's production facility earlier this year, Managing Director Khurram Iqbal knew that 2020 was going to be different. During what Khurram – tongue firmly in cheek – describes as the 'infamous toilet roll shortage of 2020', demand for Nova Tissue's products skyrocketed, to the extent that the firm was receiving hundreds of emails and telephone enquiries a day. The surge was unlike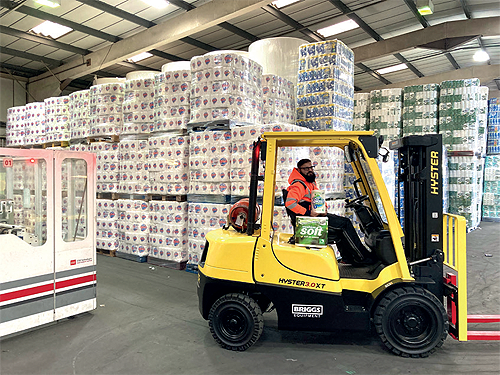 anything the company's MD had ever seen before.
"We were absolutely inundated," he recalls. "From supermarkets to homeless shelters, foodbanks to people turning up at our factory – everybody wanted toilet roll. We have always operated 24 hours a day, seven days a week, so there wasn't really a great deal more we could do in terms of quantity, but for three months we were flooded with orders."
Since then, as Covid-19 restrictions have continued to impact businesses across the UK and Europe, Nova Tissue has experienced a lull in the market. According to Khurram, it is not a phenomenon unique to the UK, but something being felt across the breadth of the industry.
"When we speak to colleagues and other companies in the industry, everybody is in the same situation," he says. "The whole market seems to be depressed at the moment. Manufacturers of away-from-home products for hotels, pubs, and restaurants are also suffering because much of the hospitality sector is still subject to major restrictions. Even on the consumer side, money isn't being spent in the same way it was before the pandemic. The high streets are not busy, and we suspect that this is likely to continue until at least the end of the year."
Despite the challenges, Khurram is upbeat about the company's current standing and is keen to use the market downturn to prepare Nova Tissue for the future. Unwilling to dwell on the momentary reduction in sales, Khurram is focusing on using the second half of 2020 to ensure that the company is ready to take advantage of any opportunities that may present themselves as soon as regular levels of demand return.
"As a business, we are concentrating on what we can control. Once we make it through Covid-19 and Brexit, we know that we will be able to hit the ground running in terms of new product ranges, refreshed pricing, and our preparedness to take on new opportunities," Khurram asserts. "From speaking to our customers, we are aware that if we can lay the groundwork now, there is no reason why we can't be in a very, very strong position in six months' time."
One of the reasons Khurram is so confident about the future of Nova Tissue is down to the company's strong family culture. Founded by his father in 1986, Khurram purchased the business in 2017 and the company's family dynamic has never been lost. With multiple generations of the Iqbal family still working at Nova Tissue, Khurram believes that the firm maintains a strength, unity, and resilience that only working with family can induce.
"Nova Tissue has always been a family company at heart and I still have siblings, uncles, and brothers-in-law working here in key positions throughout the factory – not just in the office but down in the warehouse too," Khurram reveals. "I think it brings a dynamic to our business that you wouldn't find in large companies. It extends to our customers too, many of whom we know on a first name basis. We like to create close relationships with our clients and we have a customer retention rate well above the industry average.
"In terms of managing the family dynamic, we probably have more open discussions than you might expect in a normal corporate environment, but it definitely makes for a relaxed and enjoyable place to work because you're in such close proximity to people you enjoy spending time with," Khurram adds. "There is a strength and closeness throughout the management team here that I think is only possible in a family business."
Since the onset of the Coronavirus pandemic in early 2020, adaptability has become a vital trait for businesses wishing to succeed in a difficult climate. Renowned for its ability to evolve and adjust, Nova Tissue is always finding ways to give better service. Constantly redefining, redeveloping, and redesigning its offering, the company ensures that its products are perfectly suited to the requirements of both its customers and, most importantly, its end users. It is this ability to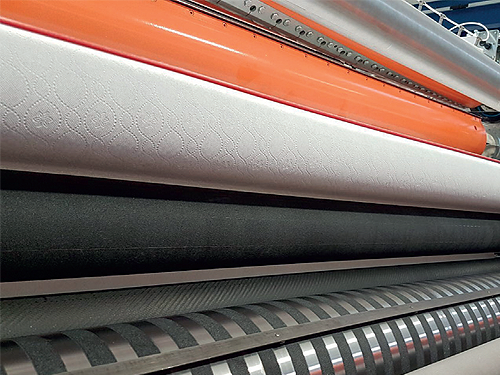 understand the market that has helped to inspire Nova Tissue's longevity and continuing growth.
"We always have an eye on the final end user," Khurram claims. "As a starting point with all our products, we ask ourselves: 'If we were the end user, would we purchase this product?'. We like to make sure that everything we produce is not only visually appealing on retailers' shelves, but also, if it's kitchen towel, it needs to be strong and absorbent, and if it's toilet roll it must be soft and luxurious."
A manufacturer and supplier of various toilet roll and kitchen roll products, including economy packs, luxury packs, two-ply, three-ply, perfumed, and jumbo rolls, Nova Tissue is proactive in its search for product development opportunities, aiming to predict market trends rather than react to them. One of the latest trends the firm has tapped into is eco-friendly products, a range that Khurram suggests is being directly driven by user demand.
"Eco-friendly products are something really contemporary and it seems that everybody at the moment is looking to purchase goods that are more sustainable, that have ethical supply chains, and that are produced and manufactured locally," he states. "We currently have a range of eco-friendly products under the brand name Soft on Nature, which incorporates both toilet roll and kitchen roll. It is something being requested by people emailing our company; even school children have been writing to us to say that this is something they believe should be more widely available. We want to service that demand."
The new eco-friendly range that Khurram describes works as part of Nova Tissue's larger sustainability efforts. As well as exploring carbon offsetting schemes, the company sources all its raw materials locally from established, accredited suppliers with FSC and PEFC certification.
Another way the company stays ahead of its competition is by embracing the latest technology and equipment. Nova Tissue is proud to work closely with manufacturers across Europe in order to stay abreast of the latest news on new machinery that could give the firm a competitive edge.
"Year-on-year, we replace some of the older equipment in our facility with newer, more modern, more reliable, automated technology, allowing us to make products faster, more efficiently, with less downtime and less reliance on service work, maintenance and engineering," Khurram explains. "This is something that, despite the Covid-19 situation, and despite Brexit, remains a constant part of our plans and we budget for it year in, year out.
"A lot of the equipment we have onsite at present comes directly from two partners that we work with particularly closely," Khurram continues. "One of them is Paper Converting Machine Company (PCMC), and the second is Rolco Europe. Based in the Netherlands, they are a family company like us. Not only do they provide us with new equipment, but they work really closely with us to make sure our very specific requirements are met. We are not always just looking for new machinery but for something bespoke that fits in with our operation, the size of our premises, and the types of changeovers we want to do."
As well as profiting from the market-leading capabilities of the firm's pioneering new equipment, Nova Tissue clients also benefit from customer service tailored to their individual needs. "We deal with independent wholesalers, retailers, and chemist chains. We also export to Ireland, Africa, Malta, and our products even end up as far away as India and Pakistan. Considering toilet tissue and kitchen roll doesn't really lend itself to export, we've always performed well in the export market," Khurram comments. "What sets us apart are our fantastic service levels, whether it is someone who buys from us twice a year or a major customer who purchases ten truckloads a week."
Buoyed by the success it experienced in the early part of 2020, Nova Tissue is ready to move forward – something that comes naturally to a company built on values of ambition and enterprise. Beyond Covid-19, Khurram believes that, with the right support, the business will soon be on a roll again.
"Due to the pandemic," he remarks, "the UK manufacturing sector is currently receiving backing from the Government. If it continues, there is no reason why we can't be optimistic about the future of the whole tissue converting industry in the UK."
Nova Tissue
Products: Toilet roll and kitchen roll
www.novatissue.co.uk