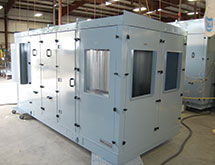 With its products found in the world's tallest building – the Burj Khalifa in the United Arab Emirates – as well as in the Hubble Space Telescope and the Space Shuttle, NovelAire Technologies is at the top of its class in more ways than one. The Baton Rouge, La.-based company is one of the leading providers of indoor air quality solutions ranging from dehumidifiers to energy conservation wheels to desiccant wheels. As VP of Manufacturing Terry Parker explains, the company's technology leadership and dedication to quality have made NovelAire Technologies a go-to source for manufacturers across a broad segment of markets.
NovelAire Technologies' product lines serve a variety of indoor air quality needs for manufacturers serving the residential, commercial and industrial markets as well as OEMs in the automotive, power generation and other industries. The company's leadership in the market is demonstrated by its innovative products, which helped NovelAire Technologies earn the 2009 Frost & Sullivan Leadership Award in recognition of the company's forward-thinking designs in dehumidifier technology.
Parker says the company's dedication to staying on the cutting-edge of technology has been a major component of its success, but that doesn't mean the company sacrifices the fundamentals. "When people see our equipment, they say it's quiet, it's efficient and it's built like a tank," Parker says.
Leading Technology
NovelAire Technologies' product lines consist of three main categories. The company's dehumidifiers are built for residential and commercial applications, as well as in customized specialty models for unique applications such as remediation or moisture storage.
For dehumidification applications as part of a larger system, NovelAire Technologies provides a series of desiccant wheels designed to dehumidify sensitive environments such as hospitals, supermarkets, clean rooms and industrial sites where humidity needs to be controlled for corrosion protection, condensation control and/or mold and mildew control. The company also manufactures energy conservation wheels used in ventilation applications to reduce energy consumption. The company says that because HVAC systems are generally the systems that consume the most energy in a building, its energy conservation wheels provide significant cost savings because they can transfer latent and sensible heat between air streams without the need for a larger compressor, condenser or other vapor compression cycle components.
Developing the most effective and most advanced technology on the market is a primary concern for NovelAire Technologies, and Parker says the company is serious about making sure its products meet every customer's needs. The company is one of the few manufacturers of air-to-air energy recovery wheels to have its products certified by the Air Conditioning, Heating and Refrigeration Institute. For its desiccant wheel products, NovelAire Technologies developed an advanced, temperature-resistant substrate that allows for significant increases in moisture removal while keeping energy requirements low, the company says. The company's recognition by Frost & Sullivan in 2009 is further testament to its technology leadership, according to Parker.
"By leveraging its background and expertise in desiccant technology, NovelAire has developed the ComfortDry 400 and ComfortPlus 300 dehumidifiers," Frost & Sullivan said at the time of the presentation.
NovelAire also has developed the Novel-Ice product lines, which allow application of its technology to dehumidification applications in lower temperature spaces like ice rinks, curling rinks and refrigerated storage. The company says the Novel-Ice units are more efficient than current gas-fired dehumidifiers and are all electric.
Small and Nimble
Parker says NovelAire Technologies backs up its designs with a manufacturing process that is capable of meeting customers' needs virtually every time. He says the company's production facility is characterized by a high level of efficiency and responsiveness, with lead-times of three to four weeks for wheel products that are well below the industry average.
This is due in large part to the company's relatively small size, which Parker says gives it the ability to react quickly to customers' requests and customize products easily without missing delivery dates. "We're a small and nimble company," Parker says.
The company's technology edge also plays an important role in the rapport NovelAire Technologies has with its customers. Through the use of 3-D modeling software and the company's strong information network, NovelAire Technologies is able to do everything related to design digitally, meaning it can share up-to-the-minute information about its products with its customers in real time. "We've really tried to use information technology and software to our advantage," Parker says.
In the future, Parker says the company expects to grow in the dehumidification niches it has chosen to serve. He says the success NovelAire Technologies has experienced in the energy recovery wheel, desiccant wheel and dehumidifier segments gives it confidence that the company will experience greater success in the future.