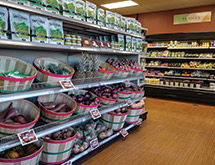 NOW® Foods got its start more than 45 years ago as a sideline to the founding family's soy products business. But Elwood Richard and his brothers, Louis and Bill, never expected to be major players in the natural products market.
NOW easily fits that description today as a top-selling brand in health food stores and an award-winning manufacturer. The company is dedicated to providing customers with a comprehensive approach to wellness by offering more than 1,400 high-quality natural and affordable products, from nutrient-rich foods and supplements to personal care and sports nutrition items. NOW products are sold throughout the United States and 65 other countries.
"We are a one-stop shop for a lot of retailers," says Dan Richard, national sales director. "Our target customers are health-conscious individuals." That particular market is growing as more people place a greater emphasis on good nutrition, fitness and overall wellness.
NOW Foods was not initially a retail supplier. Instead, the Richard family opened a health food store, Health House, in 1962, and NOW Foods was created six years later as the store's in-house brand. The store was renamed Fruitful Yield in 1971, and there are currently 12 Fruitful Yield stores located in Chicago's suburbs with plans to expand over the next few years.
NOW's growth into a major manufacturer and distributor began when the company reached out to other local health food stores that were interested in selling various natural foods and vitamins.
Today, natural and health food products have found their way into the mainstream. Dietary supplements are regulated by the Food and Drug Administration  in terms of raw materials being used and the manufacturing processes, and by the Federal Trade Commission for the health claims that can be made on the labels and bottles. But NOW goes above and beyond what is required. This includes the utilization of current, cutting-edge science in the formulation of its products, strict scrutiny when choosing raw materials, advanced in-house testing, validated methods development and the employment of skilled, highly trained individuals.
"Quality of our products is paramount to what we do," says Aaron Secrist, director of research and development and quality. "Everyone from the housekeeper on the third shift to our machine operators focuses on providing our customers the best-quality product in the marketplace today."
NOW Health Group operates manufacturing facilities in Bloomingdale, Ill., and Guelph, Ontario. The corporate office also is located in Bloomingdale, a western suburb of Chicago. A third manufacturing and distribution center recently opened in Sparks, Nev. The company performs about 20 percent of its production at the Sparks facility, including soft gels, but hopes to double that figure within three years. The new facility was built to serve growing demand on the West Coast, and COO Ron Pillsbury explains that it is better situated for the company's export business.
The 160,000-square-foot building in Nevada is a green facility that supports environmental and sustainability initiatives and is LEED certified. The building's features include energy-efficient lighting systems, water-efficient utilities and recycling stations.
NOW Health Group also owns Puresource, a national distributor and manufacturer of natural wellness products in Canada. Puresource supplies more than 150 brands, representing more than 4,000 products, primarily to independent Canadian health food stores as well as some grocery and drug store chains. The company primarily focuses on shelf-stable natural and organic foods, personal care products, natural cleaning supplies and supplements, including sports nutrition.
Today, NOW Health Group employs approximately 1,400 people at its three manufacturing facilities and its corporate office. NOW introduces about 60 new products each year. "We have a rich pipeline of new products," Richard says.
NOW does not sell to mass-market retailers such as Walmart or Walgreens. Instead, the company's product lines can be found in health food stores throughout the country. "We want to stay true to our roots," Richard maintains.
NOW offers a wide variety of natural foods and snacks, including roasted, raw and organic nuts; various types of seeds; grains and beans; healthy snacks for children;  flours and baking mixes; a wide range of sweeteners; and sweet and delicious dried fruit. The product line also features a selection of herbal teas and gluten-free selections.
NOW is widely recognized for its commitment to quality and making good nutrition affordable, and it still adheres to its original mission: to provide value in products and services that empower people to lead much healthier lives.
NOW is still owned by the Richard family. Elwood Richard remains on the board of directors with his daughter, Sharon Wong, and son, Dan, who serves as NOW's national sales director. Mike Richard is also a member of senior management as the supply chain director.
Family ownership is essential to NOW's long-term success, Pillsbury explains. "Family ownership  provides long-term stability and the belief in doing what's right. That's essential to our core values," he says.
Those values are people, position, focus, heart and commitment. The company takes those values seriously and has been recognized in the industry as a result.
For example, the National Association of Business Resources has selected NOW for the past seven consecutive years as one of the Best and Brightest Companies to Work For in the Chicago area, and the last two years the company was recognized nationally. The annual competition honors companies that demonstrate an exceptional commitment to their employees, as reported by those employees, and exemplify the best human resource practices.
Additionally, Al Powers, the company's former president and CEO, was inducted into the industry's Hall of Legends earlier this year. Founder Elwood Richard was honored in 2014 with a Lifetime Achievement Award from the Natural Product Association.
The company plans to continue its commitment to Vitamin Angels by donating an additional 20 million doses of Vitamin A to the organization, which provides vitamin A to young children who suffer from a deficiency.
NOW believes in the preservation of good health through natural products, education and sound science. The company's commitment to a natural lifestyle is the underpinning of its commitment to produce quality natural products that empower people to lead healthier lives, a commitment the company is well-positioned to make good on for many years to come, Pillsbury says.