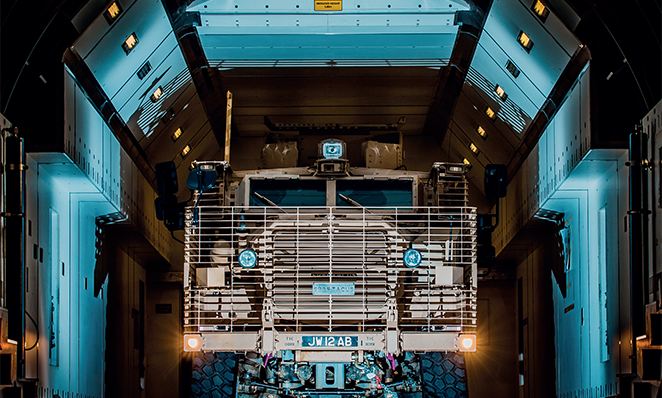 Sure-fire survivability solutions
Industry leading manufacturer of low-weight, high performance armour systems, NP Aerospace, continues to see success as it expands into new US markets
With over 90 years of experience in the composites and defence sector, NP Aerospace is dedicated to creating high-strength, fatigue resistant products from some of the world's most advanced composite materials. Using its expansive network of facilities across the UK and Canada, the company is able to provide comprehensive security solutions for a range of applications on both a personal and industrial level. Known for customer service, safety and innovative solutions, NP Aerospace now focuses on developing its network in the US, as it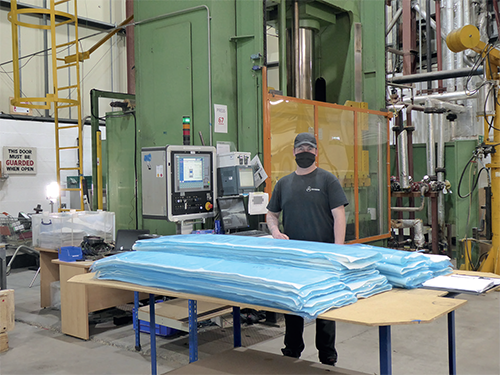 gears up to undertake major military projects in 2023.
"The business has been around since the 1920s. It started as a composite manufacturing business, and that continues to this day. In the 80s and 90s we started getting more heavily involved in defense and security type products, where we were making ballistic helmets, body armour plates, bomb disposal suits and vehicle armour," summarizes James Kempston, NP Aerospace Chief Executive Officer and Company Owner.
"In the 2000s we kept extending into more elaborate programs. We got into supplying and building vehicles, as well as upgrading parts. We also continued working on our expertise on the vehicle armour, personal armour, helmets and bomb disposal suits sides of the business.
"We have diversified over the years, and extended our offering into the medical composites business, as well as some energy and transport type products. We found that offering a wider range of products has helped keep the company dynamic, as we have become more mature. That being said, we continue to have a heavy presence on the defence side of the business," he adds.
Continued growth
In 2018, NP Aerospace and its subsidiaries were acquired from Morgan Advanced Materials, an event that has been key in spurring on the company's recent successes, as James discusses: "It has certainly allowed us to be a bit more flexible and agile. Going from being part of a large public PLC to being independently owned has allowed us to be a lot more efficient and flexible. It's also allowed us more freedom of movement regarding where we are spending our development dollars, and how we undertake business development activities. It's been good, we have more than doubled our sales since 2018, and we continue to see growth on the back of that."
Increased flexibility and capacity for diversification has helped NP Aerospace serve a wider range of sectors in recent years. In turn, the company has developed a number of distribution avenues, which have helped keep the delivery of products efficient, and tailored to the needs of the customer. "We have quite a few different routes to market, and it really depends on the product lines. In the personal armour space, which includes helmets, ballistic shields and body armour plates, we often sell direct to the end user. This also depends on the size of the contract; if it's a smaller deal, or if the customer is located in a different part of the world, we will sell our products through resellers or distributor agents. We've adapted to working well with both models," James confirms.
"On the vehicle armour side of the business, we almost exclusively sell through the vehicle manufacturers themselves, who then sell on to the end users. That's because our products are usually installed as part of the vehicle on offer. On the vehicle systems, services and spares side of the business we typically sell direct to the end user also because they are driving the demand requirements," adds David Petheram, Chief Operating Officer at NP Aerospace.
"Within our medical domain, we sell our products to an integrator or OEM. We sell to them, and then they build it into a bigger product and sell it to the end users at hospitals globally. In terms of market split, the majority of our product has gone to the UK, but we now also have a very large export division," he continues.
These different routes to market are emblematic of the dedication and customer-orientated working culture that characterizes NP Aerospace. As James details: "Our success is the result of a lot of hard work. Culture is really important for us. Yes, we have great products and patents, good technology and great manufacturing equipment, but one of the reasons we are so successful is the fact that we recognize the expertise of the people in the business, and that allows us to do more with what we have. That is really why we have been successful over the last couple of years, and it's why we can continue growing.
"We strive toward a management style that empowers people throughout the company; their role in the business is to make decisions, and execute on those decisions. We also encourage people to grow within the business.
"That not only makes us faster, and better at delivering to our customers, but it also ensures that the skill set within the business will continue to grow. Having expert teams is something which fuels our growth, because you can't grow without people in the business who are able to grow with it. The culture of inclusion and empowerment is really important for us in growing the business."
NP Aerospace's impressive working culture is one of the reasons it can operate such an expansive facility network, as the company works closely not only with its own teams across the world, but with a selection of trusted partners. "We have a multi-facility strategy that allows us to grow and expand. We have two facilities in Coventry; our main facility is a heavy-type manufacturing unit, where we are making composite materials through presses, autoclaves, and composite cutting equipment. That is about 85,000-square-feet of floor space, which is a world class composites manufacturing facility with all the associated equipment. We then have a second facility in Coventry that does more of the military vehicles and vehicle systems products, that is where we do more of the engineering and technical services, but also maintain various reference vehicles for customers.
"We also have multiple partner facilities that we use when outsourcing short term contracts. We have a partner called HORIBA-Mira amongst others, and we use their expertise and facilities for some of the heavy vehicle installation work. We also have other OEM partnerships that work in a similar way. We then have a Canadian facility, which is another composite manufacturing unit; we mainly manufacture body armour on that site, and we have just started to manufacture vehicle armour there as well. This is an area we are trying to grow into more over the coming months, particularly in terms of US contracts, so our partnership over there is very important. In total, for NP facilities we have about 120,000-square-feet, and partner facilities on top of that," says David.
The Canadian facility marks the beginning of a whole new chapter for NP Aerospace, as James highlights: "Our exports right now are more than a third of the business; it's an area we have a lot of focus on, so we are growing quite a bit, especially in the US. We have won a few big contracts over there; one for the US Navy, and another with the US Military.
"We have also started establishing an extensive distribution base, in order to support our security and law-enforcement based customers. This is something we have already done in a number of other countries. We have established distribution channels in Europe, Africa and Pacific. All of these networks are part of our overall growth. We are now winning new contracts in America, which we will use to extend our offering, and vertically integrate into vehicle primes and vehicle OEMs."
As it gears up to complete a number of major contracts in 2023 and 2024, NP Aerospace also retains a focus on organic growth. "Our company has world-class capabilities and technologies. As we start to penetrate more and more markets globally, we will see continued organic growth. The expansions we are forecasted to see in 2022 are likely to open up some opportunities for us in the long term, to do some really strategic acquisitions in key markets, which in turn will act as a catalyst for faster growth in certain regions. That potential is certainly there for us in the US, which is very exciting," James concludes.
NP Aerospace
www.npaerospace.com
Services: Armour systems manufacturer