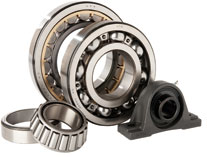 NTN Bearing Corp. of America
The name NTN has long been synonymous with quality. The bearing manufacturer, established in Japan in 1918, was one of the first companies ever awarded the prestigious Deming Prize, which is given to companies that have made significant advances in quality improvement.
The processes perfected by the company that helped it earn that honor in 1954 became the foundation of its expansion into the United States nearly one decade later. NTN Bearing Corp. of America, founded in 1963, remains a strong believer in continuous improvement.
"We have high-quality products and we're very manufacturing-driven," says Pete Eich, president of the  Mt. Prospect, Illinois.-based company. "The same philosophy that earned us the Deming Award has been carried forward today."
NTN fosters an environment of quality in part through its embrace of the Six Sigma methodology. The company has a number of black belt-certified manufacturing, sales and operations personnel, and also regularly trains employees to attain green belt status. NTN works to train every employee to at least a minimum standard, Eich notes.
"From our sales department all the way to engineering, Six Sigma helps us create efficient processes and improve whatever the process is," he explains. As an example, Eich cites the methodology's use in demand forecasting.
To ensure that all employees are implementing basic fundamentals of Six Sigma and can see how it is involved in their everyday activities, NTN developed an customized, proprietary training program. The NTN Blue Belt Program is an introductory training program developed by the NTN Six Sigma Black Belt team to introduce the basic concepts of Six Sigma through classroom work and hands-on exercises. The goal of the training is to harness the structured problem solving methodology of Six Sigma and combine it with the initiatives of NTN to plant the seeds of continuous improvement throughout the organization.
"We've had a number of projects recently aimed at improving the accuracy of our forecasting and improving our delivery," he says. "We've used Six Sigma extensively to either improve a process such as forecasting or to develop a new process."
Recent examples of this included an enhancement to NTN's lead-to-order sales process and improved ordering workflow process. To assist in the sales process, NTN's Six Sigma Black Belt team implemented a new CRM that encourages open dialog between sales and internal operational functions to improve transparency to identify challenges and improve closure rates.
Additionally, to improve the NTN e-commerce experience, the company combined Six Sigma processes with customer input to create a user-friendly customer portal called Distributor On-Line (DOL).
NTN's commitment to quality is also evident in the fact that all of the company's 11 manufacturing facilities in the United States and Canada are ISO certified, and nine are additionally TS certified. "Continuous improvement and maintaining high quality standards are a part of our culture," Eich says. "The belief in always getting better at what we do is at the essence of our organization."
The company's customers expect no less than the highest quality from the company's products. "They're looking for a part that meets all of its intended specifications and is free from defects, as well as a product that is delivered on time and in a narrow window," Eich notes.
Several of NTN's customers – including Caterpillar, Ford Motor Company, Detroit Diesel, Navistar International Corp., Twin Disc and Clark-Hurth – have given the company quality awards.
Manufacturing Variety
With more than 70 plants worldwide, NTN is one of the world's largest bearing manufacturers. The company's main products include ball bearings; tapered, cylindrical, spherical and needle roller bearings; wheel hubs and constant velocity joints. Ball bearings are available in sizes ranging from less than 1 millimeter to  4 meters outside diameters, and in a variety of configurations of seals, shields, lubricants, internal clearances and designs. Products are released under four brand names: NTN, Bower, BCA and SNR.
"We have one of the widest product offerings in the market in terms of offering every type of rolling element bearing, and offering variety within each product type," Eich says.
NTN's products serve industries including the wind energy, construction, agriculture, automotive, heavy duty truck, aerospace, mining and aggregate, metal manufacturing, machine tool, rail and transit, food processing and infrastructure markets. This diverse reach has allowed the company to adapt to changes within individual markets.
"During the economic downturn we had to work hard to right-size our staffing and operations, but for us the downturn was ultimately not that long, as the automotive market recovered quickly, as [did] the mining industry and others," he adds. "Now our biggest challenge is hiring people fast enough and getting them trained in order to meet our customers' demand."
The majority – more than 80 percent – of the company's products are produced and sourced domestically. "One of the main things our chairman emphasizes is local production, employing local people and using local suppliers," Eich explains. "We maintain a large footprint in the United States because of our dedication to produce 80 percent of our products locally."
NTN in 2013 opened a new, 246,000-square-foot facility in Macomb, Ill., adjacent to an existing facility. The two plants are dedicated to the production of tapered and cylindrical bearings. The company also expanded its manufacturing reach in 2011, when it began operations in a pre-process plant in Carol Stream, Ill. That plant is dedicated to producing components that are then used in other NTN facilities to manufacture finished products.
All of NTN's facilities focus on specific product lines or components. Like the Macomb facilities, a plant in Hamilton, Ala., produces tapered and cylindrical bearings; a facility in Elgin, Ill., produces wheel hubs; a Columbus, Ind., plant manufactures constant velocity joints; and grooved ball bearings are produced at facilities in Schiller Park, Ill., and Mississauga, Ontario. Other facilities are pre-process plants.
Manufacturing operations vary based on the products being made, but several operations are common across all facilities and product types. These include turning, grinding, heat treating and finishing. Ball components are produced using a cold heading process, ground to a high precision and then joined with other balls and rollers to create a finished bearing, Eich notes. NTN measures productivity using several metrics, including labor hours per piece produced and machine run ratios.
NTN believes in standardizing work practices to the fullest extent possible. To this end, the company designed common NTN-specific employee training modules to ensure that best practices are documented and presented to all staff in a standard way. Utilizing the combined knowledge of multiple subject-matter experts, NTN is creating revised visual work instructions to assist employees in producing the highest quality product possible. Recognizing that certain differences will exist between locations based on equipment used, product manufactured, the types of materials used and differing manufacturing techniques, NTN's goal is to provide each location with the tools necessary to ensure that a "learning organization" is being created throughout all levels of the company.
Fostering Relationships
NTN's relationships with its customers don't end the moment its products leave the production line. The company offers comprehensive training options to serve each of its customer's needs. The most comprehensive is the three-day product training school at its Mount Prospect, Ill., headquarters.  This training provides an overview of bearings and the bearing industry, and training on each type of bearing NTN manufactures that includes breakout sessions dedicated to individual bearing types and how they work with specific applications. Another training program is a  six-week webinar program called NTN e-Learning.  This is a web-based training class consisting of six one-hour sessions that explains the basics of a different bearing types and how to use the NTN product catalog to select a bearing.
Additionally, NTN offers two in-field training options targeted to end-users.  The mobile Technical Training Unit, or TTU, travels to customer sites across the country to train maintenance staff of best practices.
Training, however, is not the only way NTN supports customers and end-users in the market.
The company has developed a verified value-added (VVA) program to help customers quantify the benefit to doing business with NTN. By working closely with its distributors, when a customer poses a problem, a process is initiated that will show the dollar value of the increased productivity and up time, reduction in maintenance necessary, and all training that is provided.
'Dreaming Big'
NTN Bearing Corporation of America is celebrating its 50th anniversary this year. Founders Shungi Iishino and "Lucky" Itoh established the company with a staff of 20 people in Lincolnwood, Illinois, to support local sales of the company's bearings in the American market.
Iishino and Itoh's vision for the company to "dream big" laid the foundation for decades of growth. NTN Bearing Company of America moved in 1971 to a corporate office and warehouse facility in Des Plaines, Illinois, and again in 1991 to its current office building. The Des Plaines facility still operates as a warehouse. Additionally, the company operates warehouses in Norcross, Ga.; Macomb, Ill.; and Sparks, Nev.
The company expanded its product line significantly in the mid-1980s, when it acquired the Bower brand and manufacturing capabilities for tapered and cylindrical roller bearings from Federal-Mogul Corp. The brand is one of the largest of its kind in North America. The Bower brand  serves customers in the transportation, construction and agricultural implement markets.  Another large acquisition came in 1995, when it bought the BCA brand and manufacturing capabilities from Federal-Mogul, which added automotive clutch release and wheel end bearings and specialty agricultural bearing assemblies to its offerings.
Eich has played a major role in helping the company "dream big" for more than 30 years. He started his career at NTN as an applications engineer, later taking on role including vice president of industrial engineering and vice president of industrial OEM sales before being promoted to president of NTN Bearing Corp. of America in 2006. He holds a BS degree in mechanical engineering from Purdue University.
The company further promoted Eich in 2011 to executive officer of NTN Corp., Osaka, Japan, and deputy general director of its Americas region. He retains his title of president of NTN Bearing Corp. of America. In his new role, he oversees the company's sales operation for the United States, Canada, Mexico and Central America and acts as an executive for the company's entire operation internationally. He is the first American to attain the level of executive officer in NTN's history, according to the company.
Eich credits the company's growth in the Americas region and elsewhere in the world to its emphasis on local production as well as its staff's dedication to customers.
"We're very much customer focused," he says, citing the company's development of cost savings, engineering support programs and testing and failure analysis laboratories on its clients' behalf.