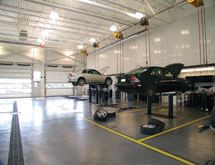 Nuform Building Technologies Inc.
In today's world of heightened environmental consciousness, the construction, commercial and industrial markets are on notice to be green. With many factors to consider, achieving small carbon footprints does not come easy for any business, so they look for help in reaching those goals. Nuform Building Technologies Inc. is one firm that is ready to use its innovative products to help clients go green and add value to their operations.
Based in Woodbridge, Ontario, the Nuform operation started as a division of Royal Plastics, but Nuform broke away in 2007. Since then, according to President Daniel Tiberini, the company has grown, evolved and made a decision to focus on recycled technology.
"We are more than just a normal extrusion company," he says.
Nuform's products demonstrate its unique position in the plastics industry. Conform is the company's patented wall-forming system, and its Renu and Reline products have been used to line and refinish the interiors of thousands of agricultural, vehicle wash and commercial facilities throughout North America. And by creating the products in-house, Nuform has been able to perfect sustainable extrusion practices.
"We control the entire production process," Tiberini says. "We extrude, insulate, fabricate, package and ship from our factory. Everything is done in our plant to keep the quality standards high and to ensure there's no waste on the job site.
"Additionally, we are very proud to be recognized as an industry leader for the use of recycled materials. By co-extruding our products we are able to ensure that our products contain a minimum of 55 percent recycled content, which keeps the operation green and energy efficient."
Long List of Benefits
It's not just Nuform's processes that are friendly to the environment, however. Conform is a polymer-based formwork for concrete walls; its extruded components interconnect to create the formwork. The resulting walls are extremely energy efficient, Tiberini says, and the polymer components are recyclable and non-toxic.
"Building codes are getting stricter all the time, forcing architects and owners to consider how much energy their buildings consume," he explains. "Our product performs a lot better than traditional building materials. The walls are monolithic and have a high thermal mass rating, reducing building energy demand. The walls do not attract mold or mildew, so these buildings have superior indoor air quality. They also provide a brighter work environment on the inside, which provides a safer workplace for employees and requires less lighting. Energy efficiency is a big wave that we're riding."
Other benefits of Conform, he notes, include that it is easy to install, resistant to rodents and pests, is graffiti-proof and it will not rust, corrode, flake, peel or rot. Its durability also is demonstrated in its resistance to extreme weather conditions, and its structures can be designed to handle earthquake and hurricane conditions.
All of these qualities are attractive to Nuform's diverse client base, including those from the industrial, commercial, agricultural and car wash sectors, as well as domestic and international residential markets.
Nuform also has served various military organizations, which have used the technology for bunkers, barracks, schools and institutional structures. "The military has been using Conform for many years because they've found that it's one of the best-performing wall systems," Tiberini says. "It provides the strength of a traditional concrete wall with the flexibility of vinyl so it can withstand multiple blasts without crumbling.
"We provide the finished product, and once it's installed, our clients don't have to do anything," he adds. "The speed of installation and the fact that you don't have to finish the interior or exterior makes it more affordable than traditional construction."
'Quality Resonates'
Nuform's systems are prepared to order and assembled on site, and the modular components facilitate rapid construction. Tiberini explains the system fits a variety of roof structures, windows and doors, and is available in a range of sizes and configurations – from a simple structure to a complex architectural design.
"We are very fortunate to have great people that are always working to develop new products so we can continue to improve," he says. "We've been experimenting with different building forms, thicker walls and different types of insulation."
Tiberini notes that all of Nuform's employees have been key in its ability to grow and strengthen its operation. "Hiring and developing good people," he says, ensures quality is consistent.
"This is a family owned business, and that has helped us develop a strong culture," he says. "Quality resonates here, and we treat our people well because they are so important to the success of our business. It creates a more effective and productive environment because our employees can see the immediate impact of everything they do.
"Our goal is to continue to grow and be unique," he adds. "We know we can do that by remaining honest and rewarding our people for their hard work and good ideas."