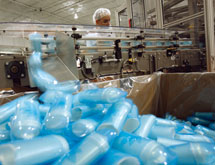 The shift of the consumer electronics manufacturing base to Asia that accelerated in the late 1990s was a catastrophic trend for many U.S. firms. Like many of its peers, Nypro Inc. faced a decline in its volume because much of the work it had performed moved to Asia.
But instead of significantly reducing its staff or closing the doors to several of its facilities, Nypro – a high-precision plastic injection molding manufacturer founded in 1955 – saw the decline as an opportunity to apply its talents to a different market. The company's consumer packaging division, established in 2005, is now keeping pace with the global company's other divisions.
"A lot of companies would have folded their tents or transferred their business to China or Mexico," says Paul Kayser, the division's group president. "As an employee-owned company, we are in a unique position where our employees are also our shareholders. Our CEO at the time had an obligation to our employee shareholders to develop new markets and capabilities for our U.S. footprint."
With consumer packaging designs moving away from simple boxes or plastic jugs to packaging that required unique brand identity, Nypro decided the market was a natural fit for its abilities. "We were seeing a move toward innovation and an increasing level of sophistication in the packaging area that moved toward what we already knew how to do," Kayser adds. "We did not acquire into this business, we innovated. The industry wanted more and more unique packaging that reflected their brand promise and incorporated more technology."
Looking Forward
Since its establishment, Nypro's Clinton, Mass.-based packaging division has grown from generating 2 to 3 percent of the company's overall revenue to 20 percent. The division continues to grow, with three new packaging facilities built in the United States in the last five years and four other facilities being converted from consumer electronics during the same period.
"Our goal is to be viewed as the go-to leader in innovation, integrated technology and manufacturing excellence with our customer base," Kayser says, noting that the company serves only major brands rather than performing contract or private-label packaging. "We're only interested in developing new and innovative solutions and not copying ours or others' work."
Nypro's manufacturing capabilities include cavitation and high-volume molding and assembly assisted by downstream automation. Containers created and assembled by Nypro are shipped on a timely basis to its customers, who then fill them with their products. They have an on-time performance rate of 98.7 percent.
One of the company's major customers is Procter & Gamble, for whom it provides fabric care, hair care, deodorant and antiperspirant and baby care packaging. "They are a company known for embracing innovation and outside ideas, so we feel we bring a lot to table for them," he adds.
P&G recently recognized Nypro for "supplier excellence." As one of only 73 vendors so recognized by the consumer products giant among its more than 75,000 suppliers, this award places Nypro among an elite group. Nypro also serves on P&G's sustainability board and recently scored a perfect score on its "sustainability scoreboard" for its use of recycled plastics and emphasis on energy conservation, Director of Corporate Communications Al Cotton says.
One innovation Nypro brings to its work for P&G and others is its use of in-mold labeling technology, which is typically used in Europe for low-volume product runs, but now making its way into the larger volume markets. In-mold labeling allows for photo-realistic quality labeling to be incorporated into the manufacturing process to help brands differentiate their visual appearance on shelf and can be used on various container shapes, Kayser says.
Much of Nypro's product innovation comes from its association with Radius Product Design, an affiliate company of more than 100 engineers and designers. Radius combines its expertise with insight from customers to create packaging that is attractive, highly functional and pleasurable for consumers to use.
The packaging division has facilities with the ISO 9000, ISO 14000 and HACCP quality certificates.
Keys to Success
Lean manufacturing and Six Sigma methodologies are at the heart of Nypro's manufacturing operations. "Our lean manufacturing approach is focused on cost and supply, and how we maximize the output of the assets our customers have entrusted to us," Kayser says.
Nypro uses a number of metrics such as throughput to ensure that each new product launch can be accomplished in a faster and more efficient manner than the one before it. The company makes significant investments in digital modeling and program management software, and many of its personnel are PMP-certified.
The company also actively uses the Net Promoter score system to gauge customer satisfaction. "I look at a lot of metrics every day, but if I could look at only one to predict the future success of the company, that would be it," Kayser says, noting the company routinely scores highly among its customers.
Kayser attributes his customers' willingness to recommend the company to others to one factor. "I'm most proud of our people and the passion they bring to their jobs," he says. "We enjoy the success that we have because of their efforts." mt