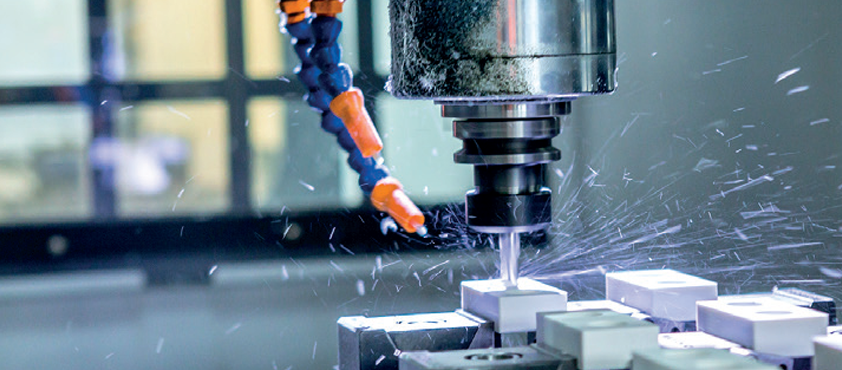 The power of partnership
A family-owned plastics supplier renowned for its flexible and dependable nature, Oadby Plastics is the valued partner to some of Europe's leading manufacturers
Over the 51 years that Oadby has been supplying specialised plastic products, the business has built strong, long-standing relationships with major firms across a variety of sectors, including the construction, food processing, automotive, and leisure industries. Despite celebrating its half century last year, Oadby is showing no signs of slowing down with age. What then is the key to the company's longevity and continued success? Managing Director Mark Rojahn argues that Oadby's lasting appeal is deeply rooted in its reputation for quality and reliability.
"The foremost factor is that we are a family-owned business and are always willing to go that extra mile, which sets us apart from the competition," Mark says. "Our high-quality products are well established in the market and in many cases, are exclusively supplied by Oadby. Of course, customers require competitive prices, but it's also evident they need to trust their supplier and feel assured the product they receive will be of the same quality time after time.
"We pride ourselves on being able to adapt to the market's requirements. Industry demands just-in-time deliveries, as it generally doesn't want to hold materials for future contracts. Many years ago, we decided that we would become a genuine supplier of industrial plastics by investing in materials that people want and stocking them in vast quantities; currently over 3000 tonnes. Orders are supplied when customers need them; they usually prefer not to have to worry about long lead-times. Something we're often told by our clients is that we're easy to deal with; we regard this comment as the ultimate compliment," said Mark.
Oadby's journey began in 1969 when Alan Driver, the company's founder, started to supply wear-resistant plastic linings to the National Coal Board and, a few years later, diversifying into conveyor components and associated machine parts. By 1984, when the contracts from the coal industry began to dry up, the business needed to change direction. The focus was now firmly on distribution and the machining of plastics to the construction and food processing sectors. Oadby found success in supplying Polyethylene, Polypropylene and PVC products to companies looking at replacements for traditional materials such as metals and wood. Engineering and Display plastics were soon added to the Oadby range and before long, the company was vastly increasing its own machining capacity by the strategic acquisition of long-term customer ABG Rubber and Plastics.
"In 2004, we realised that one single facility wasn't going to allow us to expand our distribution business effectively," Mark states, "so we opened a West Midlands branch. This was then followed by branches in the North-West, South-West and the South-East. The regionalisation of our operation has further developed our local knowledge, and acquiring customers like Anglia Plastics in 2009 and Direct Plastics in 2017 has also been greatly beneficial by adding new services to our group. Anglia Plastics are renowned for the fabrication of plastics, whilst Direct Plastics are very strong in e-commerce which was not Oadby's main focus.
"In 2016 our most ambitious decision was to move our head office in Leicester to a new 160,000sq/ft., purpose-built facility. This has allowed us to dramatically increase our capacity. With so many different branches and acquisitions, the extra space was key to making sure our group got the daily supply of materials it needed," said Mark.
Bespoke machining
Bolstered by a dedicated 45,000 square-foot machining facility, Oadby boasts some of the industry's leading capabilities. A supplier of finished CNC machine parts since 1997, the company has continually invested in state-of-the-art equipment and technology for the last 23 years.
"We've seen bespoke machining as a very sustainable area of our business," Mark reports. "We have CNC routers, mills and lathes, with updated technologies being regularly introduced. We are constantly making sure we've got the latest equipment to produce the parts our customers need. Not only do we focus on technology, but also on the size capabilities of our machines. We are able to machine finished parts up to six metres by three metres, offering a big advantage to us and a huge help to our customers," he added.
After the 50th anniversary celebrations of 2019, Oadby entered 2020 brimming with confidence. Like all businesses, the Covid-19 pandemic took the company by surprise, but as the industry became steeped in uncertainty, comOadby's close network of trusted manufacturing partners provided reassurance.
"During March of this year, we were at a point of limbo where we didn't know what was going to happen once the lockdown was announced," Mark reveals. "Some of our European manufacturing partners explained their capacity was over-subscribed due to the need for clear material and recommended we act to make sure we were prepared for the certain demand."
Mark continued: "We decided to increase our stocks tenfold during March and it certainly paid off. Even though product became depleted extremely quickly as demand was so high, our favorable terms with our manufacturers gave us the ability to keep supplying our customers. Our deliveries have recently topped 100 tonnes each and every week. To date, we've sold over 1000 tons of clear material that has been used for visors (PPE), food retailers, doctors and more recently, non-food retailers, pubs, restaurants, and hairdressers, to name a few. In fact, all businesses require these materials as they plan to reopen, and we are proud that we can be at the forefront of this supply."
While the clear plastics sector remains busy for Oadby, sales in the firm's traditional markets are around 30 per cent lower than usual. However, as the UK eases its way out of lockdown, Mark confirms that business is already picking up. In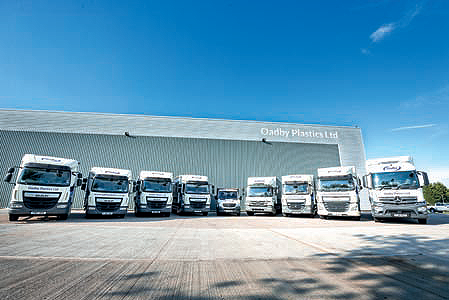 June, the company assisted with the production of a moveable floor system for Tameside Wellness Centre's new multi-activity swimming pool in Manchester. Clad using 20mm thick, chemical-resistant, non-slip polypropylene panels, the pool floor can be raised and lowered to different depths, this is hugely advantageous for children, disability swim sessions, aqua-fit aerobics, and adult lane swimming.
"There is no doubt that during this crisis we have seen a large reduction in our traditional markets; the construction, automotive and leisure sectors are being heavily affected by Covid-19, but we are experiencing an increasing amount of activity from certain customers and the Tameside swimming pool is a great example of the sort of things we are producing," Mark comments. "We have done over 30 of these facilities now.
"More recently," he adds, "we have been working on producing road management signs for the Government and many of these are focused on getting more cyclists on the road rather than cars, particularly in London. We are being asked to make many thousands to help manage these cycle lanes. Examples like this show how we continue to operate successfully as industry continues to re-start, albeit slowly."
Versatility and resilience
For Mark, the key to Oadby's future lies in the company's workforce. As a family business that prides itself on transparency and an 'open-door policy' that actively encourages employees to communicate with directors and owners, Oadby continues to empower its staff members to take ownership of the company's culture.
"It's important to thank our teams for all their hard work, they are the lifeblood of our business," Mark declares. "We always want Oadby to provide a progressive and secure career for all. Starting from day one we work really hard to help staff develop, our aim is always to retain and support our colleagues to allow for a successful and progressive career within the Oadby group."
As a business with ISO 14001 status, environmental sustainability will be a guiding factor in the coming years for Oadby. Alongside utilising solar panels at three of its sites, the company is increasing the amount of recycled plastics it uses, and by 2021, it is also working towards using only recyclable packaging materials. Explaining that the business is a survivor of many difficult recessions, Mark believes the firm's versatility and resilience will be vital in continuing its growth.
"The benefit of dealing with so many industries is that, no matter how bad the economy is, there will always be certain sectors that stay strong," Mark asserts. "With that in mind, the next five years will see us continue to expand the business, increasing our product range and improving our branch network. We are turning over approximately £45 million a year, and by 2026, we predict that to be close to £70 million."
Oadby Plastics
Products and Services: Plastics supplier
www.oadbyplastics.co.uk